Paprica: bittersweet, earthy and fruity
⏱4 MINUTES READING
Dried in the oven, over an oak fire or in the sun, paprika is the ground pulp of various fruits belonging to the chilli pepper family, and an important ingredient in Hungarian and Spanish cuisines.
IT ALL STARTED WITH CHILLI PEPPER
Capsicum peppers probably originated in Mexico, where recent findings in caves indicate that they were consumed as early as 7000 BC. At the end of the 15th century, Cristoforo Columbo brought them to Europe and the Spanish monks dried and ground them: one of the most famous paprikas in the world is still produced in the valley of La Vera, in Extremadura, where the peppers are hung in smokehouses and ground with ancient stone mills.
The spice arrived in Hungary with the Ottoman and, in the mid-nineteenth century it was adopted as national spice and fundamental ingredient of goulash, a peasant meat soup. It is said that there is a goulash for every paprika. It seems that it was the French chef Georges Escoffier, called the "king of cooks", who spread the use of paprika around the world: in 1879 he sent it from Hungary to his restaurant in Montecarlo, proposing the "Poulet au paprika" on the menu.
THE SCIENCE OF MIXING
In an ideal periodic table of elements, the nutritionist Stuart Farrimond declines paprika in a scientific way so as not to combine it at random and spoil its gastronomic potential. It is a method that should be used for each spice, blend and aromatic herb so as not to mix them at random, definitely the worst approach.
But what does paprika taste like and how to combine it? It has a strong taste that derives from the acidity of citric acid, sweet due to sugars and ethyl acetate, an aromatic compound similar to rum, and finally earthy notes due to pyrazines, many of which develop during drying and smoking. The various types of paprika, from sweet and fruity to bitter and smoky, therefore allow numerous combinations.
HOW MANY COMBINATIONS?
Do you want to highlight earthy and smoky notes of paprika? So pair black cardamom, toasted sesame and Australian acacia which will give back notes of chocolate. To highlight the sweet part of paprika, the combination with cinnamon, allspice and caraway will be the most suitable: it will result in different nuances from floral to aniseed scents.
By mixing the paprika with cocoa and saffron you will highlight the "buttery" part of the fats used to make the dishes. Finally, to enhancement the citrus scent, due to the presence of citric acid, combine paprika with tamarind, coriander and ginger. Let's take a world map and fix the places where paprika is produced (although peppers are native to South and Central America): Spain, Turkey, Hungary and Holland.
Then we take a food atlas and highlight plums, root vegetables, cephalopods, and finally white and red meat. We will discover that this complex spice is used all over the world in different ways: to marinate meat, to strong the presence of saffron, to give an aromatic boost to vegetables and finally to identify a country's cuisine, such as Turkey, where paprika is a common ingredient.
Are you still suspicious of this spice? You shouldn't, as it appears to be involved in inhibiting aging genes and lowering blood triglycerides after a large meal.
Anna Maria Pellegrino
Gastronome and blogger
VEGETARIAN PAELLA
Valenciana or de Marisco? Vegetarian, decidedly less complex but no less tasty, in which paprika and saffron will transform the vegetables like the Fairy Godmother did with Cinderella's pumpkin.
DOSES for 6/8 people
COURSE: first course
LEVEL: medium
PREPARATION TIME: 30 minutes
COOKING TIME: 30 minutes
INGREDIENTS
400 g di Riso Arborio Cascina Oschiena (or a rice with low level of starch)
2 courgette
2 red peppers
2 carrots
2 spring onions
200 g green beans (even frozen)
200 g peas (even frozen)
200 g ready cooked white beans
1-2 cloves of poached garlic
50 ml tomato sauce
1 l warm vegetable stock
1 sachet of saffron
30 g smoked paprika
extra virgin olive oil and salt q.s.
METHOD
Roast the peppers and remove the skin (or use already cooked peppers) and cut it in julienne. Chop the green beans, slice the courgettes, cubes the carrots and the spring onions; rinse the beans and the rice.
Use a large pan (Ø 32 cm) or the traditional paellera to brown the spring onion on low heat and add the vegetable following this sequence: carrots, green beans and peas, courgettes. This operation should be completed in about 10'.
Add the tomato sauce and cook for 5'. Add the paprika, previously melted in half ladle of stock, the rice, the peppers and continue cooking for 1'.
Add the saffron, previously melted in a small cup of warm stock. Cook for 1' and finally add the beans and the remaining warm stock in a double amount compared to rice.
Complete with poached garlic cloves, season with salt and continue cooking on high heat for 15'-20', without stirring. Let it rests for 5', remove the garlic and serve.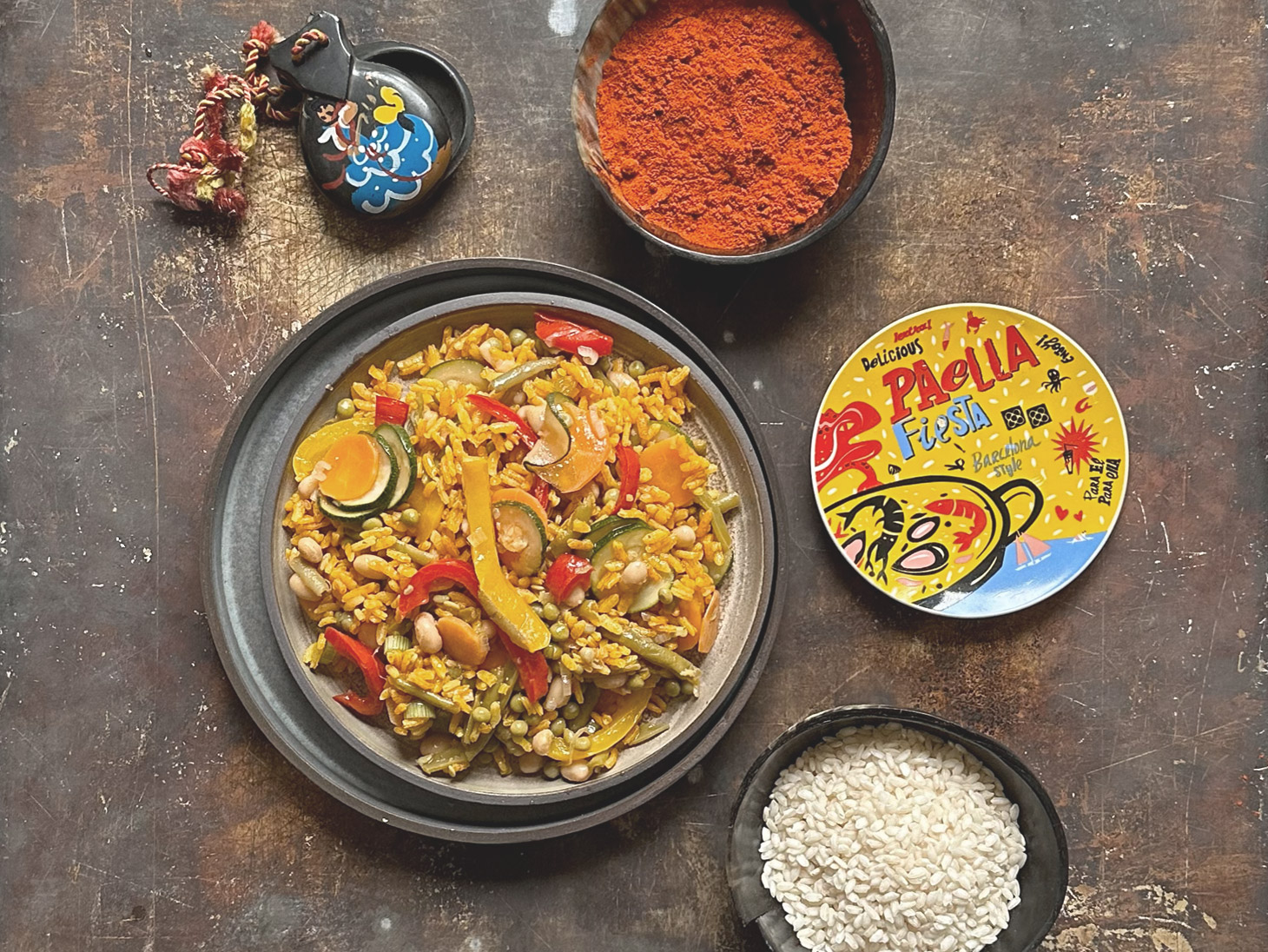 CHICKEN TIKKA MASALA
It seems that Chicken Tikka Masala was invented in Scotland: the base is tandoori chicken seasoned with coconut milk or yoghurt or cream, curry, tomatoes and spices, precisely the masala. Let's take this indiscretion for granted and focus on the blaze of spices and aromatic herbs that this dish tells.
DOSES for 6/8 peopleCOURSE: main dish
LEVEL: medium
PREPARATION TIME: 50 minutes
COOKING TIME: 30 minutes + rest
INGREDIENTS
800 g chicken breast
50 g clarified butter
salt and Tellicherry Pepper
> FOR THE MARINADE:
250 g Yogurt Greco Tyras
2 cloves of poached garlic
2 tea spoons of garam masala
1 teaspoon of cumin and 1 of paprika
1 teaspoon of ginger powder
> FOR THE SAUCE:
250 g tomato sauce
1 shallot
1 clove of poached garlic
50 g sour cream
1/2 lemon, juice and zest
2 teaspoons of cumin
1 spoon of paprika and 1 of turmeric
1 spoon of minced fresh coriander
METHOD
Clean and chop the chicken breast and set aside while you prepare the marinade, mixing all the ingredients well. Add and mix the chicken, cover and let rest in the fridge for 6 hours, better overnight. Bring the chicken to room temperature, arrange it on a tray and bake it in the preheated static oven at 220° for at least 30 minutes.
Meanwhile prepare the sauce: mix the spices in a bowl, finely slice the shallot and brown it in a large saucepan with the clarified butter, add the garlic and the spices so as to toast them for about 1 minute. Add the tomato sauce, the lemon and continue cooking for 8'-10'. Add the sour cream, mix, season with salt, add the golden chicken and cook for another 2 minutes.
Let it rest for a couple of minutes and serve with a generous grind of black pepper. Serve with pita, naan bread or chapati bread.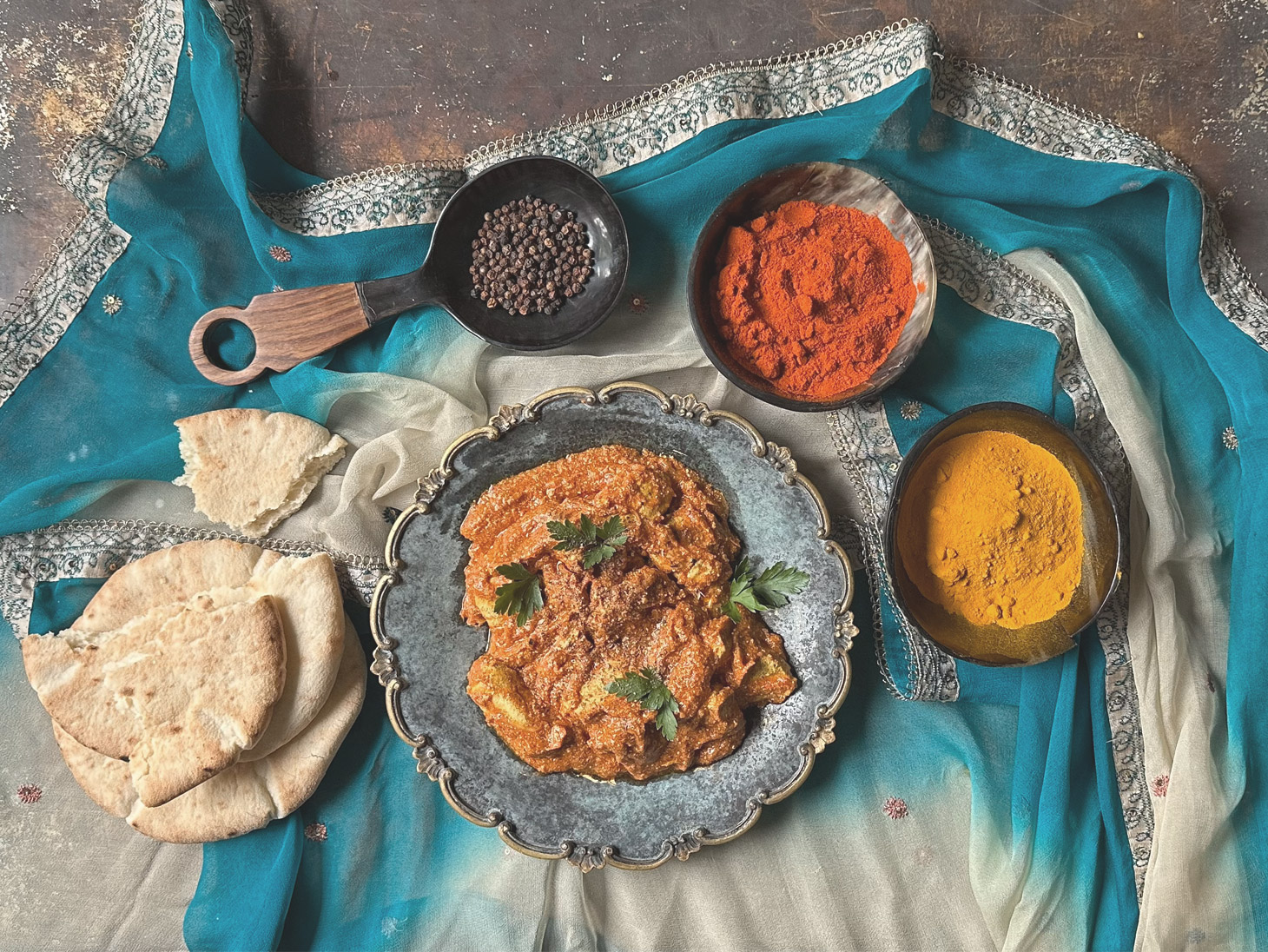 BÖREK CON FETA E PAPRIKA
Börek or Burek is a savoury pie prepared with stuffed, rolled and baked Phyllo. There are many fillings, but paprika can never be missing as this spice is used in many traditional dishes of Turkish cuisine.
DOSES for 8 people
COURSE: street food
LEVEL: medium
PREPARATION TIME: 30 minutes + rest
COOKING TIME: 1 hour
INGREDIENTS
250 g Phyllo (in sheets)
150 g melted Burro Brussino
evo oil, salt and freshly ground black pepper
> FOR THE FILLING:
1 kg of coarsely chop blanched spinach
400 g Feta DOP in crumbles
3 beaten eggs
1 spoon of dried oregano and 1 of dried mint
1 spoon of paprika and 1 of cumin powder
1 spoon of nutmeg powder
3 spoons of diced fresh mint
3 spoons of diced fresh dill
3 spoons of diced fresh parsley
> TO BRUSH THE SURFACE:
1 beaten egg
1 teaspoon of milk
2 spoons of toasted and minced pistachios
METHOD
Preheat the static oven to 180°C. For the filling: mix all the ingredients in a bowl and season generously with black pepper. Transfer to a sac à poche and set aside.
Lay the sheets of phyllo on a tea towel, brush with the melted butter, spread a line of filling along one side of the sheet, roll it up to wrap the filling, cut with a knife along the entire length of the cannoli thus obtained and arrange it as a spiral in a cake tin ( 26-28 cm diameter) already greased and floured. Brush the surface with melted butter. It starts from the center and continues outwards until the end of the ingredients, creating a spiral, indeed.
Mix the egg, milk and some of the remaining butter in a small bowl and brush the suface of the börek, sprinkle a little water and bake for 45'-55' until golden brown.
Remove from the oven, let it cool in the mold and sprinkle the börek with the chopped pistachios before serving it cut into slices. It is delicious both hot and cold.