The product
A fresh pasta filata cheese, filled with strips of mozzarella and cream
Country of origin:
Italy - Apulia
More Information

| | |
| --- | --- |
| Raw material | Cow's milk of the highest quality |
| Appearance | The paste shows a double structure: a soft mix of cream and mozzarella strips, wrapped in a thin envelope of mozzarella |
| Taste | The taste is fresh and sweet, with a typical aroma of milk and cream |
| Maturing | Not expected |
| Curiosity | Caseificio Olanda was founded in 1988 in the area of Murgia, when Michele Olanda and his wife Carmela decided to start processing the milk obtained from their farming activity. Since the beginning Michele and Carmela decided to invest on quality, maintaining the typical artisanal technology of their area to produce mozzarella and burrata |
| Suggestions | One of the finest Italian fresh cheeses, excellent on its own, with vegetables, with an extra virgin olive oil or with pizza |
More Information

| | |
| --- | --- |
| Ingredients | Milk, salt, rennet, cream, starter culture |
| Weight | 500 g |
| Packaging | Wrapped in paper or packaged in plastic tub in brine |
| Storage Conditions (packaged products) | Keep refrigerated below +4° C |
| Nutrition Declaration | No |
The producer
Caseificio Olanda - Andria (BA) - Puglia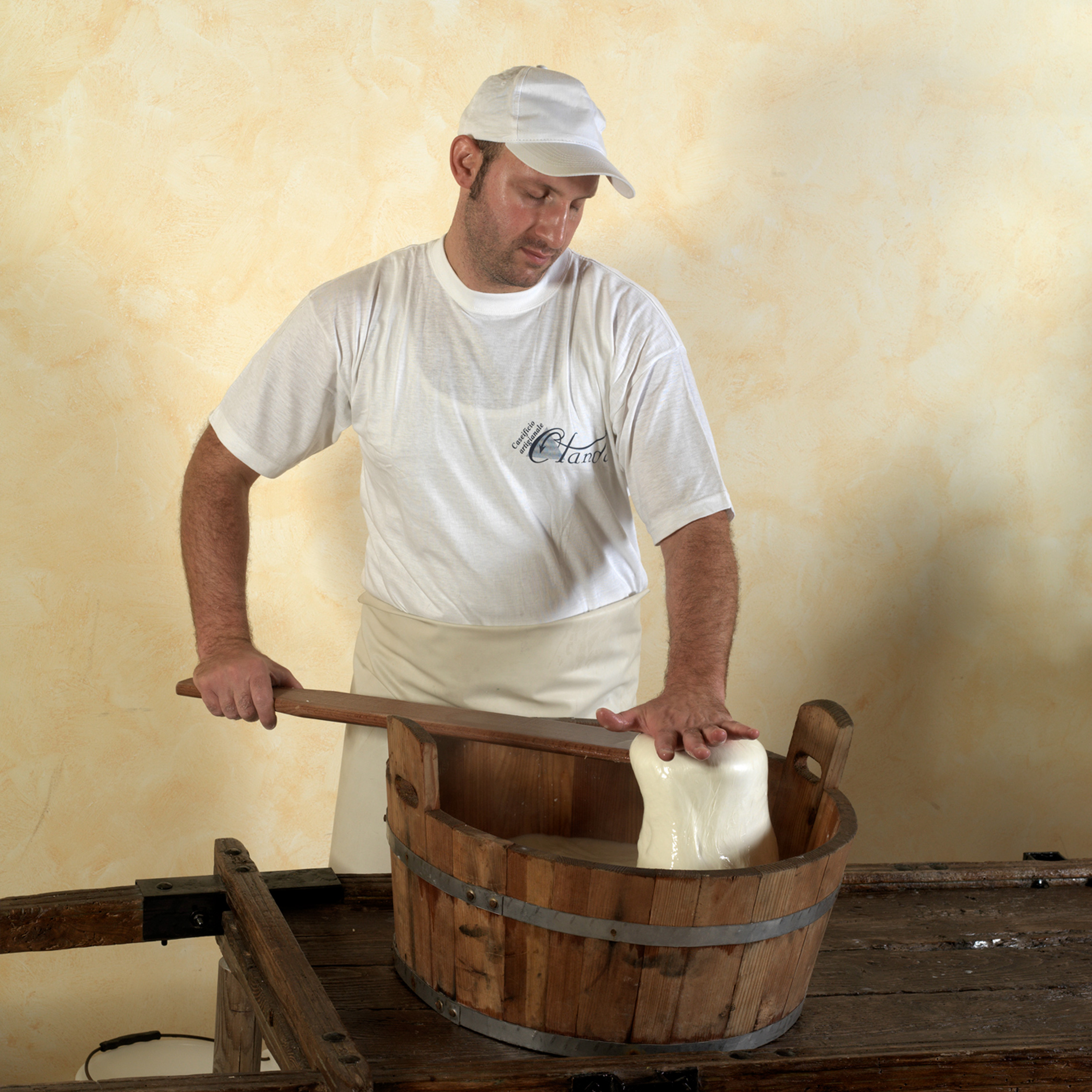 Why we chose them
In 1988 in Murgia, Michele Olanda and Carmela, his wife, breeders and milk producers of Andria city, decided to create the Netherlands Dairy. The Netherlands family made a strong passion for milk's artisanal processing, carefully selecting the raw materials. For years we work with the Netherlands Dairy Farm, and for so long the main product has always been the Burrata. But they also have different types of mozzarella cheese: the knots, but also pieces of mozzarella and braid; in addition to fresh scamorza, "cousin" of mozzarella. The name mozzarella comes from the term "cut off", in reference to the manual cutting performed with index finger and thumb of the still hot spun paste, in order to make the shape of the cheese itself. Mentioned in a twelfth-century document, which speaks of the "severed" which was offered by the Monks of San Lorenzo in Capua (Caserta) to pilgrims visiting, the mozzarella was once considered the less refined version of provolone as it isn't preserved for a long time.