A workshop dedicated to our costumers, to learn about forno Follador bread products: how to regenerate and stuff them whit an eye to the food cost
⏱ 2 MINUTES READING
We have always been convinced that the best way to understand a product is to go where it is produced and taste it with the producer. This is why we try to create opportunities to meet up and visit, for our sales network but also for our clients, when possible.
With this goal we have organized an appointment dedicated to our customers with Antonio Follador and his team to visit the production site but, most of all, to experience together the simpleness of use of his bread products for food service.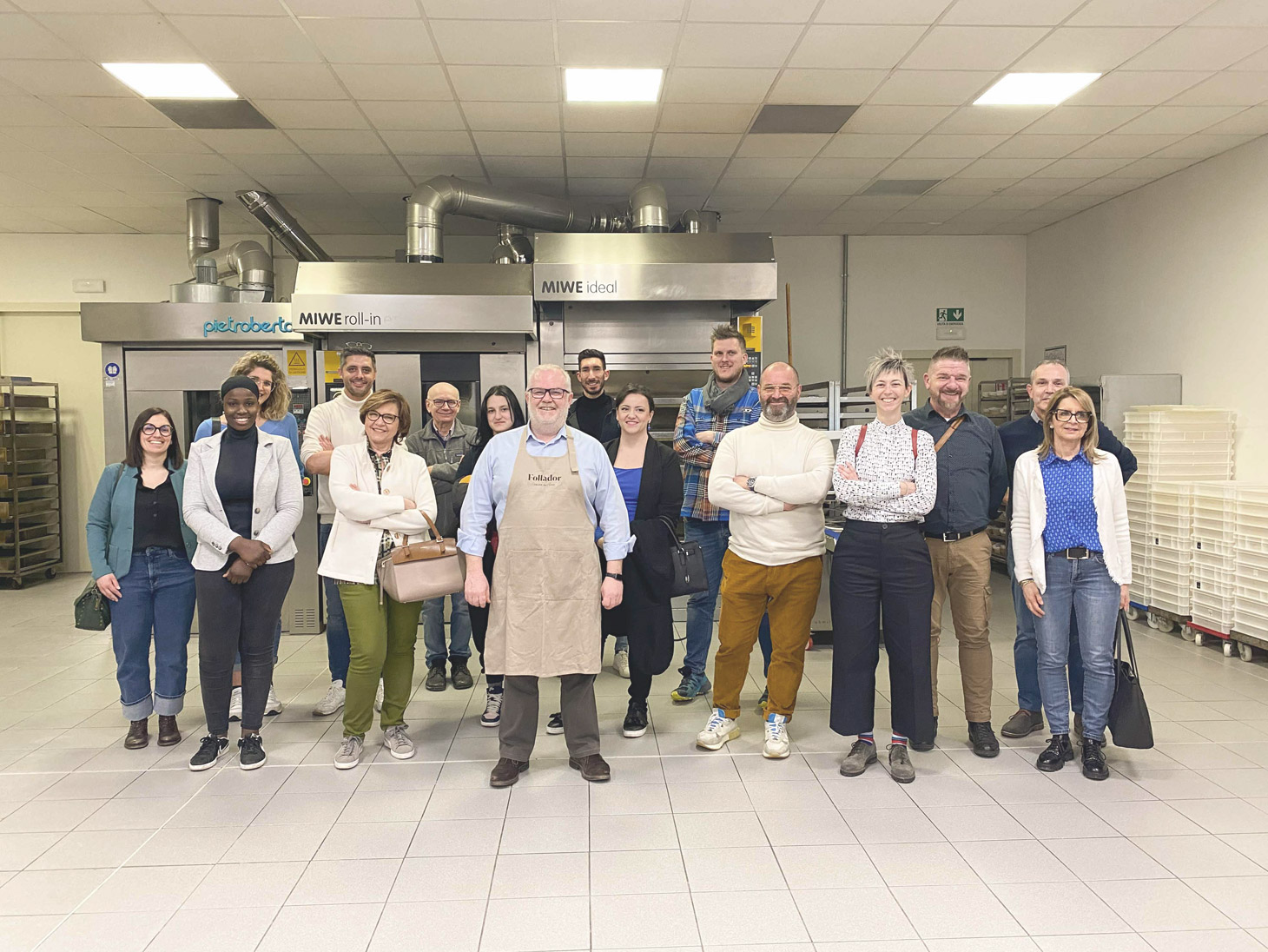 HOW TO REGENERATE
All Follador breads are partially cooked, blast chilled and then packaged in a modified atmosphere, to be stored at 0+4°C for about a month. This means that all the Follador bread products must be regenerated before use. But how?First of all what oven should be used? Antonio suggests a static oven, but a home oven (using the grill not the plate), a brioche oven or a toast plate is also fine.How long does it take? It depends: 4-5 minutes if you want to fill and serve the focaccia immediately. 3 minutes if you want to fill it, put it on the counter and then reheat it for a minute just before serving.At what temperature? At 220-250°C in a rigorously preheated oven. If you cut the focaccia just out of the oven, in order to open it immediately and stuff it, you will get a crunchy effect. On the other hand, if you prefer a little softer consistency, just wait for a couple of minutes once it's out of the oven before cutting, opening and filling it.
Antonio revealed a secret: you can cut the focaccias in half and close them well before regenerating in the oven to avoid burns.

Let's not forget the pizza option: all the focaccias are suitable to be stuffed just with tomato mozzarella and oregano, for a more or less "focaccia-like" margherita.
Antonio pointed out that, even if packaged in a modified atmosphere, bread products are still subject to an evolution process. When consumed at the end of their life they are still perfect, perhaps slightly less soft than freshly packaged, but they become soft again once regenerated. When the package is opened, the products must always be kept in the fridge, closing the bag tightly and must be used within 4-5 days.

THE PROPOSALS
We started with Focaccia Rustica in three versions: regenerated as a whole and garnished as a pizza; cut in half and rolled up to create a roll, with Crema del Doge and grilled vegetables; regenerated as a whole, cut in half and stuffed with Squacquerone, raw ham and rocket.
Then we moved on to Nuvola, also in three versions: garnished with mozzarella and tomato as if it were a pizza and baked; as a base to be garnished after baking: cut in squares it becomes perfect as appetizer, finished with mortadella and pistachio grains; but it can also be cut in half to create a club sandwich withthree layers.

From Nuvola to Panciotto, the perfect bun for hamburgers, soft inside and crunchy outside, but most of all light, that makes you want to eat another one.
And to finish, Tavolozza Bio: regenerated as a whole and served as "pizza", to appreciate the differences in texture, crunchiness and alveolation between the three focaccias; cut in two and filled, first in the savory version and then, as a novelty, in the sweet version: covered with a dip of water, sugar and aromatic paste, sprinkled with cane sugar, baked in the oven, then filled with a chantilly cream enriched with crumbs of Colomba (italian leavened cake): 2/3 of chantilly and 1/3 of Colomba blended with the mixer. Simply delicious!
Martina Iseppon
Marketing Director