The product
Pancetta Giovanna - cooked
A pancetta produced in a different method that is followed by this producer
Country of origin:
Italy - Emilia Romagna
More Information

| | |
| --- | --- |
| Raw material | Pork meat |
| Appearance | It looks like a classic roasted bacon, with its beautiful pink color |
| Taste | Sweet, round, buttery, medium to the palate with hints of caramel and honey. When sautèed it gives a strong toasty and nutty aroma |
| Maturing | Not expected |
More Information
Ingredients
Pork meat, salt, honey 2.4%. Antioxidant: Sodium Ascorbate, aromas. Preservative: Sodium Nitrite
Weight
4,5 kg approx
Packaging
Packed in a transparent polyethylene bag
Storage Conditions (unpacked products)
Keep refrigerated between 0 and +4 °C
Storage Conditions (packaged products)
Keep refrigerated between 0 and +4 °C
Instructions for use
Do not puncture the packaging
Nutrition Declaration
Energy: 1313 kJ / 317 kcal
Fat: 28,96 g
of which saturates: 11,25 g
Carbohydrate: 0,91 g
of which sugars: 0,56 g
Protein: 13,28 g
Salt: 1,95 g
Typical value per 100 g
The producer
Capitelli - Borgonovo Val Tidone (PC) - Emilia Romagna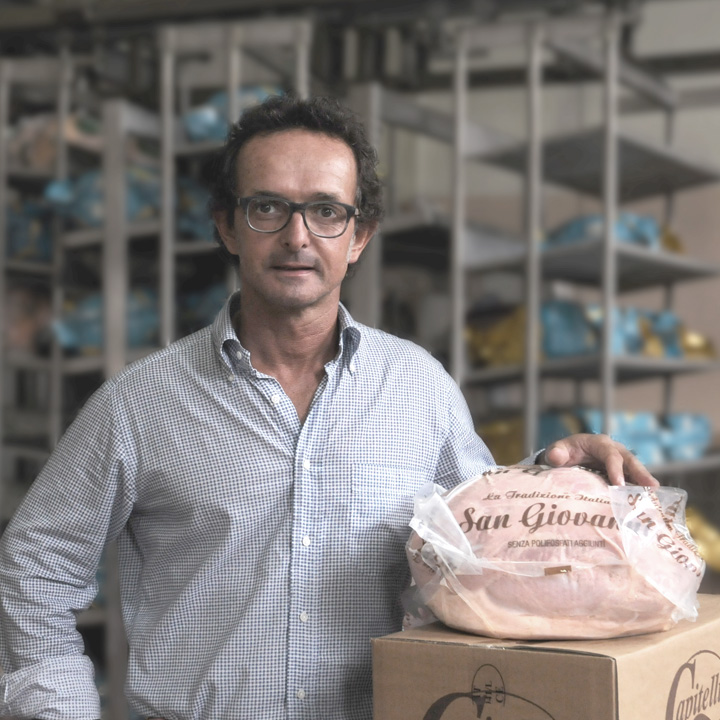 Why we chose them
When the food industry was not yet interested in ham steak production, in the area near to Padua the making tradition of pork thighs to make "cooked thighs". The making was completely different from today: fresh meat was boned, but preserving the natural shape, and then soaking it in a salt solution for days, finally it was enveloped in a rough canvas, it was tied and cooked in a container with hot water. When the industrial production began, this making was leaved as long as, in 1995, Claudio Capitelli with his son, Angelo, decided to return to a classic method to produce "cooked thights", "San Giovanni". The obsession for the good food and the constant activity of research and the develop are pillars where the company is found.