The product
Salame Rosa Antica Tradizione
Product of the ancient Bolognese tradition
Country of origin:
Italy - Emilia Romagna
More Information

| | |
| --- | --- |
| Description | Produced adding pork butt, cheek lard and ham to the traditional mortadella mixture |
| Appearance | It has an intense pink color, the pieces of meat are evident |
| Taste | Delicate and persistent, it recalls the perfumes of both mortadella and cooked ham |
| Maturing | Not expected |
| Our selection | We selected Salame Rosa because it is a great product of the tradition of Bologna, which combine perfectly the best features of Mortadella and of cooked ham in a unique mix |
| Suggestions | At its best when sliced thin |
More Information
Ingredients
Pork's meat, salt, species, natural aromas, antioxidant: E301, preservative: E250
Weight
6,5 kg approx
Packaging
Vacuum packed
Storage Conditions (packaged products)
Keep at +2 +6 °C
Country of origin of the primary ingredient
Italy
Nutrition Declaration
Energy: 1344 kJ / 320 kcal
Fat: 25 g
of which saturates: 8 g
Carbohydrate: 0 g
of which sugars: 0 g
Protein: 15 g
Salt: 2 g
Typical value per 100 g
The producer
Artigianquality - Bologna (BO) - Emilia Romagna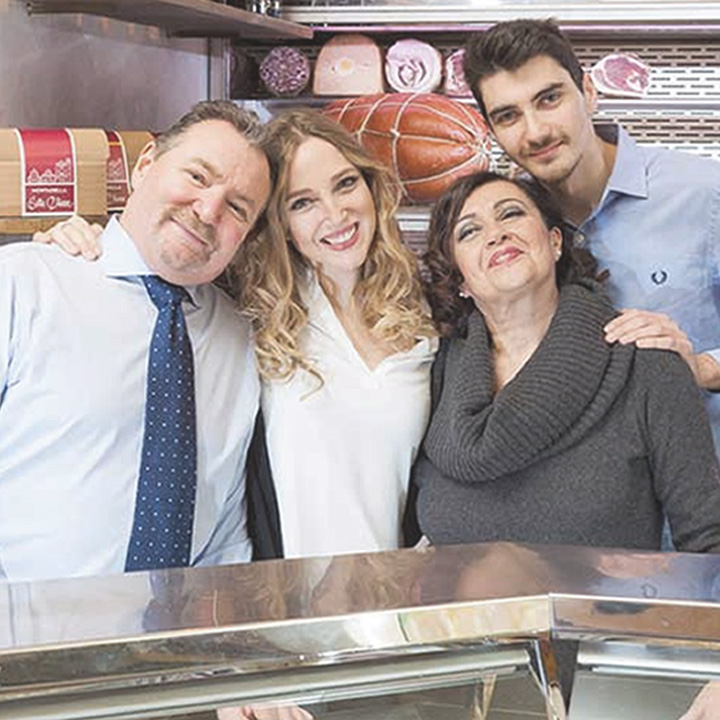 Why we chose them
Artigianquality is a craft laboratory of Mortadella production in the historic center of Bologna, run by two young brothers, Simona and Francesco Scapin. Their story is rooted in the long experience of their father, Silvio Scapin, who start working since he was young in the industry, accumulating a great experience and elaborating his own recipes. Few years ago, Simona and Francesco decided to open a workshop for the production of Mortadella where, thanks to the skills of Silvio, everything is done in a craftsmanship way. High-quality raw materials are selected with great care, such as the meat of the Mora Romagnola native swine breed, or Bronte pistachio. No by-products, flours, milk derivatives, chemical or emulsifier aromas are used; spices and natural aromas are moderate and the perfume and taste of the products simply come from the long cooking at low temperatures in the stoves, following the time of the meat.