The product
Pork cup cooked at low temperature and already frayed ("pulled")
Country of origin:
Italy - Trentino Alto Adige
More Information

| | |
| --- | --- |
| Description | Cup meat of Trentino pigs cooked slowly with spices, in particular with smoked paprika on the farm with the same cold smoke also used for the production of smoked meatrs; it is free of preservatives |
| Appearance | The product is already frayed ("pulled"), bagged and ready to use, after heating; the meat is well cooked and not at all greased with the well visible fraying |
| Taste | Rustic, spicy with notes of kummel and slightly spicy |
| Our selection | The activity today is carried out by Luca and Pio who work with selected meat of cattle, pigs and game to create a wide range of traditional artisanal salami |
| Suggestions | Liven it up in a pan or microwave to fill your bun, adding fresh vegetables to taste |
More Information

| | |
| --- | --- |
| Weight | 1 kg approx |
| Packaging | Vacuum packed |
The producer
Fratelli Corra' - Smarano (TN) - Trentino Alto Adige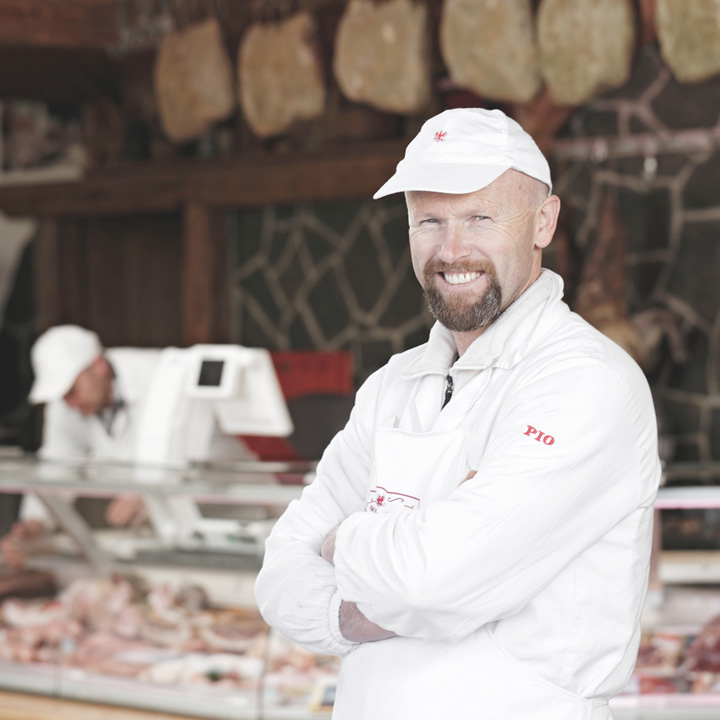 Why we chose them
Corrà family's business began in 1850 when Giacomo Corrà, Luca and Pio's great-grandfather, moved to Smarano from Revò and opened a "bettola", a shop where you could find almost everything, including their own-slaughtered meat and sausages produced by the family. After the first World War, Pio's grandfather began to manage the shop and the stable where the family raised their Grigio Alpina cows. In his memories he left to his son Giacomo and his grandchildren he wrote not only about the war in Russia, but also his precious recipes, still used today by Luca and Pio in the production of Corrà specialties. Corrà brothers carefully select meat that is only coming from the Trentino area to produce typical charcuterie of their land, in the sign of the family tradition.