The product
Italian beef brisket with an extremely tender texture
Country of origin:
Italy - Trentino Alto Adige
More Information

| | |
| --- | --- |
| Description | Point of beef brisket from Italian cattle immersed in brine, with a very tender texture |
| Appearance | The slice presents itself with a dark pink color, particularly juicy and soft when cut |
| Taste | The meat is flavorful but balanced, the spices and brine are not too overpowering, pleasantly juicy and not at all tough. It has distinct notes of pepper, cumin, and cloves |
| Our selection | Today, the business is carried on by Luca and Pio, who work with selected meats from cattle, pigs, and game to create a wide range of traditional artisanal cured meats |
| Suggestions | To be used in slices not too thin to create the iconic New York sandwich; excellent for filling sandwiches, it pairs well with spicy mustard and rye bread; it also lends itself to more original solutions such as topping a white pizza with pomegranate and smoked stracciatella |
More Information
Ingredients
100% Italian beef, salt, natural flavors, organic maltodextrin, sucrose, organic spice extracts
Weight
2 kg approx
Packaging
Vacuum packed
Storage Conditions (packaged products)
Store at a temperature between 0°C and +4°C
Country of origin of the primary ingredient
Italy
Nutrition Declaration
Energy: 615 kJ / 147 kcal
Fat: 5,8 g
of which saturates: 2,7 g
Carbohydrate: 0,4 g
of which sugars: 0,1 g
Protein: 21,8 g
Salt: 2,8 g
Typical value per 100 g
The producer
Fratelli Corra' - Smarano (TN) - Trentino Alto Adige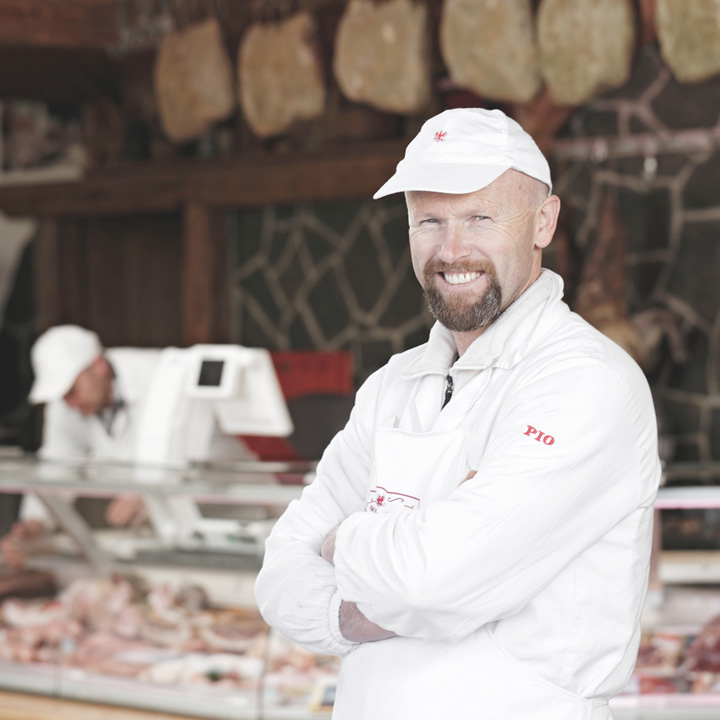 Why we chose them
Corrà family's business began in 1850 when Giacomo Corrà, Luca and Pio's great-grandfather, moved to Smarano from Revò and opened a "bettola", a shop where you could find almost everything, including their own-slaughtered meat and sausages produced by the family. After the first World War, Pio's grandfather began to manage the shop and the stable where the family raised their Grigio Alpina cows. In his memories he left to his son Giacomo and his grandchildren he wrote not only about the war in Russia, but also his precious recipes, still used today by Luca and Pio in the production of Corrà specialties. Corrà brothers carefully select meat that is only coming from the Trentino area to produce typical charcuterie of their land, in the sign of the family tradition.