A precious fruit of stories and traditions, so unique that makes the imitation useless. From the beginning, or end, of the chain of the Alps: the Castelmagno
It is known that Castelmagno is an ancient cheese, almost as much as Gorgonzola. In fact it is already mentioned in a sentence of 1277 where it is used as a form of payment to the Marquis of Saluzzo.
The legend we like, however, is that of Charlemagne: his attempt at a banquet to remove the blue vein from this cheese was famous.
For this reason it was taken up by the bishop of Saluzzo who accused him of giving up the best part, and since then it was love.
Leaving aside myths, the Castelmagno is truly a unique cheese: produced with raw cow's milk, possibly with the addition of a variable portion of sheep's or goat's milk that never exceeds 20%, it is the result of the union of two milkings, one of which is semi-skimmed.
Once the curd is prepared, broken to the size of a hazelnut and left to rest in the serum for 30 minutes, it is separated from the whey and left to rest in sheets for at least 24 hours.
This process, in addition to helping the drying, influences its acidity. Then the curd is cut and re-soaked in the serum in steel tanks for 2/3 days.
At this point it is "frugata", that is reduced to little pieces by hand, then salted and finally placed in molds.
From here begins the aging in tuff caves and we can find a first identification: named "fresco" when matured for 60 days, "stagionato" for at least 4 months.
The mountain pasture is a different story. The cheese is produced only from May to October at an altitude of almost 2.000 meters, with a minimum maturing period of four months
Only this selection is a Slow Food Presidium.
And so here is another classification for Castelmagno: if it has the green label it will be an alpage production, while if the label is blue it is defined as mountain production, but not alpage.
Why then everlasting pasture? The case is quite unique. Usually when we talk about mountain pastures we imagine a natural cycle in which in winter the herd lives in the valley and only in summer the transhumance brings the cows in alps, thus creating a substantial difference in the pasture and in life the animal.
With Castelmagno it is true that the mountain pasture is almost 2000 meters high, but still, winter production takes place at an altitude of about 1000, in fact it is called "di Montagna".
In short, these cows never see the valley. They are destined to fatigue and good grazing, like their masters are intended for sweat and glory, for an eternal cheese.
In the glass
Si chiamano a vicenda, quasi come se non riuscissero a separarsi. Si tratta di vino rosso e Castelmagno. Da buon toscano non potevo che chiudere gli abbinamenti con un buon rosso corposo che dia filo da torcere ai gusti erbacei ed erborinati del Castelmagno. Non vi darò un'unica scelta, ma vi dirò che la stagionatura del formaggio definirà la proposta del vino. Freschi e floreali per l'etichetta blu, persistenti e intensi per l'etichetta verde. Ma se proprio vi va di osare, osate un passito di Pantelleria

In the plate
The alpage Castelmagno is a decidedly fragrant cheese, slightly savory on the palate, with distinct herbaceous and floral notes that soften and mix with earthy notes when the rare and precious blue veins are present. Taking into account these organoleptic characteristics, always with seasonality as a compass, I chose to combine it with pumpkin. By cooking squares of pumpkin I have overlapped them, adding between the layers a slightly caramelized onion with rosemary, slices of crispy guanciale and fondue of Castelmagno with crumbled blue parts on the last layer.
From the field
For those who like to live in safety and see in risk only fears and losses, I can recommend the classic combination with Tilia honey, reliable, good and always the same. If instead you have the courage to try and discover - because this are the pairings, discoveries that become certainties - I suggest you to try it this season along with the persimmon. Its sweet and almost creamy consistency combines very well with the salinity and crispness of Castelmagno.
An Extra Tip
Obviously the best wheels are those produced in summer on the mountain pastures, although production takes place throughout the year. The current trend is to consume it fresh, as soon as it develops a typical grainy and not very compact consistency. It is to be disapproved. This cheese develops its full flavour after a few months of aging, during which an excellent spontaneous blue vein can develop.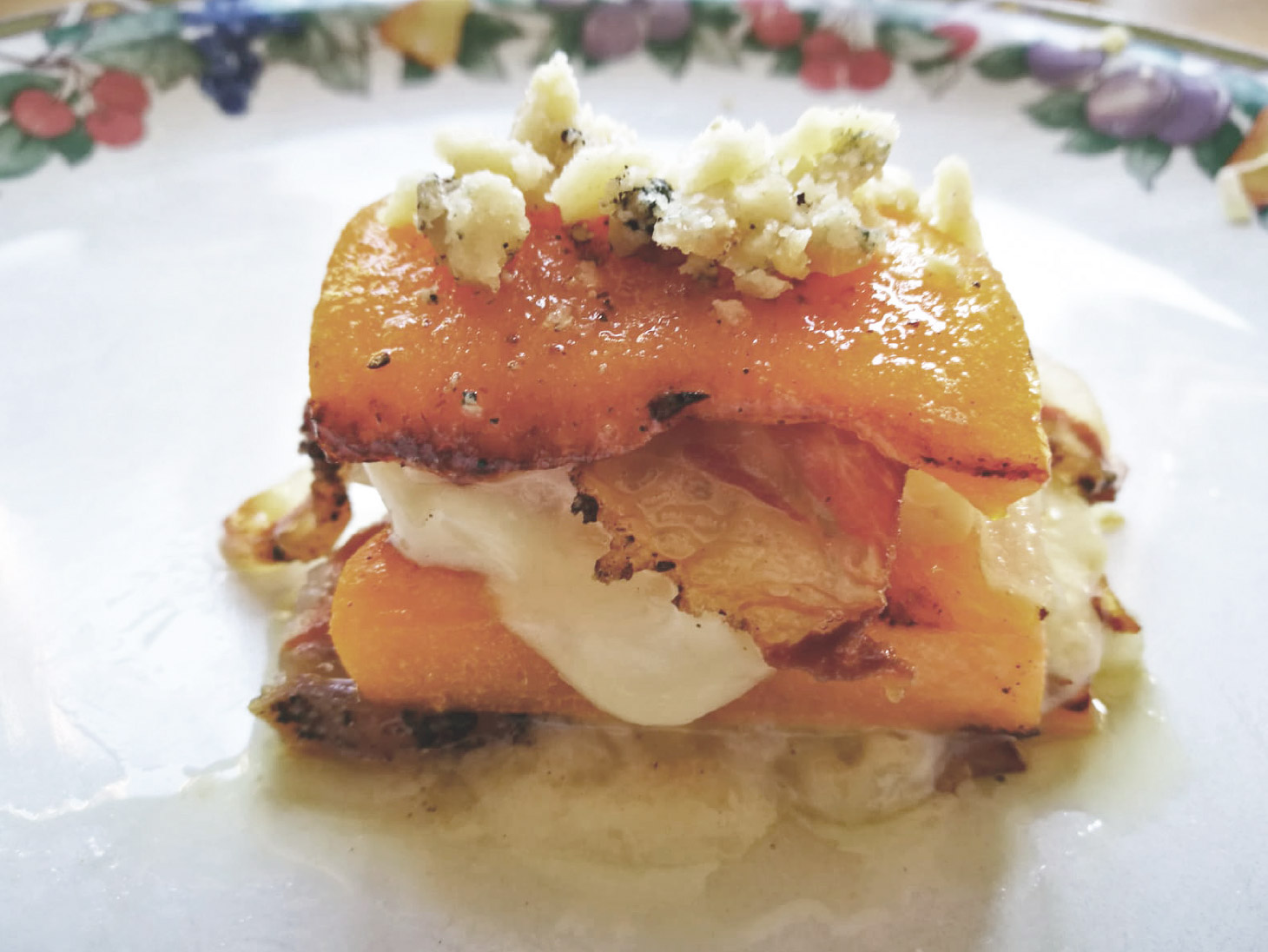 Matteo De Santi
Export Manager