It all started with a phone call asking Samuele Ambrosi's availability for a tasting session to find combinations of cheeses and cocktails... but not gin tonic, a pairing theme already addressed a couple of issues ago. His answer was immediate: "the gin tonic is not a cocktail". Perfect, here we are, he is our man and we immediately understand that he loves his job like as we love our, when we don't miss the chance to remember that ricotta is not a cheese!
The appointment is for the following morning in Treviso, at the Cloakroom - Cocktail Lab. The place is not large, no chairs to sit and a sign at the entrance suggests that Aperol Spritz isn't served there. What? Here in Treviso, the city of Prosecco and Spritz! We can't resist to ask the story of the bar.Samuele explains that he opened Cloakroom in 2013, a sort of provocation for a place that was not the usual bar and that proposed high quality cocktails. Today the bar has become a real reference point for cocktail lovers in Treviso.
But who is behind the Cloakroom counter? Samuele Ambrosi, great passionate and great professional in bartending, son of restaurateurs, he says he has dried glasses since he was very young. His passion for mixing led him to make very important experiences abroad, to participate in Europeans and World Contests of mixology and now to become a consultant. Along with him, a staff of highly trained professionals, including Mattia who accompanied us, with Samuele, in this experience.
The world of cocktails is fascinating and very close to that of restaurants: as a chef combines different ingredients to create a dish, a barman mixes different ingredients to get a cocktail. Our sensory experience began with tastings in pureness to define the aromatic profiles of the cheeses and to understand with Samuele and Mattia which characteristics to enhance or to contrast... and then the final test with the cocktails. It was unbelievable to find out how some pairings that seemed to be a gamble turned out to be perfect...
New York Sour and Brie de Meaux AOC Courtenay
The mushroom and ground sensations of the Brie de Meaux AOC Courtenay blend perfectly with the New York Sour, a fresh cocktail born in the United States at the end of the 19th century and made with rye whiskey, lemon, sugar and red wine.
Here Samuele used a medium-bodied Pinot Noir, which married very well with the Brie and would be perfect also with other bloomy cheeses. During the tasting, the cheese and the aroma of the wine left space for each other in the mouth, in a true union of flavours. The fresh and sour lemon note finally cleaned the palate and prepared it for the next tasting.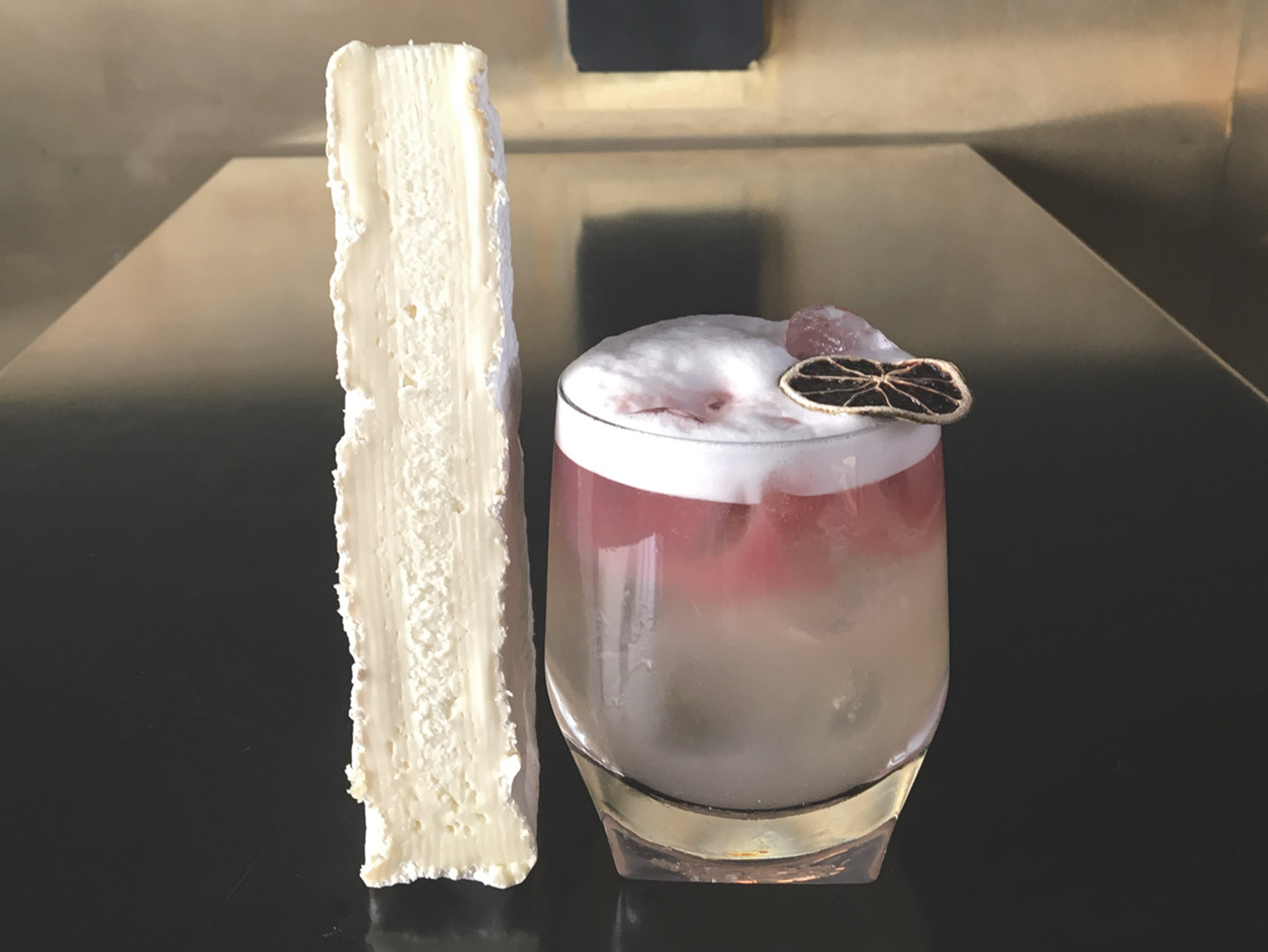 Mai Tai and Beaufort AOC Chalet d'Alpage
This is one of the combinations that have surprised us the most: Beaufort AOC Chalet d'Alpage and Mai Tai. The French culture to one hand and a Polynesian style in the other: it was incredible to see how product of so different styles combined so naturally.
The toasted, buttery notes and the long persistence of Beaufort have managed to stand up the important alcoholic part of Mai Tai, made with 3 different rums, barley water, triple sec, lemon and lime. In reality, the cocktail was designed for Montebore, but it didn't hold up the alcohol. The combination with a long seasoned Comté or Bitto is certainly winning.
Old Bitter Company and Stilton Blu Cropwell Bishop
After Mai Tai, another successful provocation: Old Bitter Company and Stilton Blu Cropwell Bishop. The Old Bitter Company is an aperitif cocktail made with apricot liqueur, Barolo Chinato, China and Chartreuse, a French herb liqueur.
It was really interesting and daring to combine a cheese of strong personality like the Stilton with an aperitif cocktail, but the combination was immediately intriguing: the notes of mould of the blue veins perfectly linked to the bitter note of the herbal liqueur. Definitely to try with a Gorgonzola Piccante DOP.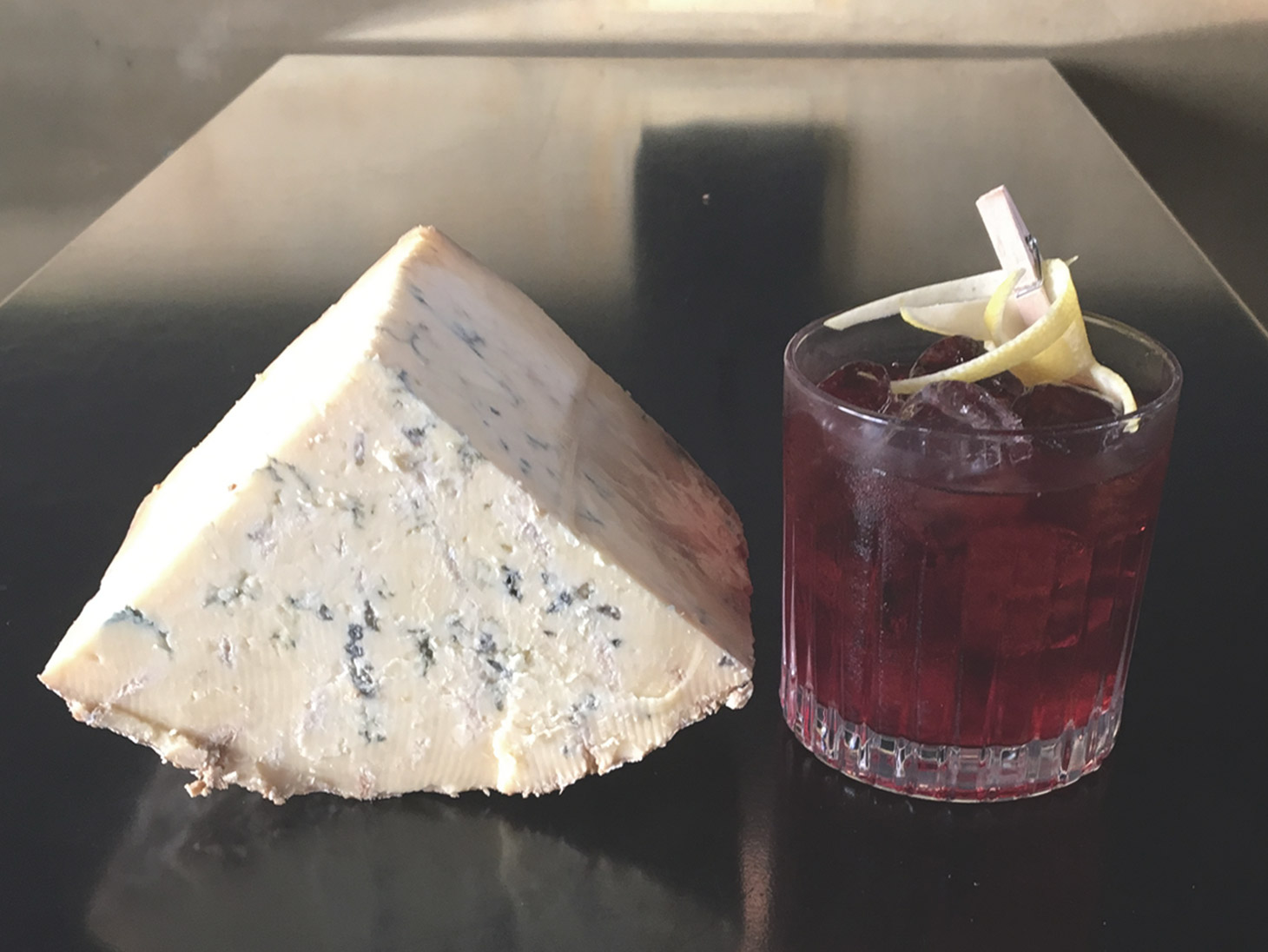 Giulia Bassetto
Marketing & Communication