The product
Half-matured goat's cheese produced by 'La Giuncà' in Piedmont
Country of origin:
Italy - Piedmont
Type of Milk:
Raw Goat's milk
More Information

| | |
| --- | --- |
| Description | Goats whole raw milk coming from the area of Valsesia |
| Appearance | The rind is thin and the paste is compact, white in colour, little and rarely eyes |
| Taste | The taste is sweet with nutty, ripe fruits and milky notes |
| Maturing | At least 60 days |
| Curiosity | This cheese takes its name from the stones, collected on the banks of the rivers, which were used a time to cover the roofs of houses |
| Our selection | Beola di Capra won us over for its complexity: during the tasting first lactic notes prevail, then ripe fruit, hazelnut and wet cellar. It's interesting the chromatic variation of the rind during the year: white in February and March, becomes gradually more orange in the months from April to September and greyish in the autumn. This aspect is closely related to the environment of seasoning, the cellars located under the houses of Fobello |
| Suggestions | Taste at room temperature |
More Information
Ingredients
Raw goat's MILK, salt, rennet
Allergens in ingredients
Milk and products thereof
Other allergens
Eggs and products thereof
Weight
5 kg approx
Packaging
Whole wheel unpacked, fractions vacuum packed
Storage Conditions (unpacked products)
Keep in fridge at temperature less than +4 °C
Storage Conditions (packaged products)
Keep refrigerated below +4 °C
Instructions for use
Please remove crust before consumption. Sell fractionated.
Country of origin of the primary ingredient
Italy
Nutrition Declaration
Energy: 1121 kJ / 268 kcal
Fat: 21,8 g
of which saturates: 14,57 g
Carbohydrate: 0,89 g
of which sugars: 0,89 g
Protein: 18,52 g
Salt: 2 g
Typical value per 100 g
The producer
La Giuncà - Fobello (VC) - Piedmont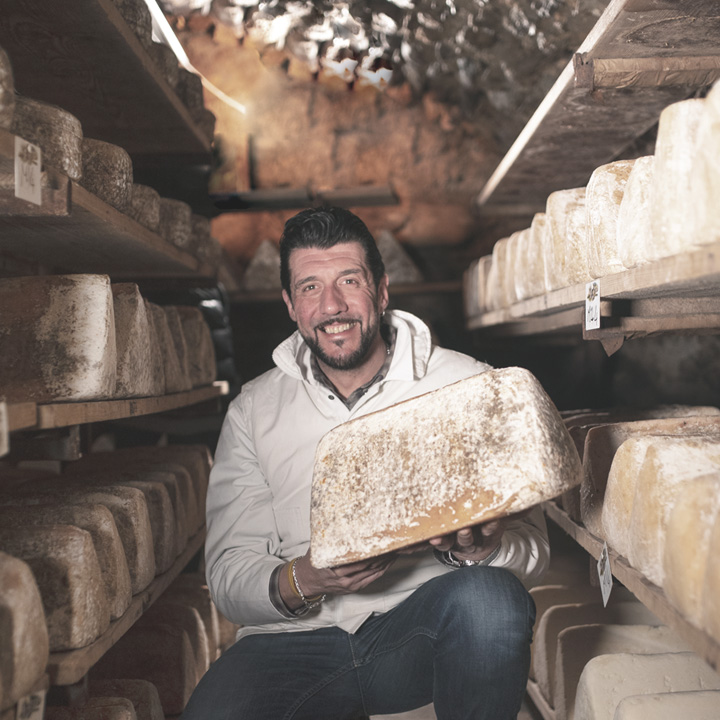 Why we chose them
We are in Alta Valsesia, in Vercelli area, where La Giuncà makes curious forms of cheese from the milk of nearby valley. The passion for the raw milk has remained the same as in the past, as are the natural cellars scattered under the houses of the town and full of a truly fragrant and dense flora. Bruno, that learned the job from his father, is the master cheesemaker of La Giuncà while Gianluca is the affineur. The creativity of Bruno and Gianluca is based on the dairy tradition of the territory, it is bound especially at the Tome of local shepherds. That's why their cheeses have complex hues of colour and flavour, real masterpieces that we want to present to you. Without forgetting their butter, made in a corner of their dairy with an amazing view on the valley. Really a classy butter!