The product
Half-matured goat's cheese produced by 'La Giuncà' in Piedmont
Country of origin:
Italy - Piedmont
Type of Milk:
Raw Goat's milk
More Information

| | |
| --- | --- |
| Raw material | Goats full raw milk coming from the area of Valsesia |
| Appearance | The crust is thin and its color is ivoty yellow. The paste is some elastic, compact with small eyes scattered across. The color of the paste is |
| Taste | The taste is dolce, nutty, creamy, milky and round. The aftertaste is dolce, nutty with hints of the aroma of the goats milk, wood and earth |
| Maturing | At least 60 days |
| Suggestions | Excellent as a table cheese with fresh apples and pears. Beautiful over green salads. Outstanding as a basic ingredient in the preparation of creamy sauces |
More Information
Ingredients
Raw goat's MILK, salt, rennet
Allergens
Milk and products thereof
Other allergens
Eggs and products thereof
Weight
5 kg approx
Packaging
Whole wheel unpacked, fractions vacuum packed
Storage Conditions (unpacked products)
Keep in fridge at temperature less than +4 °C
Storage Conditions (packaged products)
Keep refrigerated below +4 °C
Instructions for use
Rind not edible
Paese di origine ingrediente principale
Italy
Nutrition Declaration
Energy: 1121 kJ / 268 kcal
Fat: 21,8 g
of which saturates: 14,57 g
Carbohydrate: 0,89 g
of which sugars: 0,89 g
Protein: 18,52 g
Salt: 2 g
Typical value per 100 g
The producer
La Giuncà - Fobello (VC) - Piedmont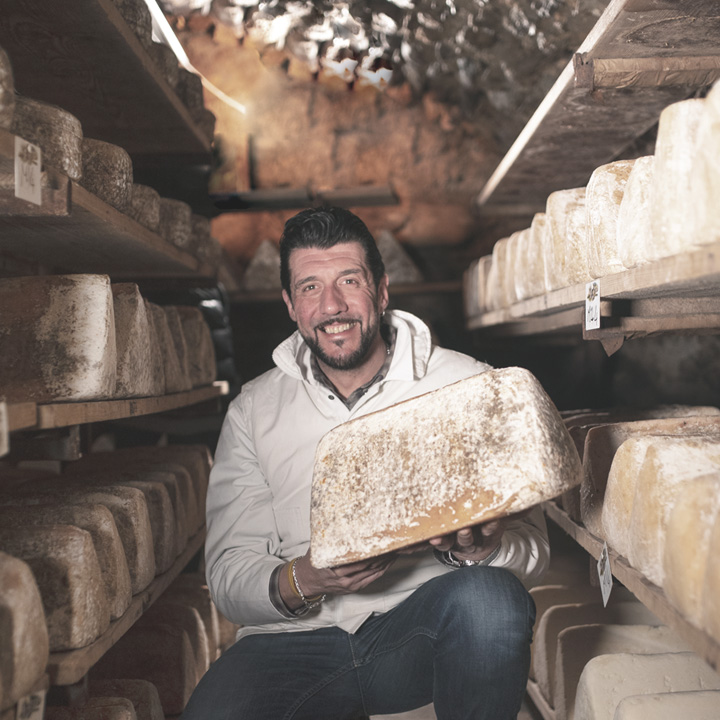 Why we chose them
We are in Alta Valsesia, in Vercelli area, where La Giuncà make, from the milk of nearby valley, curious and never banal forms of cheese. The passion for the raw milk has remained the same as in the past, as are the natural cellars scattered under the houses of the town and full of a truly fragrant and dense flora. Bruno, that learned the job from his father, is the master cheesmaker of Giuncà while Gianluca is the affineur. The creativity of Bruno and Gianluca is based on the dairy tradition of the territory, it is bound especially at the Tome of local shepherds. That's why their cheese have really complex hues of colour and flavour, real masterpieces that we want to present to you again. Without forgetting their butter, made in a corner of their dairy with a amazing view on the valley. Really a classy butter!