The product
Storico Ribelle Slow Food Presidium Alpage 2015
A great Slow Food Presidium, produced still today in the Calècc
Country of origin:
Italy - Lombardy
Type of Milk:
Raw Goat's milk, Cow's milk
More Information

| | |
| --- | --- |
| Description | Raw cow's milk and raw goat's milk |
| Appearance | The rind is thick and hard; the paste id compact and wirth a colour tending to yellow |
| Taste | The taste is decided with notes of melted butter and pastures |
| Maturing | At least 6 years |
| Curiosity | Historically this cheese was produced in the valleys of Gerola and Albaredo, in the province of Sondrio. In this valleys, the cheese is still produced in the pastures, at an altitude of 1400 to 2000 meters. During the three summer months the cows are led through a journey in stages, ranging from the lower stations to the highest ones. Along the way, the traditional ancient stone buildings that were used to protect the area serve as cottage-cheese-making places. In those places the cheese is produced entirely by hand. It is dry-salted, so it forms a delicate crust, a guarantee of a better aging. In the production of the cheese any supplements in the feeding of animals as far as additives, preservatives or yeast is |
| Our selection | A cheese of exceptional quality that increases its flavour and its value through the years; a symbol of the Lombard cheesemaking history and an example of the strength of the tradition |
| Suggestions | Excellent cheese to taste in pureness, with a glass of red wine when aged and or a glass of sparkling wine when young |
More Information
Ingredients
Raw cow's MILK, raw goat's MILK (maximum 20%), salt, rennet
Allergens in ingredients
Milk and products thereof
Other allergens
Eggs and products thereof
Weight
10 kg approx
Packaging
Whole wheel unpacked, fractions vacuum packed
Storage Conditions (unpacked products)
Keep refrigerated below +4 °C
Storage Conditions (packaged products)
Keep refrigerated below +4° C
Instructions for use
Please remove crust before consumption. Sell fractionated.
Country of origin of the primary ingredient
Italy
Nutrition Declaration
Energy: 1716 kJ / 413 kcal
Fat: 33 g
of which saturates: 23 g
Carbohydrate: 1,9 g
of which sugars: 0 g
Protein: 27 g
Salt: 1,3 g
Typical value per 100 g
The producer
Valli del Bitto - Gerola (SO) - Lombardy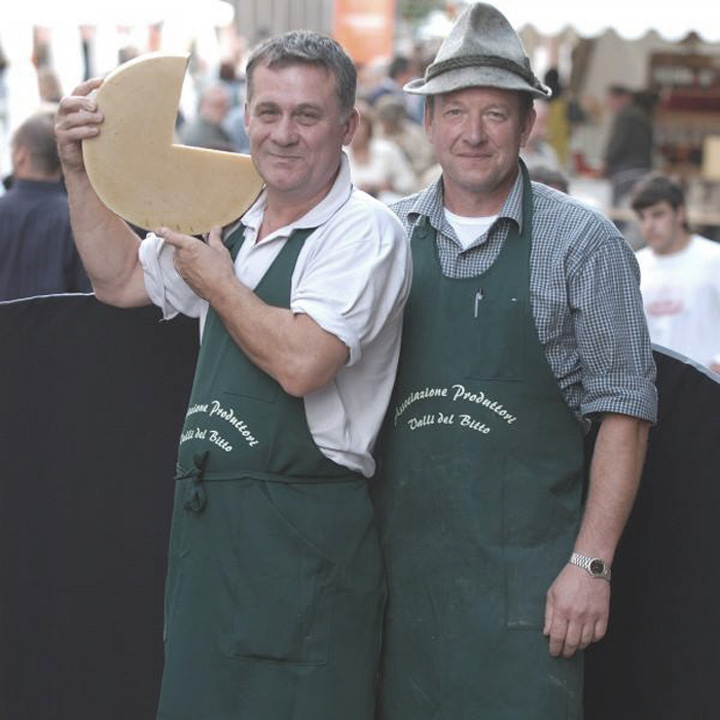 Why we chose them
The Historic Rebel is a traditional cheese from Alberedo and Gerola Valleys in the province of Sondrio, produced with great passion by 13 cheesemakers on alpine pastures. It is produced according to ancient techniques in "calècc", a millenary stone structures that dot the mountain slop of the Alps, created to set up a mobile dairy area. The production takes place in the pastures, with fresh milk still warm milked from cows and goats that are fed exclusively with alpine grass. A singular and sincere name, to define a cheese already known as Historic Bitto. Bitto's historic producers have decided to "rebel" after the cheese has been declared DOP and its production area was extended. The new discipline, less rigid than the original one, put very different productions on the same level, so historic producers decided to distance themselves producing the "Bitto Storico". However, the name legally conflicted with the Bitto DOP, so with the support of Slow Food and the creation of a consortium of the 13 historical producers, the Historic Rebel was born: a new name for a millenarian cheese.