The product
Full cream cow's milk cheese with washed rind
Country of origin:
Italy - Lombardy
Minimum order:
1 piece; available in 1/2 (cod 20949)
More Information

| | |
| --- | --- |
| Raw material | Pasteurized cow's milk |
| Appearance | The rind is hard and its color is reddish. The paste is dry, with no eyes, compact, crumbly and its color is straw-white |
| Taste | The taste is dolce, delicate and round. The aftertaste is round, long, nutty, with hints of forest mushrooms and wood cellar |
| Maturing | At least 2 months |
| Curiosity | Once upon a time this cheese was produced in the month of May to use the milk surplus of that period of the year. That, over the years, became vital to the economies of the local dairies. This is the reason the cheese got the name Salva which means save. The production zone is in the area of Brescia, Bergamo and Cremona |
| Suggestions | This cheese must be eaten at room temperature |
More Information
Ingredients
Milk, salt, rennet
Allergens
Milk and products thereof
Weight
3 kg approx
Packaging
Whole wheel wrapped in paper, fraction in thermoshrinking film
Storage Conditions (unpacked products)
Keep refrigerated between +2 and +6 °C
Storage Conditions (packaged products)
Keep refrigerated below + 4 °C
Instructions for use
Please remove crust or mold before consumption
Nutrition Declaration
Energy: 1649 kJ / 397 kcal
Fat: 33,2 g
of which saturates: 25,3 g
Carbohydrate: 0,9 g
of which sugars: 0,9 g
Protein: 24,7 g
Salt: 1,5 g
Typical value per 100 g
The producer
Carozzi Formaggi - Pasturo (LC) - Lombardy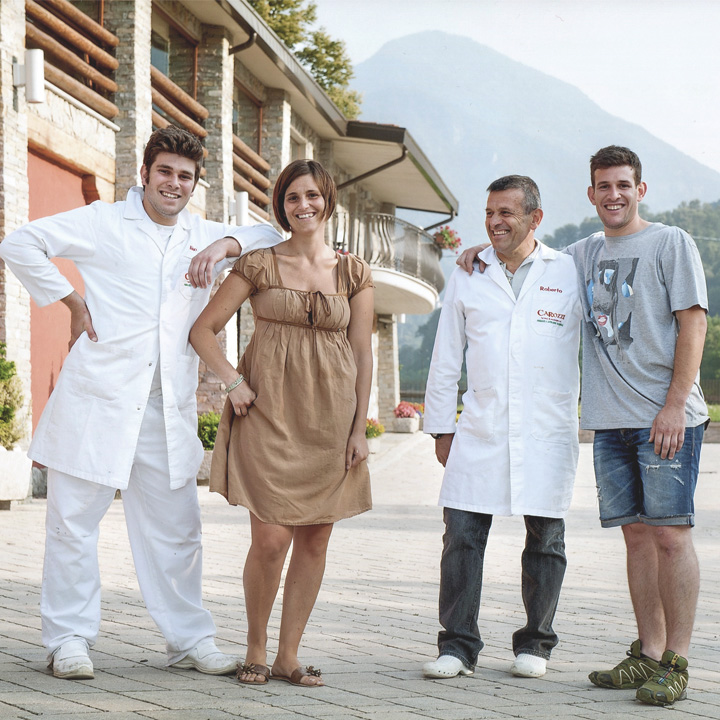 Why we chose them
Valsassina, the area of Lecco lake, offers a special microclimate that is ideal for the processing of cheese. It is here that the family Carozzi has worked for more than 50 years. Founded in 1960 by Aldo Carozzi, the company is run now by the third generation: Roberto Carozzi with his wife Donata and their three children: Vera, Aldo and Marco. Carozzi combines his passion, the modern technology of his factory and the precious milk from the dairies of the area. In his modern factory in Pasturo (LC), the human effort is still fundamental and it focuses on the maturation of the cheese, the main activity of Carozzi business for all these years. With commitment and know-how, sensibility and patience, skill and respect, Carozzi refines all the great PDO cheeses of Lombardy region: Gorgonzola, Taleggio, Quartirolo.