The product
Pomodori Ciliegini soleggiati
Sun-dried cherry tomatoes cultivated and processed in Salento, Apulia
Country of origin:
Italy - Apulia
More Information

| | |
| --- | --- |
| Raw material | Cherry tomatoes sun-dried as required by tradition, is in fact an ancient practice and has been almost completely abandoned because is difficult and delicate. The result is a product with unique organoleptic properties, authentic taste and flavour |
| Appearance | Tomatoes intense red colour and rich in pulp |
| Taste | Sweet with light notes of vinegar and an intense flavour of tomatoes |
| Our selection | The most interesting aspect of I Contadini is the deep link with the land and the traditions. The vegetables are produced by the firm, with integrated techniques, in the province of Lecce in Apulia region, and naturally dried under the strong sun of Salento, according to an ancient tradition, preserving in them all the organoleptic and nourishing qualities |
| Suggestions | Delicious with ricotta or served with a warm bruschetta; it can be also used as an appetizing ingredient for sandwiches |
More Information
Ingredients
Sun-dried cherry tomatoes, sunflower oil, extra virgin olive oil, vinegar, red pepper, garlic, capers, herbs, salt, sugar, acidity regulator: E330, antioxidant E300
Weight
2 kg
Packaging
22/5000 Heat-sealed tray
Storage Conditions (unpacked products)
Keep refrigerated below +4° C
Storage Conditions (packaged products)
Keep refrigerated below +4° C
Instructions for use
During storage keep the product fully covered by oil
Nutrition Declaration
Energy: 723 kJ / 174 kcal
Fat: 12,5 g
of which saturates: 2 g
Carbohydrate: 10,5 g
of which sugars: 3 g
Protein: 3,5 g
Salt: 1,5 g
Typical value per 100 g
The producer
I Contadini - Ugento (LE) - Apulia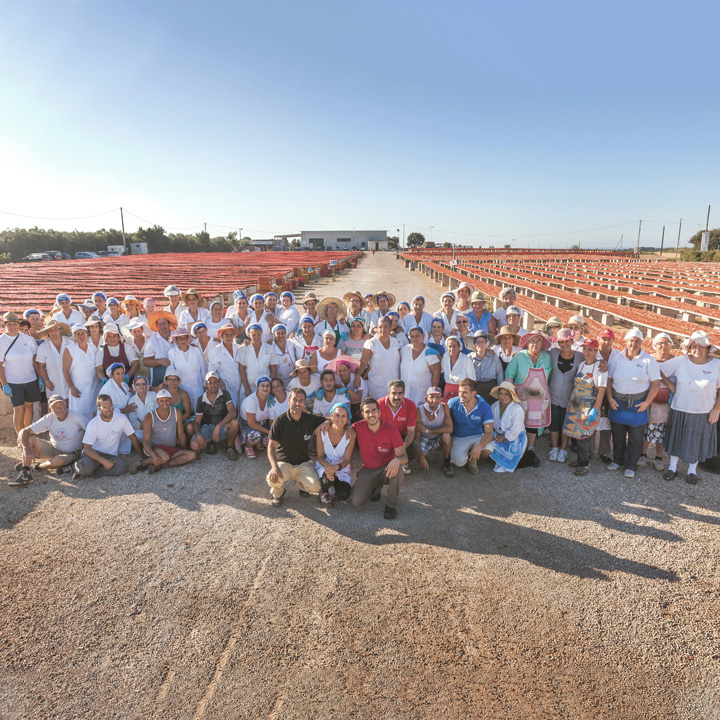 Why we chose them
"I Contadini " farm, run today by the third generation, has been founded in one of the most suitable areas for the cultivation of vegetables, in Apulia, more exactly in Salento, the so-called "land of sun, sea and wind". The fantastic climate of this land, warmed by sun all over the year, together with fertile ground structure and positive sea influence, is perfect to obtain excellent tomatoes and all kind of vegetables. An "integrated production" technique is applied to cultivate more than 20 hectares of open fields vegetables: long tomatoes, cherry tomatoes, eggplants, courgettes, sweet and hot peppers, artichokes. Vegetables are naturally dried up by the sun of Salento, so that all the water in excess is taken away and the product is preserved in its organoleptic and nutritive qualities. Drying vegetables in the sun is a very ancient art, today almost totally abandoned; even though difficult and delicate, it allows to obtain an absolute unique organoleptic result: softness of pulp, preservation of vitamins, proteins and mineral salts, and a special harmonic flavour which is by far more recognizable. Short production chain and short label: Edoardo Trentin, with his brothers, takes care of the all process, from cultivation to packaging in olive oil, without preservatives.