The product
Toma della Valle di Gressoney
Raw milk cheese with washed rind, produced in summer over 2200 meters high
Country of origin: **
Italy - Aosta Valley
Type of Milk:
Raw Cow's milk
More Information

| | |
| --- | --- |
| Description | Partially-skimmed raw milk |
| Appearance | The crust is thin, rose to brown in colour; the paste is elastic, white or pale yellow in colour with small holes scattered across |
| Taste | Mild, with light animals notes and a pleasant aroma that reminds of the cellar where it matures |
| Maturing | At least 90 days |
| Curiosity | The alpage version of Toma di Gressoney is really a rare cheese: during the whole summer the five dairies produce around 800-1000 wheels in total; this cheese is also part of the Slow Food "Ark of Taste", a project that collects small-scale quality productions that belong to the cultures, history and traditions of the entire planet |
| Our selection | UnaToma di alpeggio la cui produzione è estremamente limitata: in tutta l'estate vengono prodotte complessivamente circa 800-1000 forme, dai 5 produttori che lavorano in alpeggio |
| Suggestions | Try it with a jam of pears and Moscato or with a jam of apples and cinnamon |
More Information
Ingredients
Semi-skimmed raw MILK, salt, rennet
Allergens in ingredients
Milk and products thereof
Other allergens
Eggs and products thereof
Weight
3 kg approx
Packaging
Whole wheel wrapped, fractions vacuum packed
Storage Conditions (unpacked products)
Keep refrigerated between +4 °C and +8 °C
Storage Conditions (packaged products)
Keep refrigerated below +4 °C
Instructions for use
Please remove crust before consumption. Sell fractionated.
Country of origin of the primary ingredient
Italy
Nutrition Declaration
Energy: 1063 kJ / 255 kcal
Fat: 17 g
of which saturates: 10 g
Carbohydrate: 6,8 g
of which sugars: 6,8 g
Protein: 19 g
Salt: 1,8 g
Typical value per 100 g
The producer
Nicoletta - Donnas (AO) - Valle d'Aosta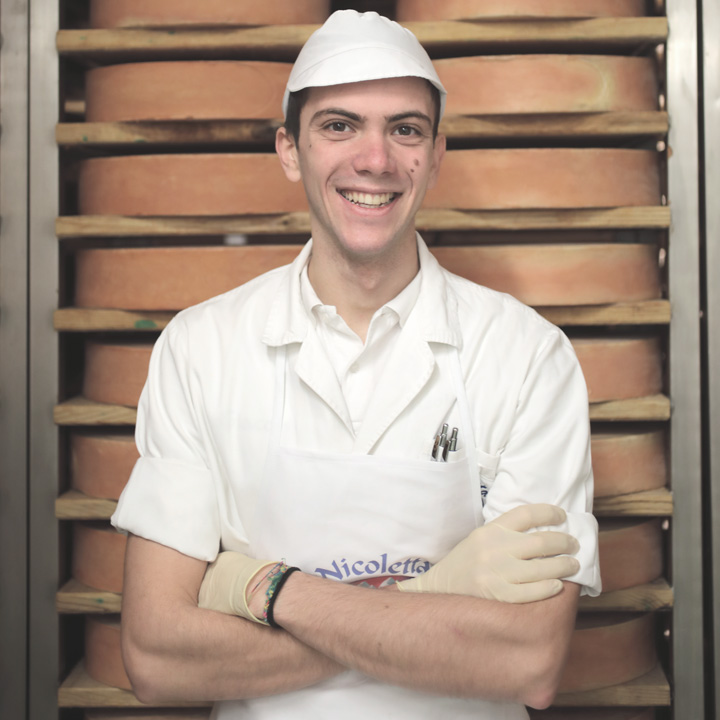 Why we chose them
Nicoletta is a family company that was founded in 1988, specializing in the selection and affinage of typical cheeses of the Aosta Valley. It is located in Donnas (Ao) a small, ancient medieval village in the middle of the mountains, in the lowest part of Aosta region. The Aosta Valley with its climate, the vitamin-rich milk, the protein content, the natural aromas, the mountain flowers, is the ideal place to produce fantastic cheeses. Additionally to all that, the 25 years experience of Nicoletta family, is enough to transform each cheese to a unique piece of art. "Working with many small dairies means that each cheese requires specific attentions: each batch of production requires a specific care, how to salt it, how to wash it, when to turn it. This is the art of maturing cheeses" - told us Paolo. Among the specialties matured by Nicoletta there is Fontina Dop cheese, the most famous dairy product of Aosta Valley.