The product
Considered as the best Brie de Meaux, produced by Fromagerie Dongé
Country of origin:
France
Type of Milk:
Raw Cow's milk
Minimum order:
1 piece. Available in box (46719)
More Information

| | |
| --- | --- |
| Description | Authentic french Brie made with raw cow's milk |
| Appearance | The rind is velvet white, becoming pink and red with maturing; the paste is soft, straw-coloured |
| Taste | Sweet with good hints of sourness, with hints of nuts, herbs and champignon mushrooms |
| Curiosity | The origin of Brie de Meaux dates back to Charlemagne times and it has been elected as the King of all Cheeses during the Congress of Vienna in 1814. Traditionally, Brie is produced in a specific area but it is aged in a different region. Fromagerie Dongé produces the cheese in the Lorraine region instead the aging takes place in Ile-de-France region, as the tradition asks |
| Our selection | The attention to raw materials, the experience of the cheesemakers, the involvement of the breeders, the respect for traditions, a process still today of all manual: these are the factors that guarantee the quality of the Brie produced by the Dongé brothers. Gold medal at the Concours Général Agricole of Paris (for 10 consecutive years), that of the Dongé is the Brie that can be found in the best cheese shops and in the best restaurants in France |
| Suggestions | Maturing start from outside, so Brie de Meaux is perfectly ripened when it is creamy all around |
More Information

| | |
| --- | --- |
| Weight | 3 kg approx |
| Packaging | Packed in food paper and in wood box |
The producer
Fromagerie Dongé - Cousances lès Triconville - France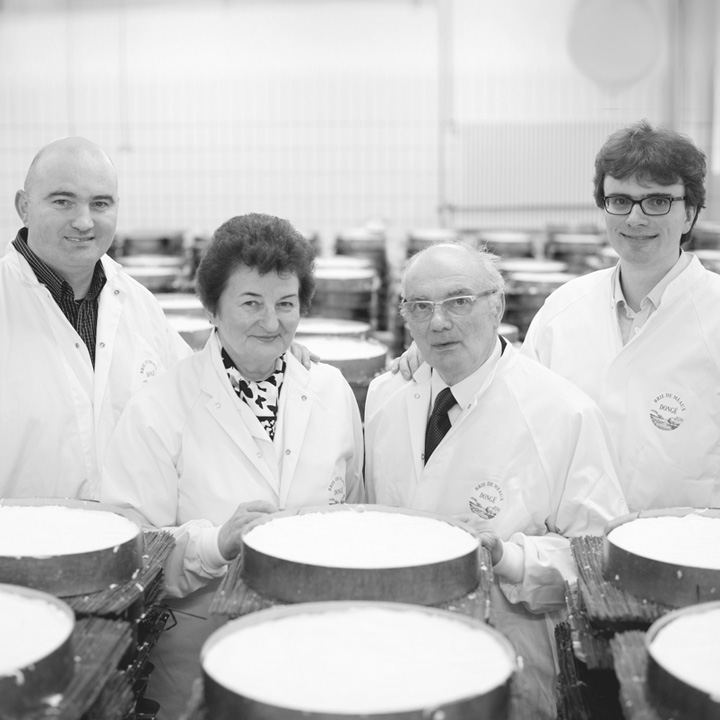 Why we chose them
Formagerie Dongè was found in 1930 by Etienne Dongé, in the small village of Triconville (100 inhabitants) right in the heart of the Meuse, in a green area full of pastures and therefore perfect for well structure milk for the production of cheese. The cheese dairy is supplied by the Union laitière de la Meuse co-operative (ULM): 40 farmers that work within 20 km around the Dongé firm. The milk comes mainly from the Prim'Holstein breed and Pezzata Rossa dell'Est. By using only raw milk from selected farmers, the Triconville cheesemakers take the time to «wake up the raw milk gently with its original flora and start up the enzymes before the milk is being transformed». This is one of the secrets of the Dongé family. Today the dairy is manage by Luc and Jean-Michel Dongé, the 3rd generation of this cheese family. Rewarded for over 15 years at the Concours Général Agricole de Paris (the latest one to date: gold in 2013), Dongé is the Brie de Meaux you will find in most of the Michelin starred restaurants in France.