Hate or love, no half ways. For someone they're a flashy creation for other a brilliant idea. Let's discover the new blue cheeses refined with cocktails by Moro Formaggi
First comes the curiosity for the originality of the project, then the attraction for the colours and the vivid decorations, finally the desire to taste unforgettable flavours thanks to uncommon pairings.
We're talking about the "Cocktails by Moro", the new range of blue cheeses refined with four worldwide famous cocktails: Martini, Cosmopolitan, Manhattan and Negroni.
This new project has been developed by Moro Formaggi (a spin-off of Latteria Moro) from Oderzo, a small city in Treviso province, and it has been presented during Sapori 2019.
After the event, the four new cheeses are gradually convincing the market thanks to their distinctiveness.
Susanna and Sergio, owners of the company, decided to focus their activity on the cheese affinage, an embedded tradition in France that is now developing also in Italy
The affinage is an art which purpose is to bring the cheese to a higher quality level (after the production phase) or to gain an exclusive taste, throughout the aging. We could interpreted the affinage like a customization of cheeses, a practice that requests a huge technical knowledges, curiosity, creativity and a lot of patience.
We talked about this with Susanna Moro, to let her tell us the background of this charming art, which is entirely based on experimentation: "only after a large number of attempts will we arrive at the optimal result that makes us shout Eureka!".
As for the great scientific discoveries, the definition of a new cheese decrees the birth of something new, an invention able to mix the cards of the gastronomic panorama as we know it.
This is the philosophy of this company: from Choco 21 (blue cheese with chocolate liqueur), Fior d'Arancio (blue cheese aged with Fior d'Arancio DOCG straw wine) to this latest innovation presented at Sapori, Moro Formaggi has giving life to cheeses with a unique flavour, able to surprise both cheese lovers and connoisseurs.
1. How are your ideas born?
By putting together a series of different solicitations that we take from the people around us.
Personally, I like to read and observe carefully the world, to see how people's tastes and habits change
Also the kitchen reflected this wave of innovation thanks to a generation of extremely creative chefs: the idea of Choco 21, for example, was born from a recipe by the starred chef Antonino Cannavacciuolo that combines chocolate and Gorgonzola.
So we try to follow these changes with our cheeses.
I would like that our new cocktail cheeses will be appreciated also by young people, to make them discover the desire to consume cheese instead of pizzas and sandwiches during the aperitif.
2. How did your cocktail cheese idea came out?
E' nata da un insieme di spunti ricevuti, tra cui un laboratorio proposto proprio a Sapori, l'appuntamento annuale che Valsana dedica ai suoi produttori e clienti, sempre ricco di stimoli e sperimentazioni.
L'anno scorso abbiamo partecipato al workshop dedicato agli abbinamenti tra cocktail e formaggi, organizzato in collaborazione con Cloakroom Cocktail Lab di Treviso: è stata un'esperienza che ci ha convinto a intraprendere questa nuova ricerca gastronomica.
3. How did you make it then?
For months I forced my husband and our friends to spend evenings from one bar to another to test the different cocktails and how they were presented.
Someone took us for drunkards, but for us it was essential to try the higher number of possible combinations to choose the most suitable for our project.
Ant at the end I found four cocktails.
I choose the Negroni, based on Campari Bitter, Red Vermouth and Gin, because it is an Italian symbol and this year it celebrates its 100th year of life.

In the Manhattan I like the use of Whiskey combined with Red Vermouth and a few drops of Angostura.
For the cheese refined with this cocktail I started from the study of the decoration: I kept the classic one used for the presentation of the cocktail, based on candied cherries seasoned with maraschino.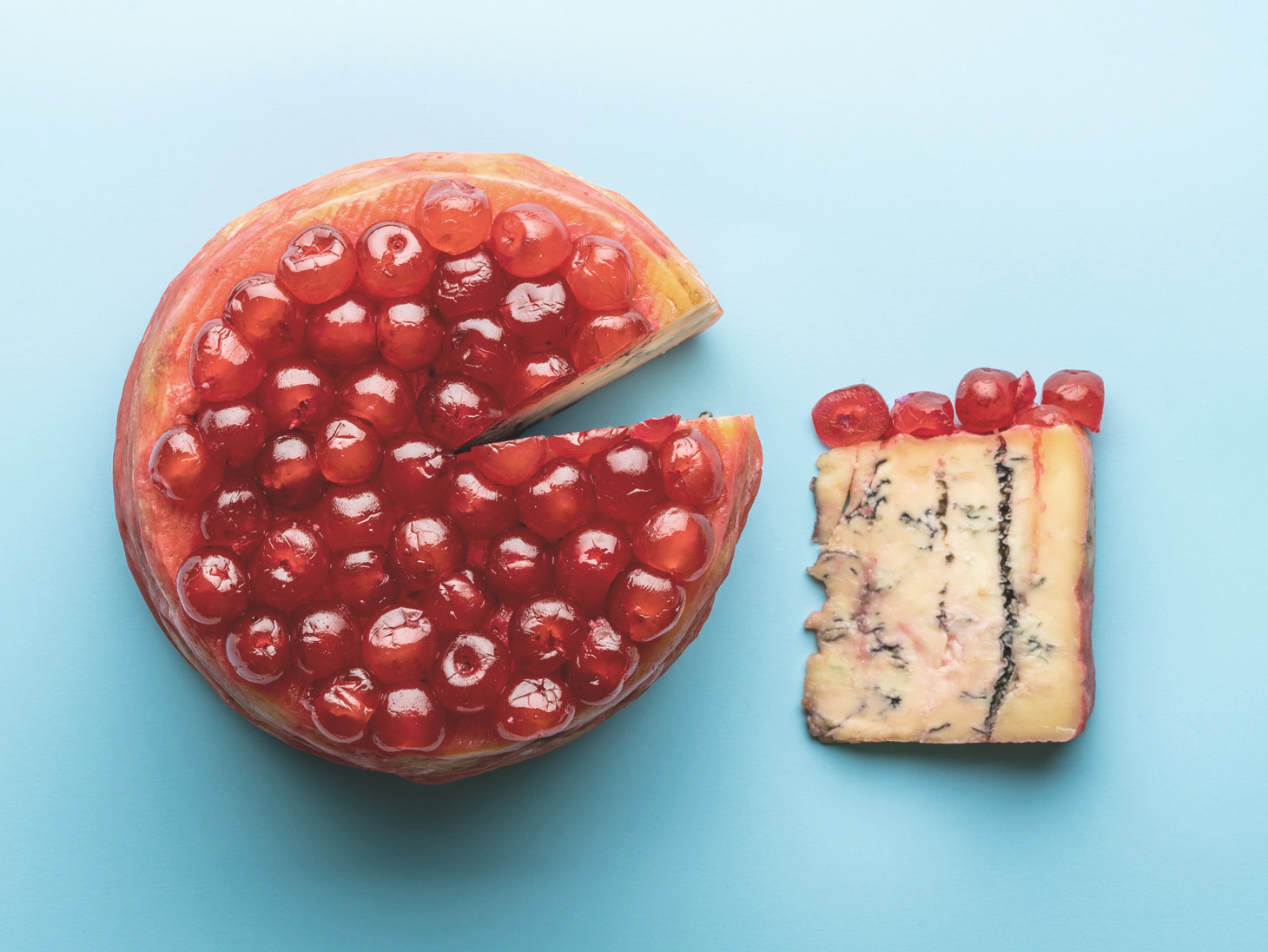 So I chose a typically feminine cocktail, the Cosmopolitan: the combination of Vodka, Cointreau, lime and blueberry juice gives a pink colour and results in sweet cocktail with low alcholic content.
Thanks to the protagonists of "Sex and the City" it has become one of the most successful mixes of the moment.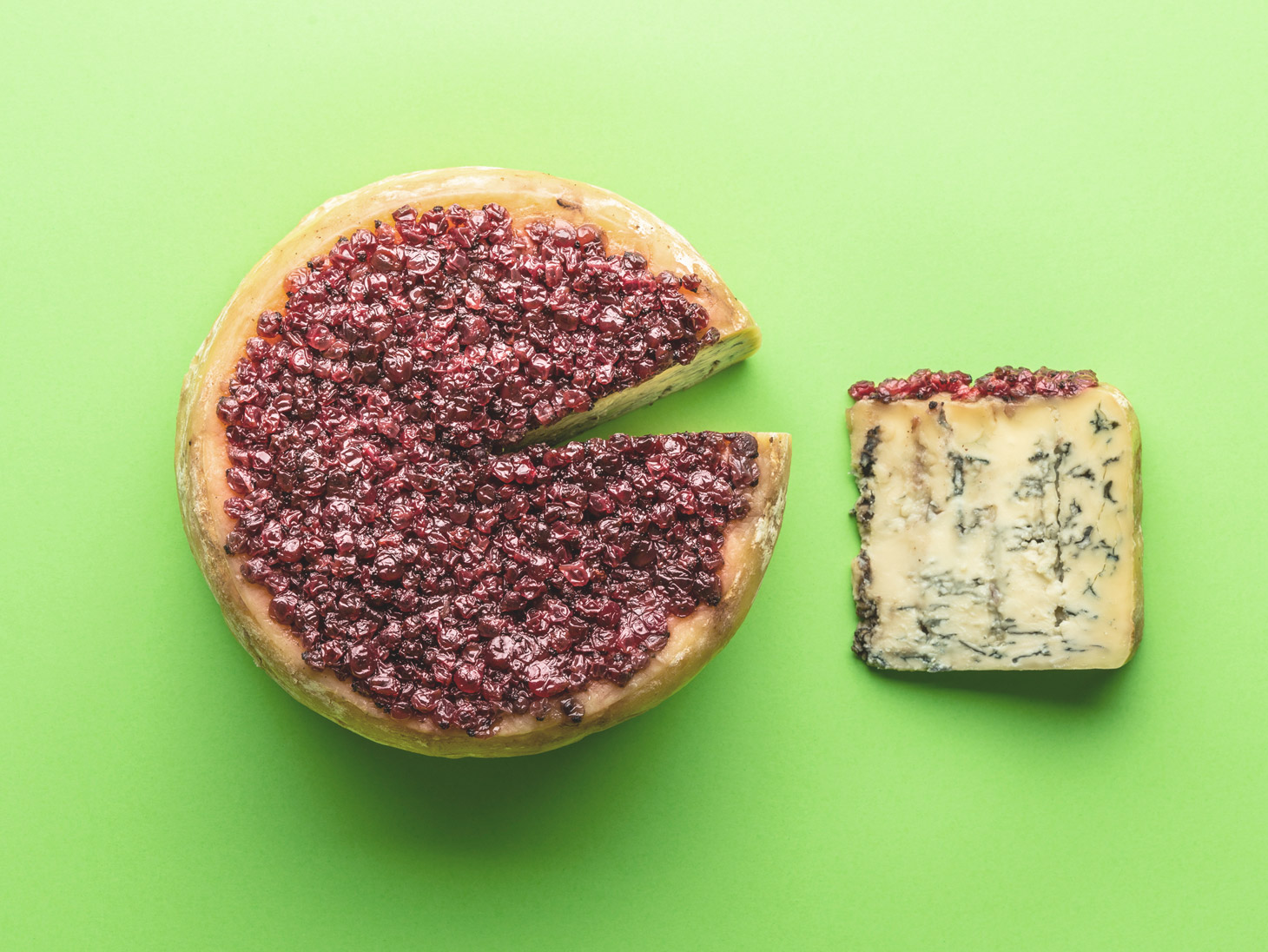 But the most exciting challenge was that of a cheese refined with Martini, the elegant cocktail aperitif based on Gin and Dry Vermouth made famous by the James Bond films.
It was not easy to obtain a tasty cheese refined with this cocktail, because the Martini seems a little bit flat during the tasting.

4.How did you find the solution?
We made several attempts, trying to combine different gins to get a powerful cocktail and cheese, able to tease the palate with an interesting mix of flavours.
We succeeded thanks to the wisdom of Federico Cremasco, who specialized in the production of distillates and natural liqueurs in Polcenigo.
We asked him to customize the cheese and he proposed us to use his "Gin 43", a mixture of 43 botanicals including juniper, angelica, lemon, orange, mandarin, thyme, lavender, mint, anise, fennel, mountain pine, lemon balm, iris, imperatoria and savory.
The pairing was perfect because the gin is complex and persistent, and it gives to the cheese a special fragrance and a slightly herbaceous and spicy taste.
5.Which taste could we expect from these cheeses?
As a gradual combination of flavours, an alternation of aromas.
Initially stands out a pleasant alcoholic sensation that gives way to the sweetness of the cheese, which is well combined with the specific characteristics of the cocktail chosen for the affinage.
6.What advice would you give to better enjoy them?
These cheeses look great at the end of a meal, alone or in combination with the homonymous cocktail, as we did at Sapori. But they are also perfect for a happy hour, an aperitif or a special toast.
7.What kind of cheeses have you chosen as a base and how do you refine them
The cheeses that better absorbs the aromas of cocktails are the soft blue cheeses made from cow's milk.
They are all cheeses that we select from Italian suppliers and that we refine for about ten days using self-produced cocktails, thanks to a machine that allows us to let the alcohol penetrate into the cheese paste.
So we let the cheese dry, we check it to verify that the result is exactly what we expect, we decorate it and we package it.
8.What was your first product and how many varieties of refined cheeses do you propose today?
We were born producing cheeses refined with wine or truffle, and they're still our flagships.
But we have always tried to renew our offer by proposing new alternatives: from wine we switched to liqueurs, with Choco21 and we developed with chemistry experts a special method for the affinage.
Always thanks to a workshop organised by Valsana we developed the idea of Nero Fumè, a smoked blue cheese refined with Lapsang Souchong black tea.
Today we produce more than twenty cheeses, among which I like to remember the Oro Rosso, refined with our native wine Raboso Passito, and the Fior D'Arancio, which we created together with the Consorzio dei Colli Euganei with a decoration of orange peels.
Giulia Basso
Direttrice di Selezione di Sapori