The product
Produced in Brittany from rested cream, their butter has a velvety texture
Country of origin:
France
More Information

| | |
| --- | --- |
| Description | Cream collected from herds that pasture in Britain; the cream, before processing, rests for a few hours in order to enrich its bacterial flora to obtain a free-ferments butter |
| Appearance | Yellow in colour due to the lush pastures of Brittany; the velvety texture is obtained thanks to a double passage in churn, in the mean time butter rests for a couple of hours |
| Taste | Pleasant and delicate milky sensations at the nose; it is soft and elegant to the palate, with good oily feeling without being greasy at all |
| Curiosity | In the past the "Baratte" (tumblers) were wooden tools, almost used by all family farmers; today they are made of stainless steel; the difference with an industrial product stays in the size of the machine, in the type of cream used and in the time taken to produce the butter; industrial machines produce 12 tonnes of butter per hour, while Le Vieux Bourg produces about 50 kg per hour |
More Information

| | |
| --- | --- |
| Weight | 125 g |
| Packaging | Wrapped in paper |
The producer
Le Vieux Bourg - Ploeuc sur Lie - Britain - France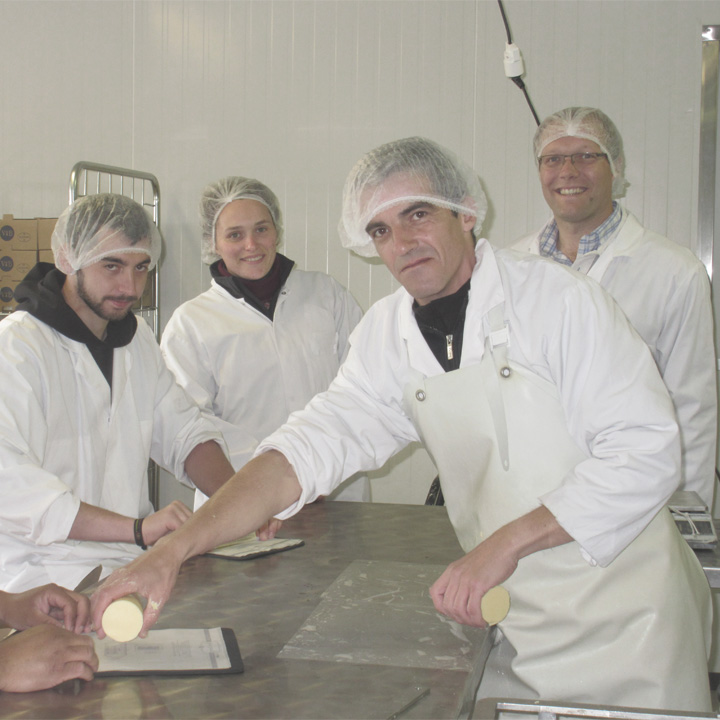 Why we chose them
"60 years of traditional craftsmanship and quality". This is the motto that represents "Le Vieux Bourg" Maison de beurre, founded by Mr. Raoult in the heart of Brittany in 1956. It was first led in 1984 by Choupeaux and subsequently in 1990 by Marcel and Jocelyne Vimard. Since 2013 the direction is headed to Eric de Sonis, young entrepreneur who decided to revive the identity of the butter factory maintaining the chrism of craftsmanship of the predecessors. The company mainly produces Beurre de Baratte, made with milk collected only from herds grazing on the Breton territory, near Ploeuc sur Lie, where the company is located. Only three employees provide every day about 400 kg of butter for which about 85 quintals of milk are needed; every stick of butter is strictly hand packed in a typical wax paper.