The product
Typical tuscan salami with aromas of wild fennel
Country of origin:
Italy - Tuscany
More Information

| | |
| --- | --- |
| Description | Salame from Tuscany with a coarse texture, enriched with wild fennel |
| Appearance | The texture is soft and crumbly, the meat is grounded roughly |
| Taste | Sweet, intense with strong aromas of wild fennel |
| Maturing | At least 20 days |
| Curiosity | Si sostiene sia nata fra Greve e l'Impruneta, ai tempi in cui i semi di finocchio venivano usati, in sostituzione del pepe che al tempo era merce rara e costosa, per conservare i salumi |
| Our selection | Viene prodotta in modo rigorosamente artigianale dalla Macelleria Marini, di Ferruccia Agliana (PT), che si dedica da ben quattro generazioni alla lavorazione del maiale: l'accurata scelta delle materie prime, la lavorazione legata ad antichi sistemi e la stagionatura all'aria sono i segreti della qualità dei salumi toscani prodotti da Manuel Marini assieme ai genitori, secondo la tradizione di famiglia |
| Suggestions | To be enjoyed cut in thick slices with some nice crusty bread, or in a sandwich with some fresh Pecorino from Tuscany. Beautiful with white crispy wines like the Greco di Tufo |
More Information
Ingredients
Pork, salt, pepper, natural aromas, sugars: dextrose, saccharose, preservatives: E250 and E252, antioxidant: E300
Weight
3 kg approx
Packaging
Unpacked
Storage Conditions (packaged products)
Keep refrigerated between +2 and +6 ° C
Instructions for use
Inedible casing. To be sold by weight
Country of origin of the primary ingredient
Italy
Nutrition Declaration
Energy: 1345 kJ / 325 kcal
Fat: 29 g
of which saturates: 10,8 g
Carbohydrate: 0,93 g
of which sugars: 0 g
Protein: 22 g
Salt: 2,6 g
Typical value per 100 g
The producer
Macelleria Marini - Ferruccia Agliana (PT) - Tuscany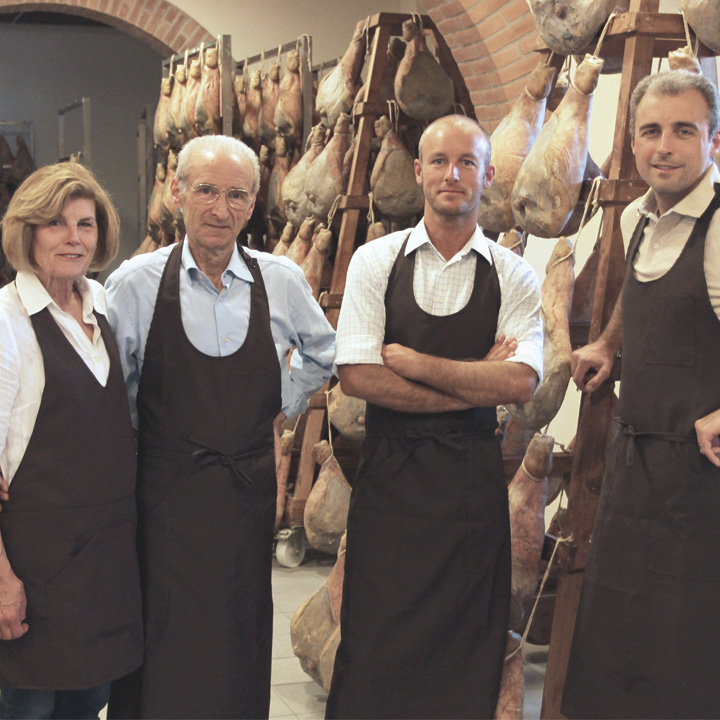 Why we chose them
Macelleria Marini was founded in 1904 by Angelo Marini in the small village of Ferruccia Agliana (PT). During those years the nephew of Angelo, Lido, and his son Marco, were also involved in the butchery. Today the family company is run by Marco and his wife, Patrizia, together with their sons, Nicola and Manuel. In 2007 the ancient butcher shop was replaced by a new one, build in a farmhouse very closed to the old shop. The cellars of the farmhouse are now used for maturing their hams. Macelleria Marini has for the last four generations been processing pork. The careful choice of the meat and the rest of the ingredients, the ancient method of processing the meat and the seasoning in air are some of the secrets of the quality of the Tuscan salamis produced by Nicola and Manuel Marini and his parents, all according to family traditions.