The product
Caciocavallo Irpino fresco
Young stretched curd cheese, produced with raw milk from Irpinia
Country of origin:
Italy - Campania
Type of Milk:
Raw Cow's milk
More Information

| | |
| --- | --- |
| Raw material | Raw cow's milk coming from animals bred in Irpinia, a green area located in the southest part of Campania, very close to Basilicata |
| Appearance | The crust is thin and elastic, the dough is compact, light straw color |
| Taste | The taste is sweet, with fermented notes and a pleasant aroma of honey; very long even if young |
| Maturing | At least 30 days |
| Curiosity | Today the origin of the name "caciocavallo" ( literally is cheese-horse) is still uncertain; according to some studies it comes from the "Kashcaval" word used from Balcans to Anatololian people for a similar cheese; a different hypotesis comes from the fact that such a cheese is matured hanging on a beam (in couples), remembering the act of riding a horse, altough many others are the assumptions around that name |
| Suggestions | Traditionally hung up above the fire in order to obtain a slow cooking; when the cheese is getting creamy on the lower part, it is cut and spread on a slice of toasted bread |
More Information
Ingredients
MILK, salt, rennet
Allergens
Milk and products thereof
Other allergens
Eggs and products thereof
Weight
2 kg approx
Packaging
Whole wheel unpacked, fractions vacuum packed
Storage Conditions (unpacked products)
Keep refrigerated below +4°C
Storage Conditions (packaged products)
Keep refrigerated below +4°C
Instructions for use
Please remove crust or mold before consumption
Paese di origine ingrediente principale
Italia
Nutrition Declaration
Energy: 1314 kJ / 314 kcal
Fat: 22 g
of which saturates: 15,2 g
Carbohydrate: 1 g
of which sugars: 1 g
Protein: 28 g
Salt: 1 g
Typical value per 100 g
The producer
Caseificio D&D - Calitri (AV) - Campania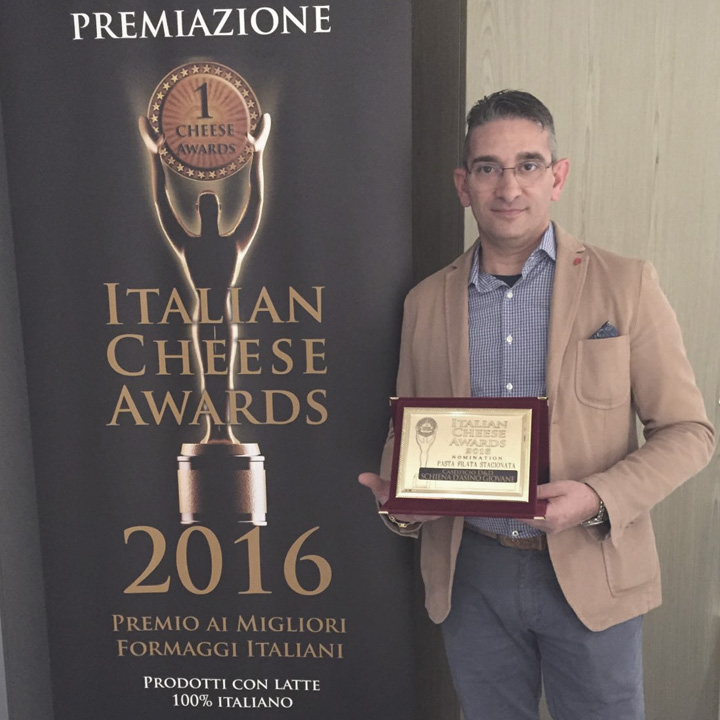 Why we chose them
Di Cecca dairy is located in Campania, more precisely in Irpinia, very close to Basilicata, in the town of Calitri that is located at an altitude of 700 meters above the sea. Since June 2001 the company has started producing cheese with its own milk, using it mainly unpasteurised: the dairy is managed by the family Di Cecca with the aim of promoting the local products. The dairymakers are two brothers in law, Giovanni Di Roma e Luigi Di Cecca. "We collect the milk everyday from local farmers and everyday we produce our cheeses" - Giovanni told us. The "caciocavallo" is produced with raw milk, taking in strong consideration the traditions that South of Italy had developed during the years for that type of cheeses. The affinage is something very particular, the touch that transforms a good cheese in a unique cheese. It takes place in millenials natural caves, made by stone and tuff, all around and under the town of Calitri. Thanks to the expertise that Giovanni and Luigi developed in long years of activity, many awards have been assigned to their creations, the last one in April at the Italian cheese Awards 2016.