You either love it or you hate it: bitterness is the characteristic taste of dandelion, a wild grass growing in spring on our meadows
⏱ 2 MINUTES READING
The time has come! Set aside heavy coats, gloves and scarves, and dust off denim and leather jackets. Clean well the lenses of your sunglasses. Say "goodbye" to a winter which, despite its shyness, gave us three months to be spent between a thousand layers of clothes, chapped lips, herbal teas and hot chocolates.
Three months and at least as many occasions to gather around a table with family, friends and lots of food.
With the beginning of spring, the landscape changes, everything seems to have brighter colors. The days get longer and encourage people to take relaxing walks, some in the woods, and others along the river banks. And it is during these walks that, if we look closely, we can recognize countless edible wild herbs: mallow, wild chicory, nettle, hops, rosoline, borage, porslane... and also our protagonist, the dandelion!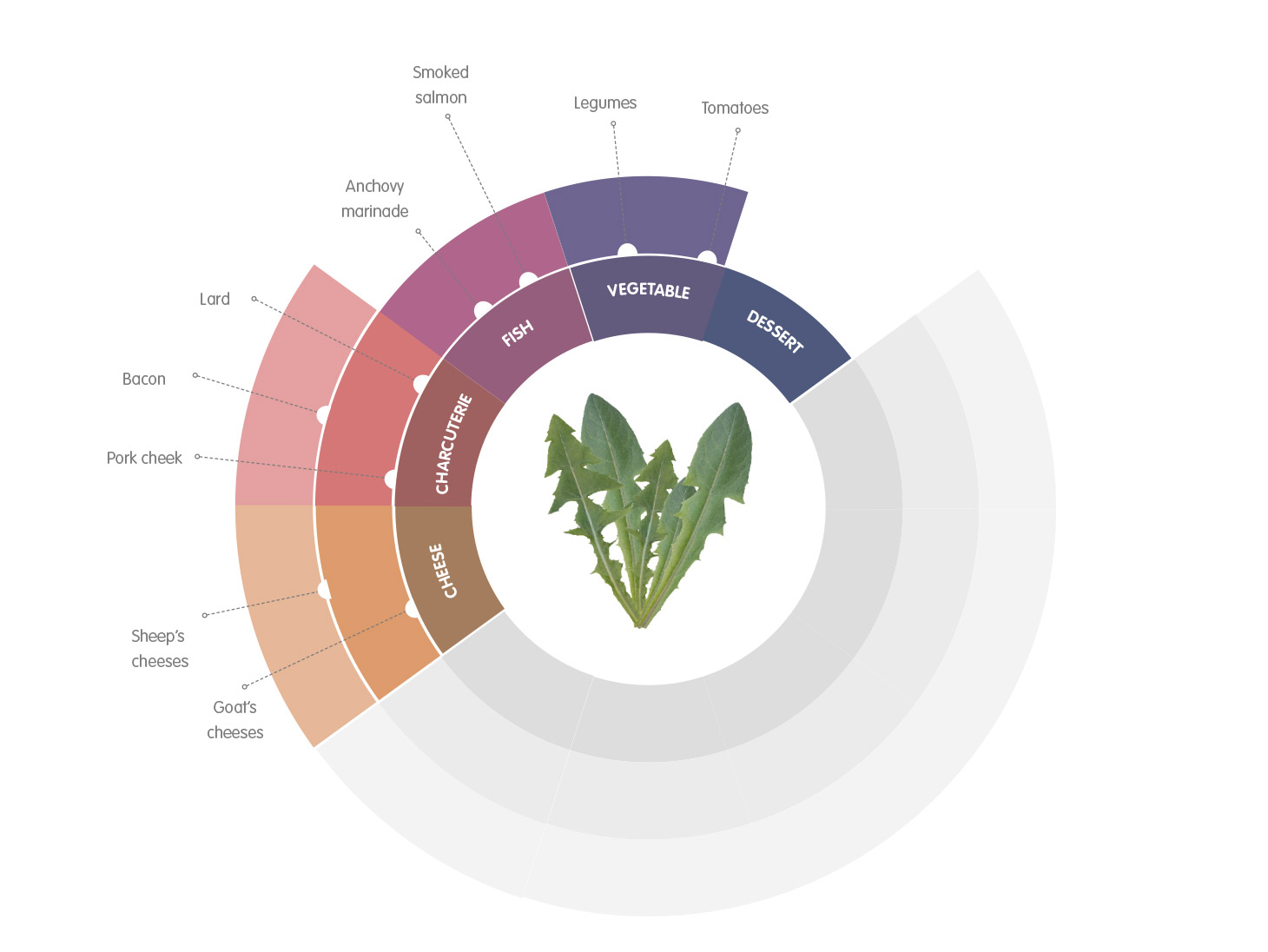 DANDELION
It is available between March and May in any area of our peninsula, but usually below 1300 meters. It can be recognized by its elongated leaves, which can easily reach even 30 centimeters, while its large flowers has a bright yellow color.
Leaves and flowers are completely edible and are perfect for many preparations, but have a common characteristic: the bitterness.
Fun fact: it is an excellent ally for digestive problems!

CASSONE
Cassone with dandelion, baby spinach, bacon and Signor G Pecorino cheese.
We chose a typical Emilian street food, slightly revisiting the stuffing! In this recipe, the bitterness of dandelion, rather persistent, becomes pleasant when combined with the sweetness of baby spinach and the acidity given by Signor G cheese.
The vegetable notes of Volterra's pecorino go hand in hand with the green part of the filling, and bacon's fatness helps supporting the bitter side. For a better roundness, sauté the herbs with Jalapeno Chipotle Chili!

PASTA
Organic Penne, Dandelion, Pom Up and Robiola di Roccaverano DOP.
As a second recipe, we propose a first course with Penne by Pasta Liguria. A first course still based on the contrasts between the sweetness of the pasta, the acidity of Pom Up and Robiola di Roccaverano DOP, all useful elements to reduce the bitterness of the dandelion.
Do not throw the oil of the Pom Up: one tablespoon during the creaming phase will give the dish an additional richness of taste!
SIDE DISH
Dandelion salad and Lardo di Colonnata IGP.
The bitterness, either you love it or you hate it and this side dish leaves no room for half measures.The recipe is very simple: raw dandelion is the absolute protagonist, and lardo will be cooked in a pan and blended with vinegar.
The seasoning where the contrasting tastes of lard and vinegar are mixed, is also used to flavor the wild radicchio. Do not skimp with vinegar, it will support the bitter part of the dandelion!
Giacomo Chinellato
Sales Manager