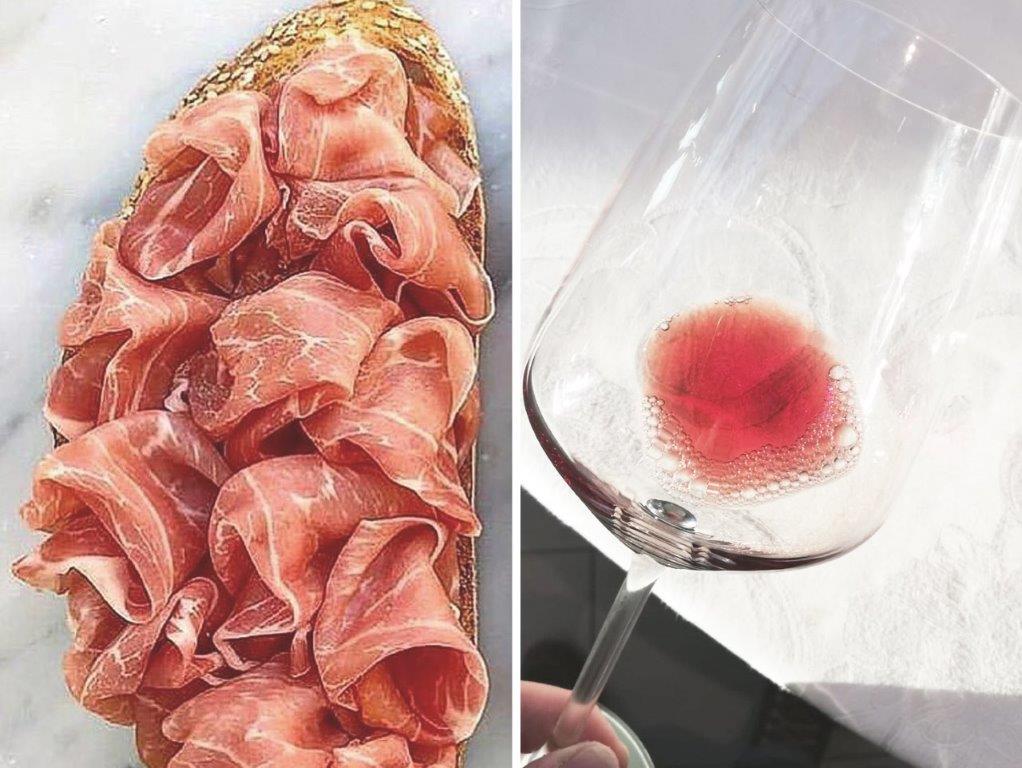 A column written in duet with The aim to explore the world of food and beverage pairings

And here we are again ready to start for a new year of pairings, which this time I will not do alone.
In this new journey, the precious sommelier of Valsana, Enrico De Conto, will support me in the research for the best match with the aim of demonstrating that the Tuscans and Venetians have much more in common in addition to alcohol and blasphemies.
So for this episode I start and let's begin with the Prosciutto Toscano DOP!
Tuscan hams are not salty! Be careful not to confuse flavor with salt, because Tuscan hams have for seasoning a mixture of wine and a mix of spices (pepper in the first place) different from the others.
This usually make them much more intense on the palate, but for a specific reason.
It is always a question of balance of flavour.
Traditions develops according to raw materials and possibilities available specifically. The savoury of Tuscan ham is linked to a salt-free bread.
But we understand that the path of tolerance is the best one, so to face modern taste our producer Meoni selects larger thighs to allow spices to never cover taste of meat, but become faithful companions in aging.
Recipe
By closing my eyes and returning to Tuscany, this time I propose a use as simple as it is insanely good.
Pour a possibly "new" extra virgin olive oil onto a plate and add a few slices of prosciutto.
Heat some good bread and lay the oiled slices of the ham on, and that's it.
A sandwich with a single ingredient that is enough and left to fill your mouth with flavors and exclamations such as: "Maremma com'è buono!"
Vegetables
Since we are still in season and since I think it is an extraordinary winter vegetable, I suggest you to combine the Tuscan raw ham with the black cabbage.
Made famous by the ribollita recipe, it does not disfigure absolutely in many other preparations and would be right for example as an ingredient for a flan, a pasta, fried, rolls...
In short, I am launching the challenge of combining it with the various possible techniques.
Meaty, sweet when compared with other cabbages, the pairing is there, now you can choose the recipe
Frutta
Kiwi. Strange, isn't it? Truly, it could be a revelation.
Have fun pairing the Tuscan raw ham with kiwis in a cold cuts platter and you will see that its sweet-sour taste goes very well with the flavor and spiciness of the raw ham.
Matteo De Santi
Export Manager

Suggestions: Claude Monet, 1866, Luncheon on the grass
I like hydro – alcoolique solutions. More precisely I'm in love with their synonymous: meeting.
Whether we are talking about people or dishes, drinks work as a link, balancing a taste or a discussion, cleaning palate, enriching laughs.
The presence is not mandatory, but very appreciated. Enjoy the trip!
1. Champagne Blanc de Noirs AOC
The first step is a Champagne produced only with black grapes.
The hidden power of this wine is perfect when paired with the sweet tendency of the Toscano ham, degreasing the mouth thanks to its freshness.
It is well known that Queen Elisabeth drinks a glass of Champagne before bed, I would suggest her to match it with Prosciutto Toscano!
Region: Champagne, France
Intensity: medium
2. Vitovska Carso DOC
I would call it "border wine". We are in Friuli Venezia Giulia region, land of rocks and great producers.
The first approach to the palate is fresh and vibrant. Characterised by nuances of herbs and chamomile, the aroma of this wine well combines with the delicate perfumes of Toscano ham.
Nonetheless, don't be tricked by the surprising elegance of this liquid, its temper is clear and is not afraid by the dense texture of the ham.
Region: Carso, Friuli Venezia Giulia, Italy
Intensità: persistent
3. Chianti DOCG
We are talking about Tuscany and Matteo is from this land: if I don't make a regional pairing I could be evicted! I would suggest you to pair the ham with a young Chianti, fresh and slightly tannic.
The fine spicy aroma of the ham finds a match with the underlaying perfumes of the Sangiovese grape.
The red fruits notes are supported by those of pepper and leather.
From the aperitive to the after dinner, not forgetting the typical zero-salt Tuscany bread.
Region: Chianti, Tuscany, Italy
Intensità: persistent
4. Lager Beer
This ham does not require challenging matches, too resinous, acid or alcoholic.
I would recommend a lager beer, but be careful with its quality!
We are wrongly used to link lager beer with poor quality products. Choose a beer without defects and unpleasant smells.
On the palate it should be fresh, with a non-aggressive effervescence and a lightly bitter aftertaste. Even in this case, I expect the beer as a co-protagonist, enhancing the characteristics of the Prosciutto.
Style: Czech Republic
Intensità: medium
Enrico De Conto
Purchasing Department - Sommelier FISAR