A UNIQUE CURED MEAT ROOTED IN THE MIDDLE AGES, OWING ITS PERSONALITY TO A BLEND OF SPICES AND A SPECIAL INGREDIENT: ALCHERMES
FROM THE ORIGINS...
It was in 1773, on the occasion of the beatification of Saint Caterina de' Ricci, when the nuns of the monasteries in Prato, Tuscany, prepared a abundant banquet for the guests, offering their local specialty: Mortadella di Prato. A product born out of the need to find a way to use the discarded meats from salami preparation and second-choice pork cuts.
The process involved stuffing these meats, treating them with spices and liqueurs like Alchermes, and cooking them in water. Due to World Wars and low meat consumption, the production of Mortadella di Prato disappeared and it was revived only about thirty years ago by some small local producers in Prato, including Macelleria Marini.
...TO THE PRESENT DAY
Unlike in the past, Mortadella di Prato is no longer produced with leftover meats; the cuts are carefully selected, and the seasoning, though distinctive, doesn't need to be too overpowering to cover up. Instead, it is well-balanced to make the tasting experience captivating, recognizable, and harmonious. Meanwhile, Mortadella di Prato became a Slow Food Presidium in 2000 and obtained IGP (Protected Geographical Indication) status in 2016 - two initiatives aimed at protecting and promoting an identifying product that was at risk of being lost forever.
ORGANOLEPTIC PROFILE
The flavour is intense and spicy, with hints of exotic fruit. The garlic is well perceptible, and the Alchermes adds a pleasantly sweet note. It is unmistakable compared to other mortadellas.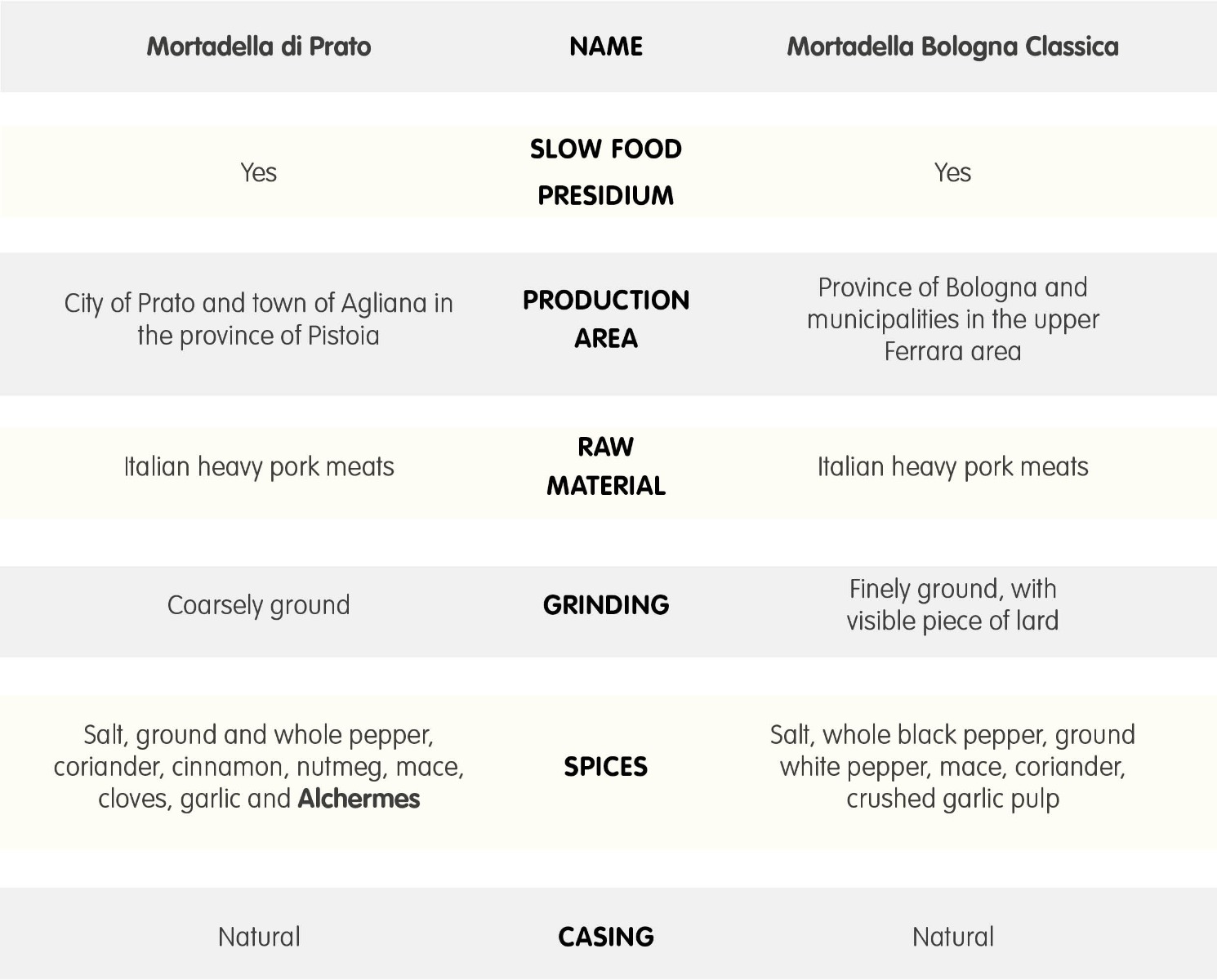 THE PRODUCER
Macelleria Marini started producing Tuscan cured meats in a small village near Agliana, Tuscany, in the early 1900s: an ancient family tradition now in its fourth generation with Nicola and Manuel. The cornerstones of production are the selection of raw materials from small local farms and artisanal processing. In addition to the Mortadella di Prato IGP, they offer other regional delicacies such as Sbriciolona Toscana, Coppa di Testa, and Salame Toscano.
WHAT IS ALCHERMES?
It is an Italian liqueur with a moderate alcohol content (35% vol), made with ethyl alcohol, spices, and a red dye originally obtained from cochineal. For centuries, the dye extracted from cochineal has been used in fabric dyeing, which has always been the main economic activity in the city of Prato. Today, the gastronomic use of Alchermes remains alive in the region, from pastry making to cured meat production.
AN ORIGINAL SANDWICH
From a plate of charcuterie for an appetizer to the tapa gourmet, it's a cold cut that can make a difference and amaze. Typically paired with figs and Tuscan bread, or used in traditional recipes like 'Sedani alla Pratese'. I hope the people of Prato won't mind, but I would taste it with a crispy bread, cow's milk ricotta, and the figs compote Fichiaceto by Bisini e Gambetti. Simple and delightful.