The product
Yellow Tuna (Thunnus Albacares) fillet smoked in a traditional way
Country of origin:
Italy - Tuscany
More Information

| | |
| --- | --- |
| Description | Yellow tuna (Thunnus albacares), also known as tuna monaco. It is a sea fish of the family Scombridae, which is located along the Portuguese coast. This tuna is a pelagic species (lives in the open sea) but may occasionally be found inshore |
| Appearance | The shape is long and round, ideal to slice it in a slicer. The color is red |
| Taste | The taste is succulent, dolce, fresh and delicately smoky. The aftertaste is round with notes of wood |
| Our selection | Come il tonno marinato anche quello affumicato si distingue per la morbidezza e non eccessiva sapidità |
| Suggestions | Ideal sliced and combined with fresh vegetables or semi-dried tomatoes in olive oil, a morsel of mozzarella or with a delicate fresh goat cheese |
More Information
Ingredients
Yellowfin TUNA (Thunus Albacares), salt, sugars: sucrose, flavorings, spices. Naturally smoked with beech wood
Allergens in ingredients
Fish and products thereof
Weight
1,5 kg approx
Packaging
Packaged with waterproof heat-shrinkable plastic film, applied under vacuum
Storage Conditions (packaged products)
Store at a temperature between +0 and +4 ° C
Country of origin of the primary ingredient
Extra UE
Nutrition Declaration
Energy: 554 kJ / 131 kcal
Fat: 0,6 g
of which saturates: 0,1 g
Carbohydrate: 0,3 g
of which sugars: 0,3 g
Protein: 31 g
Salt: 2,5 g
Typical value per 100 g
The producer
Bernardini Gastone - Cenaia Crespina (PI) - Tuscany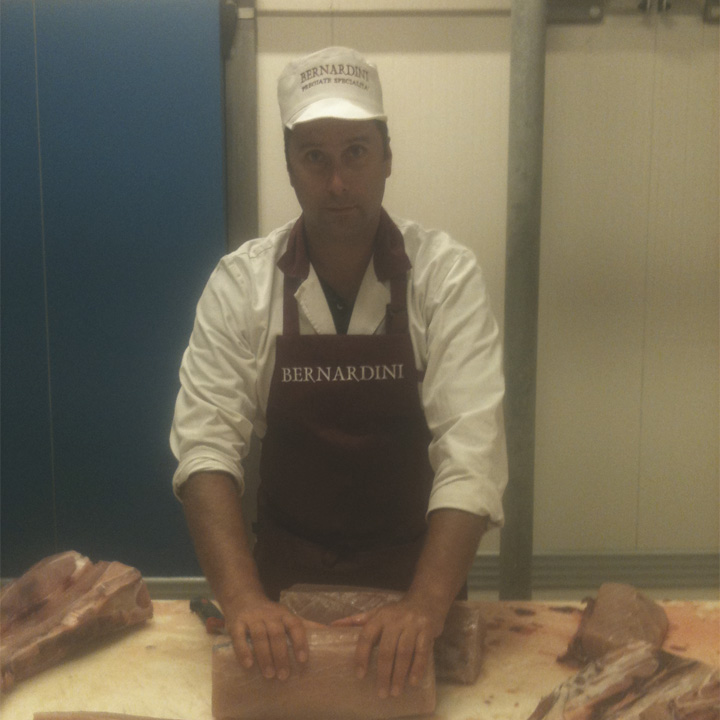 Why we chose them
Some customs never grow old, but instead, become traditions. Some flavours can never be forgotten, but instead, become part of a larger passion for authentic and wholesome food. Some secrets are meant to be guarded and handed down from generation to generation. Their name is associated with the finest art of charcuterie: for over 150 years they have painstakingly prepared high-quality meats and game, applying their wealth of experience while meeting the quality and safety standards required by the modern food industry. Select raw ingredients, chosen and inspected on site; qualified staff, traditional working methods, and a pinch of our own creativity: it all goes into offering you the very best. Each piece is a story unto itself: skillfully cut by hand, carefully seasoned with spices and herbs, then allowed to age naturally as long as it takes to obtain an exquisite product, created for the most finicky palates. Behind it all is a modern company, operating in a workspace that is truly cutting-edge, in terms of both high-tech equipment and logistics; this allows them to provide you with fast and flexible delivery service. Riding successfully on the crest of the growth trend in the sector, the company is now increasingly focused on a desire to build on their reputation, pushing the boundaries of the market where they are already a well-established presence.