The product
Homemade vegetable balls from Gastronomia Marcolin
Country of origin:
Italy - Veneto
Weight:
600 g (10 pieces for 60 g each)
Minimum order:
1 box with 2 pieces
More Information

| | |
| --- | --- |
| Description | Vegetarian meatballs cooked in the oven made with fresh vegetables: onions, carrots, potatoes, eggplant, zucchini along with Grana Padano and ricotta vaccine |
| Appearance | Floured meatballs ; have a slightly flattened and irregular shape due to manual forming and a soft texture |
| Taste | Delicate and not dry, with a slight external crust |
| Curiosity | Meatballs in Veneto are the accompaniment to the aperitif par excellence: they exist for all tastes! |
| Our selection | Gastronomia Marcolin produces great classics of tradition but with a touch of innovation to ensure quality and service excellent |
| Suggestions | For the regeneration of the product we recommend the use of a traditional oven and not a microwave |
More Information
Ingredients
Vegetables 62% (onions, carrots, potatoes, melenzane, zucchini), breadcrumbs (soft WHEAT flour type 0, salt, yeast), ricotta, (WHEY, MILK, salt), sunflower oil, EGGS, Grana Padano PDO (MILK, salt, rennet preservative: lysozyme from EGG), salt
Allergens in ingredients
Cereals containing gluten and thereof, Eggs and products thereof, Milk and products thereof
Other allergens
Celery and products thereof, Crustaceans and products thereof, Fish and products thereof, Mustard and products thereof, Shellfish and products thereof, Soybeans and products thereof
Weight
600 g (10 pieces for 60 g each)
Packaging
Packaged in protective atmosphere in plastic tray
Storage Conditions (packaged products)
Store in the refrigerator at a temperature between 0° C and +4° C
Instructions for use
Once opened consume within 2 days
Nutrition Declaration
Energy: 775 kJ / 186 kcal
Fat: 12 g
of which saturates: 2,2 g
Carbohydrate: 15 g
of which sugars: 2,9 g
Protein: 3,7 g
Salt: 0,43 g
Typical value per 100 g
The producer
Gastronomia Marcolin - Selvazzano Dentro (PD) - Veneto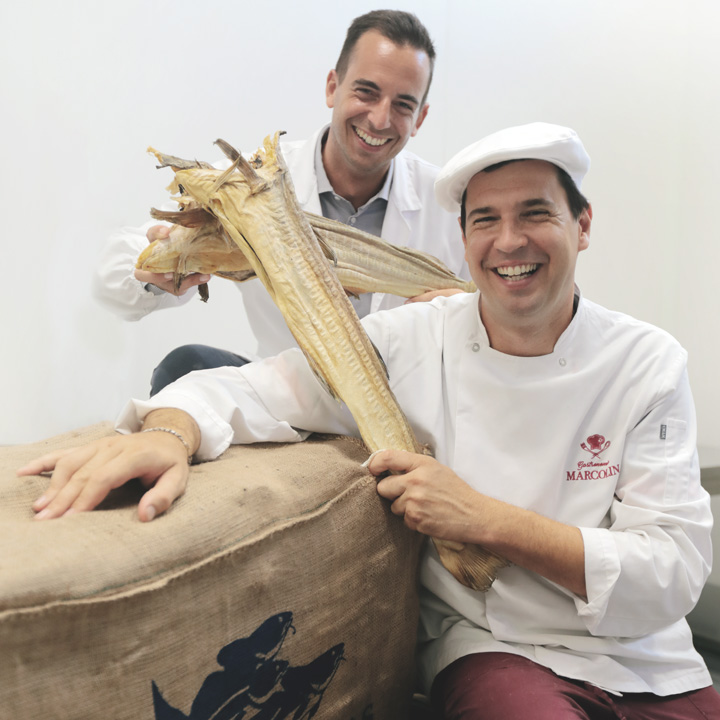 Why we chose them
Gastronomy Marcolin Francesco from "Sotto il Salone" in Padua, the oldest covered market in Europe, is a landmark for codfish lovers in Veneto. The recipes were developed by his father, Francesco Marcolin, born in 1946, who started working at 15 years as a shop boy until 1985 when he managed to acquire the property of the shop where he worked, and give vent to his passion for gastronomy. Today it is the three children of Francesco (Chiara, Stefano and Andrea Marcolin) who carry on the family business. Chiara was the first one to follow Dad, first of all working for many years at the counter in the gastronomy, then taking charge of the administration. Stefano learned the craft by helping his dad in the processing of the stockfish; today he deals with the production, in addition to following the shop. Andrea instead follows the commercial development of the company. Three years ago Stefano had the intuition to develop a line of codfish intended for professionals: thus was born the brand Baccalà, which identifies the recipes of the Marcolin family.