The product
Traditional Sicilian caponata made by Marcolin Gastronomy
Country of origin:
Italy - Veneto
Minimum order:
1 box with 2 pieces
More Information

| | |
| --- | --- |
| Description | Classic Sicilian recipe based on eggplant, peppers, zucchini, onion, tomato and raisins |
| Appearance | In irregular pieces ; the vegetables are respected in their consistency and the sunflower seed oil used for the preparation is not excessive, well distributed |
| Taste | Sweet and pleasant, the flavors of the individual ingredients are distinguished |
| Curiosity | This gastronomic preparation is characterized by the use of high quality raw materials selected personally by the Marcolin brothers |
| Our selection | Gastronomia Marcolin produces great classics of tradition but with a touch of innovation to ensure quality and service excellent |
| Suggestions | Extremely versatile, to try cold as an appetizer or heated as a side dish |
More Information
Ingredients
Eggplant 39%, sunflower seed oil, zucchini, tomato sauce (tomato, salt), raisins (raisins, sunflower seed oil, preservative: SULFUR DIOXIDE), salt, peppers, onion
Allergens in ingredients
Sulphur dioxide and sulphites > 10
Other allergens
Celery and products thereof, Cereals containing gluten and thereof, Crustaceans and products thereof, Eggs and products thereof, Fish and products thereof, Milk and products thereof, Mustard and products thereof, Shellfish and products thereof, Soybeans and products thereof
Weight
1 kg approx
Packaging
Packaged in protective atmosphere in plastic tray
Storage Conditions (packaged products)
Store at a temperature between 0 °C and +4 °C
Instructions for use
After opening consume within 2 days
Nutrition Declaration
Energy: 1200 kJ / 291 kcal
Fat: 29 g
of which saturates: 4,3 g
Carbohydrate: 4,9 g
of which sugars: 4,4 g
Protein: 1,5 g
Salt: 0,55 g
Typical value per 100 g
The producer
Gastronomia Marcolin - Selvazzano Dentro (PD) - Veneto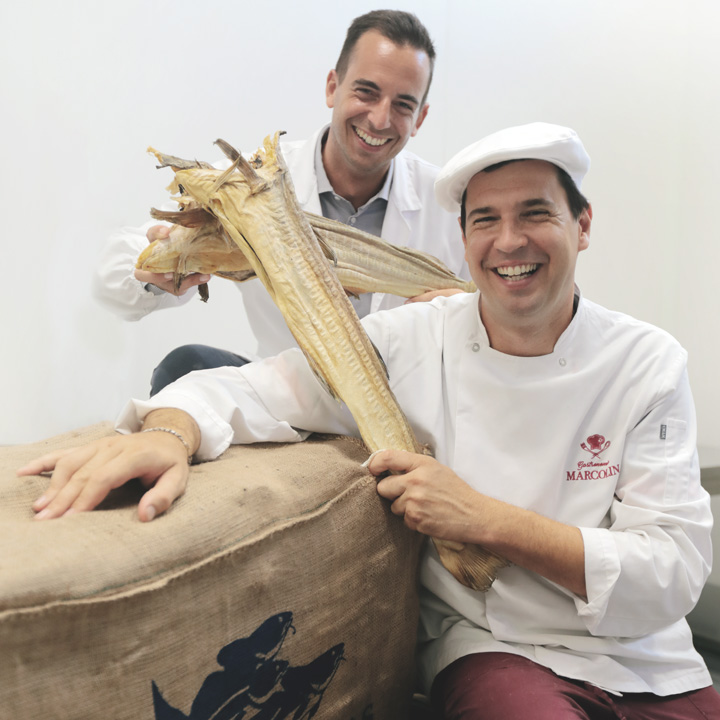 Why we chose them
Gastronomy Marcolin Francesco from "Sotto il Salone" in Padua, the oldest covered market in Europe, is a landmark for codfish lovers in Veneto. The recipes were developed by his father, Francesco Marcolin, born in 1946, who started working at 15 years as a shop boy until 1985 when he managed to acquire the property of the shop where he worked, and give vent to his passion for gastronomy. Today it is the three children of Francesco (Chiara, Stefano and Andrea Marcolin) who carry on the family business. Chiara was the first one to follow Dad, first of all working for many years at the counter in the gastronomy, then taking charge of the administration. Stefano learned the craft by helping his dad in the processing of the stockfish; today he deals with the production, in addition to following the shop. Andrea instead follows the commercial development of the company. Three years ago Stefano had the intuition to develop a line of codfish intended for professionals: thus was born the brand Baccalà, which identifies the recipes of the Marcolin family.