The product
Spalla cotta di Cinta Senese DOP - Spalla Cotta from Cinta Senese pigs
A cooked ham made from the shoulder of Cinta Senese pigs
Country of origin:
Italy - Tuscany
More Information

| | |
| --- | --- |
| Raw material | Shoulder of Cinta Senese pigs reared in the farm of the family Savigni in Pavana, in Tuscany |
| Appearance | The ham is boned, easy to cut into slices in which a good portion of fat is kept |
| Taste | The taste is sweet, perfumed, round, herbal, full to the palate and delicately meaty. The aftertaste is round, sweet and slightly meaty with hints of herbs and spices |
| Curiosity | The Cinta Senese has been present in Siena since 1300, as many ancient pictures show us. The pig is black with a white stripe along it's back, along it's shoulders and on its legs. This pig is bred only in a natural state. It eats acorns, chestnuts, roots, tubers, grass and truffels. Only during the cold months is it given barley, maize and beans according to the rules of the consortium Compagnia della Cinta Senese. The meat, which is naturally fat, has an aroma of the woods where it has pastured |
| Our selection | Paola and Fausto with their sons Nicolò and Mileto started this adventure in 1999, but the butchery dates back to 1982 |
More Information
Ingredients
Cinta Senese DOP Pork shoulder, salt, sugar: dextrose, sucrose, natural aromas and spices. Antioxydant: E301. Preservatives: E250. Does not contain gluten
Weight
8 kg approx
Packaging
Vacuum packed
Storage Conditions (packaged products)
Keep refrigerated between 0 and +4 °C
Instructions for use
Do not puncture the packaging
Nutrition Declaration
Energy: 720 kJ / 172 kcal
Fat: 10,5 g
of which saturates: 4,8 g
Carbohydrate: 0,6 g
of which sugars: 0,6 g
Protein: 24 g
Salt: 1,8 g
Typical value per 100 g
The producer
Macelleria Savigni - Pavana Pistolese (PT) - Tuscany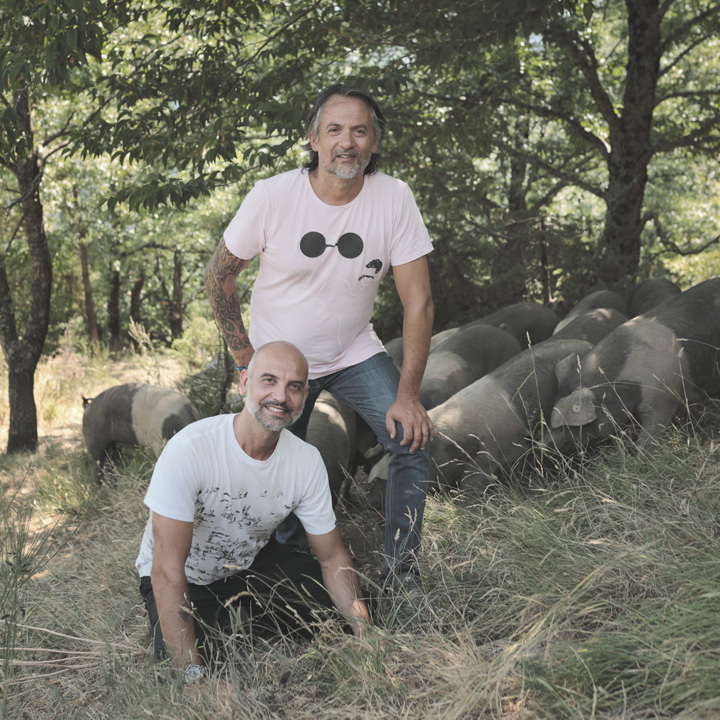 Why we chose them
There is a small village in the Tuscan-Emilian appenine, where everyone knows Savigni. Pavana Pistoiese is located in the woods, in an enchanted valley. In this valley, 400 meters high, Savigni have chosen to raise their own animals, free to graze in the 1020 hectares of woods. Every day, Fausto, the father, together with his sons Nicolò and Mileto, renews a difficult choice: the choice of High Quality (with a capital letters, as they love to specify). The choice of organic breeding is a valiant choise and Savigni contributes to make this way of raising pigs recognisable: without antibiotics, without GMOs, without artificial insemination and without cages for births, bred with an integration of organic fodder only during the winter months. A great attention to the animals because this is the only way to obtain a good meat. They have their own lab, monitored 24 hours on 24, for meats processing, drying and curing. They make everything by hand: cut, knead, salted, putting pepper and spices, bag and tie. For salting, they chose the "Salfiore di Cervia". Straight from the sea, it is washed with brine; it maintains its natural moisture and the sea preserves all the trace elements. It is a sweet salt, that goes well with pork.