The product
Prosciutto Crudo di Parma DOP Disossato Pressato 'Il Ghinaldo'
Prosciutto di Parma DOP sesasoned for 16-18 months by Casa Graziano
Country of origin:
Italy - Emilia Romagna
More Information

| | |
| --- | --- |
| Description | Ham obtained with thighs from selected farms, worked with care by Casa Graziano, in the pressed boneless version |
| Appearance | The colour of the slice is homogeous like well aged ham, with low infiltrations of fat |
| Taste | On the palate the meat has a good sweetness, solubility and persistence |
| Curiosity | Prosciutto d Parma DOP is produced by Casa Graziano with legs of national pigs of the Parma-San Daniele circuit, from farms selected. The salting is manual and the natural seasoning, 'in the air', opening the windows of the seasoning rooms as in the past. A curiosity: Ghinaldo, a term that indicates a tenacious and strong person, was the nickname of Graziano's grandfather shown in the photo on the label |
| Our selection | We have been working with Casa Graziano for about ten years, we have known them for their highly qualitative proposal and for their continuous progress. To aim for excellence, but also for service. And it is precisely with a view to the service that we have decided to add their Prosciutto to the catalog di Parma Dop Ghinaldo 16-18 months. This ham has a good solution for those who need concreteness and practicality without giving up quality. Suitable for those with small blade slicers, less than 30 cm |
| Suggestions | Ideal for stuffing cloths and sandwiches, it can also be used on pizza or other preparations in the kitchen |
More Information
Ingredients
Pork's leg, salt
Weight
6.8 kg circa
Storage Conditions (packaged products)
Keep refrigerated at less than 15 °C
Instructions for use
Rimuovere la sugna prima di affettare
Country of origin of the primary ingredient
Italy
Nutrition Declaration
Energy: 1113 kJ / 267 kcal
Fat: 18 g
of which saturates: 6,1 g
Carbohydrate: <0,5 g
of which sugars: 0 g
Protein: 26 g
Salt: 4,4 g
Typical value per 100 g
The producer
Casa Graziano - Tizzano Val Parma (PR) - Emilia Romagna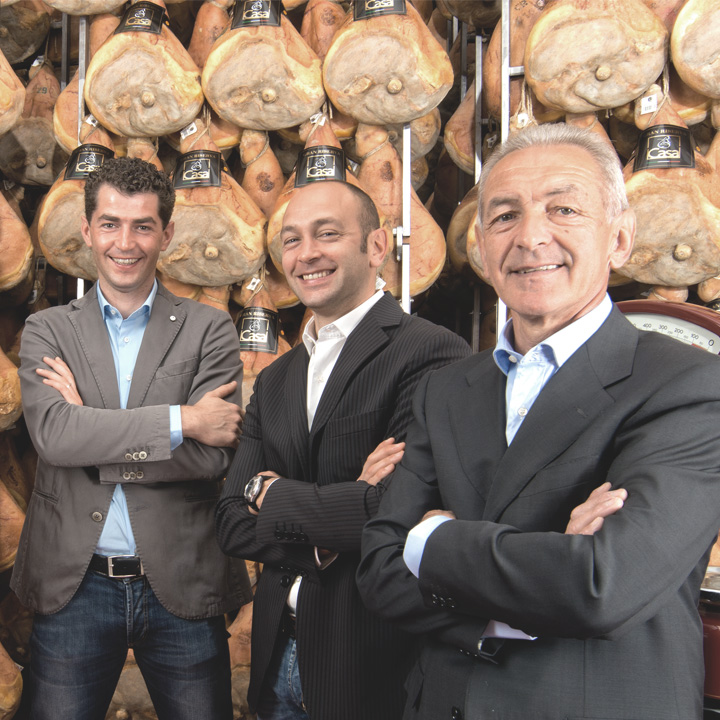 Why we chose them
Casa Graziano is a family business, founded in the 1970s, managed first by Graziano with his wife Luisa and then with his sons Andrea and Simone. casa Graziano produces a high quality Prosciutto di Parma DOP still made according to artisan tradition but using the most modern technologies. The plant is located in a mountainous area, within the Unesco Biosphere Reserve of the Tuscan-Emilian Apennines: an environmental context with a perfect microclimate for maturing hams. Their top of the range ham is a Parma ham aged at least 26 months.