The product
Mortandela from Val di Non - Slow Food Presidium
A Slow Food Presidium Mortadella , slightly smoked and aged for 40 days
Country of origin:
Italy - Trentino Alto Adige
More Information

| | |
| --- | --- |
| Raw material | Made with meat coming from pigs that are born, raised and slaughtered in the area of Trentino |
| Appearance | It looks like a meatball, dark red in colour, with small pieces of fat |
| Taste | The taste is strong to the palate, meaty and round. The aftertaste is round, slightlly meaty with hints of herbs and smoke |
| Suggestions | Excellent as a appetizer with a glass of Sparkling Franciacorta. Used also in dishes with gnocchi or in the preparation of traditional dishes like crema di fagioli, translated to cream of beans |
More Information
Ingredients
Pork, salt, natural aromas. Preservatives: E252, E250.
Weight
250 g approx
Packaging
Vacuum packed in a bag and in a small box
Storage Conditions (unpacked products)
Store at temperature below +8 ° C
Storage Conditions (packaged products)
Store at temperature below +8 ° C
Nutrition Declaration
Energy: 1397 kJ / 334 kcal
Fat: 26,1 g
of which saturates: 12,1 g
Carbohydrate: 0,3 g
of which sugars: 0,3 g
Protein: 24,5 g
Salt: 3,63 g
Typical value per 100 g
The producer
Fratelli Corra' - Smarano (TN) - Trentino Alto Adige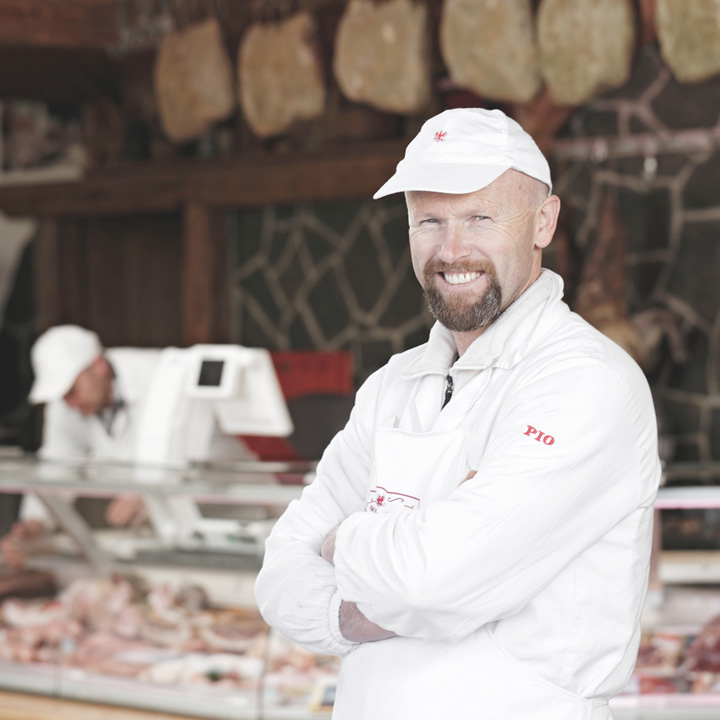 Why we chose them
Corrà family's business began in 1850 when Giacomo Corrà, Luca and Pio's great-grandfather, moved from Revò to Smarano and opened a "bettola", a little shop where you could find almost everything, including their own-slaughtered meat and own-produced sausages. After the first World War, Pio's grandfather began to manage the shop and the stable where the family raised their Grigio Alpina cows. In the memories he left to his son Giacomo and his grandchildren he wrote about the war in Russia, but also his precious recipes, still used today by Luca and Pio in the production of Corrà specialties. Corrà brothers carefully select meat that is only coming from the Trentino area to produce typical charcuterie of their land, in the sign of the family tradition. Pio, the older brother, is in charge of the shop and Luca reigns over the laboratory, where he follows the entire process from the selection of meat and ingredients, to the curing. Moving a step further, Corrà brothers began a path towards the production of charcuterie free from additives and preservatives.