The product
Monte Veronese DOP - whole milk
A young cheese produced with raw milk coming from Verona area
Country of origin:
Italy - Veneto
More Information

| | |
| --- | --- |
| Description | Pasteurised cow full cream milk |
| Appearance | The rind is thin and elastic. Its color is straw yellow. The paste is elastic with small to medium sized eyes scattered across. The color of the paste is white |
| Taste | The taste is sweet, pleasant, round and creamy. The aftertaste is sweet, creamy, with hints of milk and nature |
| Maturing | At least 25 days |
| Curiosity | The veronese mountains have been very particular to their pastures. Lessini is located in the south, an area without slopes. In that area the alpage period last longer than the usual one. The techniques used today date back to the 1600's when particular methologies were developed and used in the production of the cheese and the butter. With the regulations put in place in 1996 the Monte Veronese has gained the PDO status |
More Information
Ingredients
Cow's MILK, salt, rennet. Rind treated with preservative E235
Allergens in ingredients
Milk and products thereof
Other allergens
Eggs and products thereof
Weight
9 kg approx
Packaging
Whole wheel unpacked, fractions vacuum packed
Storage Conditions (unpacked products)
Keep refrigerated at a temperature less then +4 °C
Storage Conditions (packaged products)
Keep refrigerated below +4 °C
Instructions for use
Please remove crust before consumption. Sell fractionated.
Nutrition Declaration
Energy: 1653 kJ / 399 kcal
Fat: 32,5 g
of which saturates: 23,5 g
Carbohydrate: 0,5 g
of which sugars: 0,5 g
Protein: 26 g
Salt: 2 g
Typical value per 100 g
The producer
Caseificio Achille - Velo Veronese (VR) - Veneto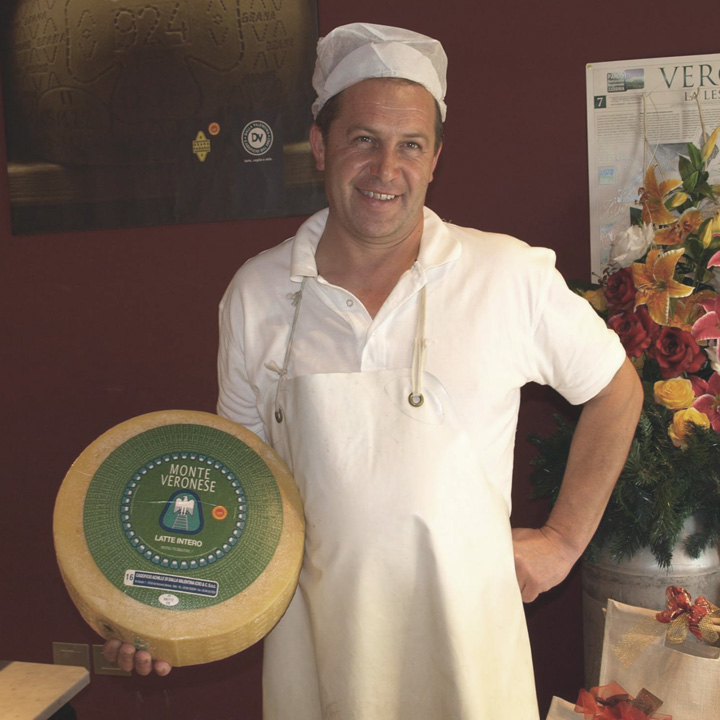 Why we chose them
The story of Dairy Achille dates back to the 20 when the great-grandfather Domenico Dalla Valentina with his son Achille began to produce cheeses in the hut of Contrada di Velo, using the milk collected from different shepherds. The Dairy Achille was founded only in 1957 by Achille with his two sons, Franco and Ezio. Dairy Achille is located in the magic frame of Monti Lessini, the mountains around Verona, particularly suited to pasturing cows, with gentle grassy slopes. Pastures of Lessinia are very rich, with more than 130 different species of spontaneous herbs and flowers. A richness that, through the milk, can be found also in the cheese.