The product
A great Swiss classic, aged at least 6 months
Country of origin: **
Swiss
Type of Milk:
Raw Cow's milk
More Information

| | |
| --- | --- |
| Description | Raw cow's milk |
| Appearance | Washed rind, slightly brown in colour; the texture is straw coloured, compact, with no eyes |
| Taste | Mild, with notes of cooked butter, bread crust and hazelnut |
| Maturing | At least 6 months |
| Curiosity | Produced since the year 1115 in the town of Gruyeres, it is still produced today in the dairy farms of the villages of Romandy, according to the traditional recipe; to produce a 35 kg wheel it's needed at least 400 liters of milk |
| Our selection | We selected this classic version of Gruyère, famous for the elegance of aromas; a real cornerstone of the traditional cheese-making art of Switzerland |
| Suggestions | This younger version is suitable for fondue, tartiflette and Mornay sauce |
More Information
Ingredients
Raw cow's MILK, salt, rennet, lactic ferments
Allergens in ingredients
Milk and products thereof
Other allergens
Eggs and products thereof
Weight
32 kg approx
Packaging
Whole wheel unpacked, fractions vacuum packed
Storage Conditions (unpacked products)
Keep refrigerated at +5 +8 °C
Storage Conditions (packaged products)
Keep refrigerated below +4 °C
Instructions for use
Please remove crust before consumption. Sell fractionated.
Country of origin of the primary ingredient
Switzerland
Nutrition Declaration
Energy: 1645 kJ / 398 kcal
Fat: 32 g
of which saturates: 19 g
Carbohydrate: <0.1 g
of which sugars: <0.1 g
Protein: 27 g
Salt: 1,4 g
Typical value per 100 g
The producer
Gourmino - Langnau - Switzerland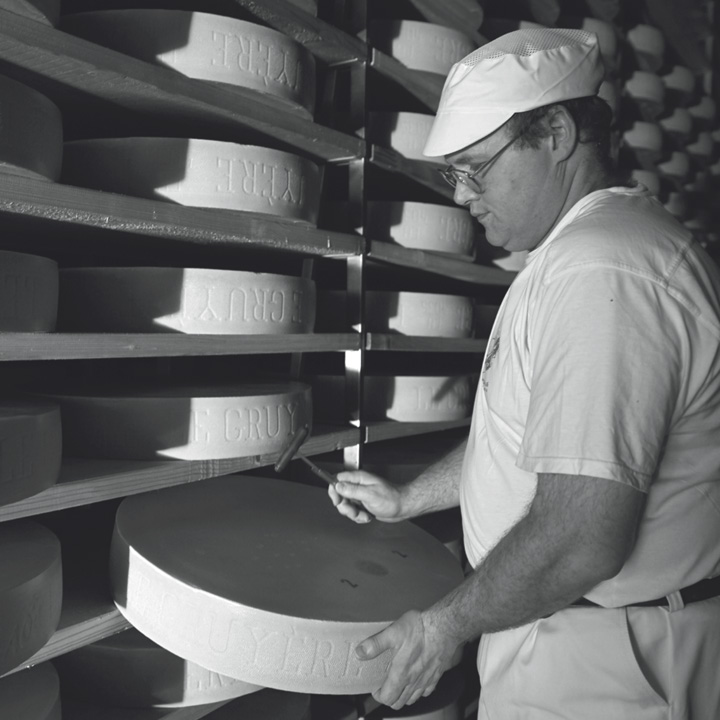 Why we chose them
In 2001, in a rather impervious territory, five dairies founded the Gourmino in Langnau, Switzerland, in the Valley of Emme, with the intention of joining forces to market their products. Gourmino deals with the entire supply chain: from milk production to cheese processing and maturing. Milk is harvested only by local breeders, who run their dairies from generation to generation in total respect of nature and animals. They also have chosen not to use silage in order to obtain high quality milk. Cheese production takes place in small farm cheese factories, which still work in the artisanal way, often producing the ferments needed for processing in the same dairy, with a logic very far from that of the large industries dominating the Swiss cheese market. The cheeses are brought to the maturing premises at Langnau where affinage takes place. A short supply chain, to guarantee the quality of cheeses and to preserve the centuries-old tradition of this region of Switzerland.