The product
An organic cheese produced with sheep's milk from Sardinian sheeps
Country of origin:
Italy - Sardinia
Type of Milk:
Raw Sheep's milk
More Information

| | |
| --- | --- |
| Raw material | Raw sheep's milk from Sardinian sheeps breed |
| Appearance | The rind is thin and its color is yellow with the pattern of the basket the cheese is made in (canestro) |
| Taste | The taste is dolce, round, smooth, floral and aromatic; the aftertaste is round, buttery with hints of herbs, grass and fruits |
| Maturing | At least 60 days |
| Curiosity | Gianfranco and Salvatore Bussu are not only pastors, but also produce an excellent cheese from the milk of their sheeps. The dairy is located on the Campeda, in the municipality of Marcomer in the province of Nuoro. The 1800 Sarda ewes are free to pasture I approximately 200 acres and never treated with antibiotics or synthetic products. If needed they are fed with the possible addition of forage produced on the farm without the use of chemical fertilizers. The cheese matures in natural cellars |
| Our selection | This cheese has been selected not only for its unique flavor but also because for us represents the basic agricultural philosophy of the territory. It is only produced from the milk of Sarda ewes bred to a certain extent in the wild. Antibiotics are never used and also the rennet used to coagulate is obtained from Sarda breed lambs |
More Information
Ingredients
Organic raw sheep MILK, rennet, salt
Allergens
Milk and products thereof
Weight
3,5 kg
Packaging
Unpacked
Storage Conditions (unpacked products)
Keep at +8 +14 °C
Instructions for use
Please remove crust before consumption
Paese di origine ingrediente principale
Italy
Nutrition Declaration
Energy: 1617 kJ / 386 kcal
Fat: 32,5 g
of which saturates: 20,5 g
Carbohydrate: <0.01 g
of which sugars: <0.01 g
Protein: 23,5 g
Salt: 2 g
Typical value per 100 g
The producer
Caseificio Debbene - Macomer (NU) - Sardinia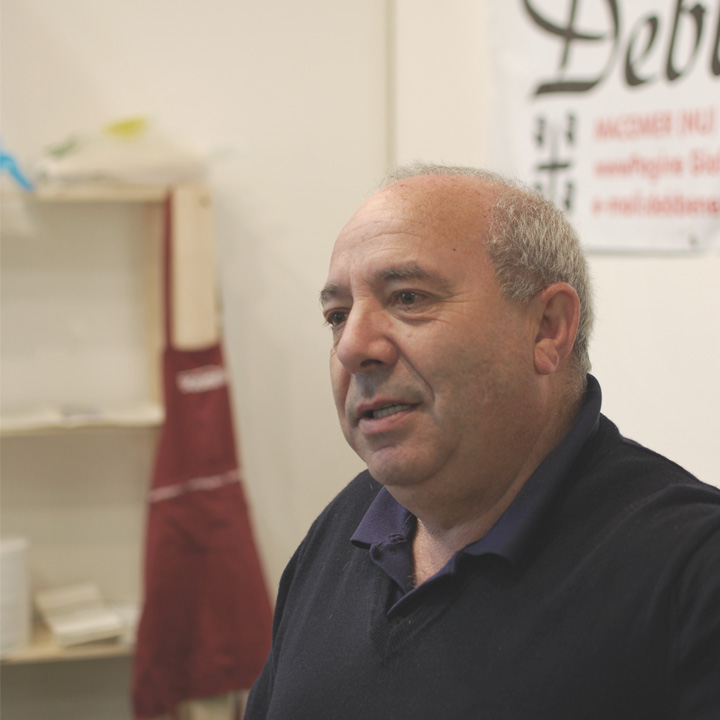 Why we chose them
The Debbene Dairy is located in Sardinia, on the plateau of Campeda, in the town of Macomer in the province of Nuoro. Gianfranco and Salvatore Bussu, besides producing excellent cheeses, are first of all pastors and they manage their company in a strictly organic way. The 1800 Sarda breed sheep are bred in the wild and have about 200 hectares of available pasture. Power is only enhanced by the addition of organic feed produced on the farm, without chemical fertilizers. Animals are never treated with antibiotics or synthetic products. Debbene cheeses are produced exclusively with milk obtained from the Sarda breed sheep that are reared on the farm. The rennet that is used to coagulate is obtained from the Sarda lambs.