The product
Pecorino DOP produced with sheep's raw organic milk
Country of origin:
Italy - Sardinia
Type of Milk:
Raw Sheep's milk
More Information

| | |
| --- | --- |
| Raw material | Raw organic milk from Sarda sheeps |
| Appearance | The rind is dark because of the slight smoking; the paste is crumbly and presents eyes |
| Taste | Intense and spicy taste, with animal hints and notes of smoke |
| Maturing | At least 3 months |
| Curiosity | The name comes maybe from the ancient tradition of producing cheese with vegetal rennet obtained by the cardoon flower or, maybe, from the custom of using baskets with a flower stamped on the bottom |
| Suggestions | Cut in thin chips at the end of the meal |
More Information
Ingredients
Organic sheep's MILK, organic lamb rennet, salt. Treated in a crust with olive oil and smoked with local wood
Allergens
Milk and products thereof
Weight
3 kg approx
Packaging
Unpacked
Storage Conditions (unpacked products)
Keep at +8 +14 °C
Instructions for use
Please remove crust before consumption
Paese di origine ingrediente principale
Italy
Nutrition Declaration
Energy: 1498 kJ / 358 kcal
Fat: 32,5 g
of which saturates: 22,5 g
Carbohydrate: <0.01 g
of which sugars: <0.01 g
Protein: 28,5 g
Salt: 3,5 g
Typical value per 100 g
The producer
Caseificio Debbene - Macomer (NU) - Sardinia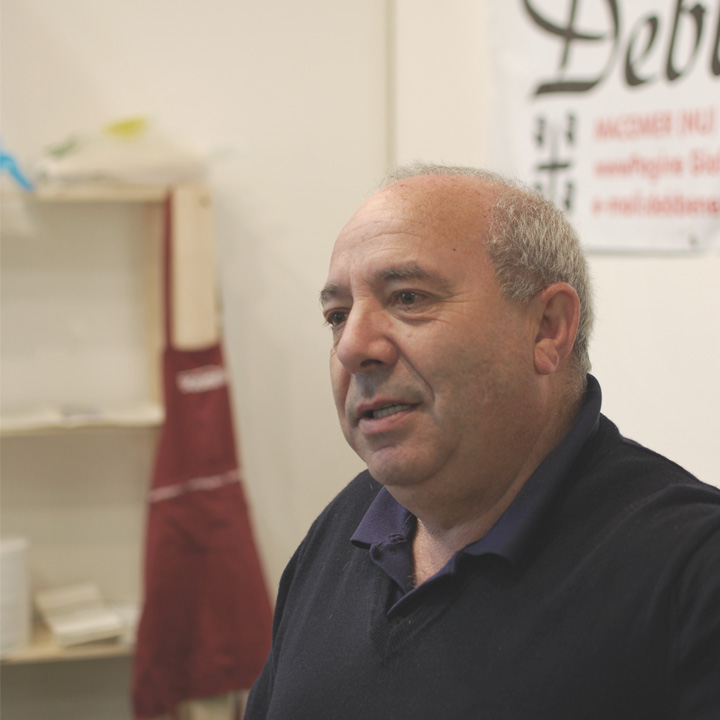 Why we chose them
The Debbene Dairy is located in Sardinia, on the plateau of Campeda, in the town of Macomer in the province of Nuoro. Gianfranco and Salvatore Bussu, besides producing excellent cheeses, are first of all pastors and they manage their company in a strictly organic way. The 1800 Sarda breed sheep are bred in the wild and have about 200 hectares of available pasture. Power is only enhanced by the addition of organic feed produced on the farm, without chemical fertilizers. Animals are never treated with antibiotics or synthetic products. Debbene cheeses are produced exclusively with milk obtained from the Sarda breed sheep that are reared on the farm. The rennet that is used to coagulate is obtained from the Sarda lambs.