The product
Fontina DOP - Az. Agr. Pra d'Arc - CTF 280 Disciplinare di produzione 'Estrema Alpeggio Valle d'Aosta'
DOP cheese produced by Eliseo and Denis Duclos at 2000 metres of altitude
Country of origin:
Italy - Aosta Valley
More Information

| | |
| --- | --- |
| Description | Cheese produced with raw cow's milk collected in the highest mountain pastures and obtained from Valdostana Pezzata Rossa, Pezzata Nera and Castana breed, fed exclusively on wild pastures, without any integration |
| Appearance | The rind is thin and compact, the paste is intense straw yellow in colour with small to medium eyes; the texture is elastic and melting |
| Taste | Sweet on the palate; the contribution of the aromatic notes of the pastures is unequivocal |
| Curiosity | It is the highest dairy product of excellence in Europe! The Pra d'Arc farm managed by Eliseo Duclos together with his son Denis is one of the two producers of the project that we have selected. |
| Our selection | This project was created to enhance the Fontina DOP cheese produced above 2000 meters of altitude. It also has purposes related to sustainability and the environment: the project protects the high mountain pastures and supports the agricultural and livestock regional system. A project that made us fall in love and that we deeply believe has to be shared! |
| Suggestions | An elegant and exclusive cheese, perfect to taste in pureness |
More Information
Ingredients
Raw cow's MILK, rennet, salt
Allergens in ingredients
Milk and products thereof
Weight
9 kg approx
Packaging
Wrapped
Storage Conditions (packaged products)
Store at a temperature between +0 and +4 °C
Instructions for use
Remove the rind before consumption
Country of origin of the primary ingredient
Italy
Nutrition Declaration
Energy: 1586 kJ / 382 kcal
Fat: 31 g
of which saturates: 21,7 g
Carbohydrate: 0,8 g
of which sugars: 0,8 g
Protein: 25 g
Salt: 1,9 g
Typical value per 100 g
The producer
Azienda Agricola Pra d'Arc - Gignod (AO) - Aosta Valley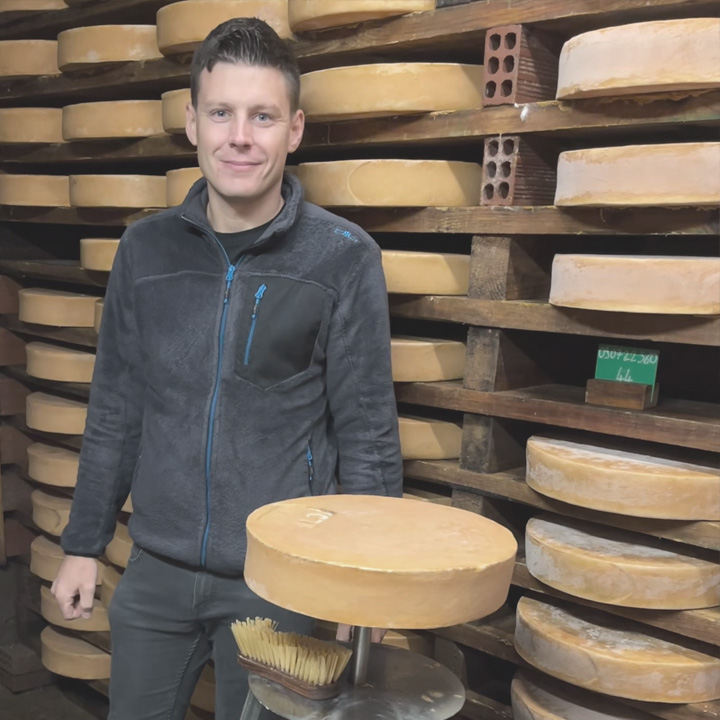 Why we chose them
Eliseo and Denis Duclos are father and son, and together they manage the Pra d'Arc farm and the Praz d'Arc pasture at an altitude of 2000 metres, close to the Great St Bernard Pass. In the steep but luxuriant pastures their 60 cows graze and with the milk of their herd they make Fontina DOP produced according to the "Estrema d'Alpeggio Valle d'Aosta" regulation. This specification provides for additional rules with respect to the alpage and valley productions, in order to give life to a cheese that is born in the highest mountains where the animals are fed exclusively on pasture, without any type of integration.