The product
Spelt of variety Grande Alpino or Spelta, perfect for soups
Country of origin:
Italy - Veneto
More Information

| | |
| --- | --- |
| Raw material | Dehulled spelt cultivated in Val Belluna, in the north of the Veneto region |
| Appearance | Brownish grains with oval shape |
| Taste | Sweet, with an interesting texture |
| Curiosity | The operation of "dehulling" consints of the romoving of the hull of the grains: it allows the spelt to not lose its nutritive properties |
| Our selection | This type of spelt is cultivated mainly in the alpine areas of Val Belluna: a product that is really able to describe the origin territories |
| Suggestions | Delicious in soups or cold salads. We suggest to soak in water for at least 4 hours |
More Information
Ingredients
FARRO sbramato. Contiente GLUTINE.
Allergens
Cereals containing gluten and thereof
Weight
300 g
Packaging
Polypropylene bag suitable for food contact
Storage Conditions (packaged products)
Keep in cool dry place
Instructions for use
Utilizzare previo risciaquo e ammollo per almeno 5 ore e lessatura di almeno 30 minuti
Paese di origine ingrediente principale
Italia
Nutrition Declaration
Energy: 1400 kJ / 335 kcal
Fat: 2,5 g
of which saturates: 0 g
Carbohydrate: 67,1 g
of which sugars: 2,7 g
Protein: 15,1 g
Salt: 0,04 g
Typical value per 100 g
The producer
Cooperativa La Fiorita - Cesiomaggiore (BL) - Veneto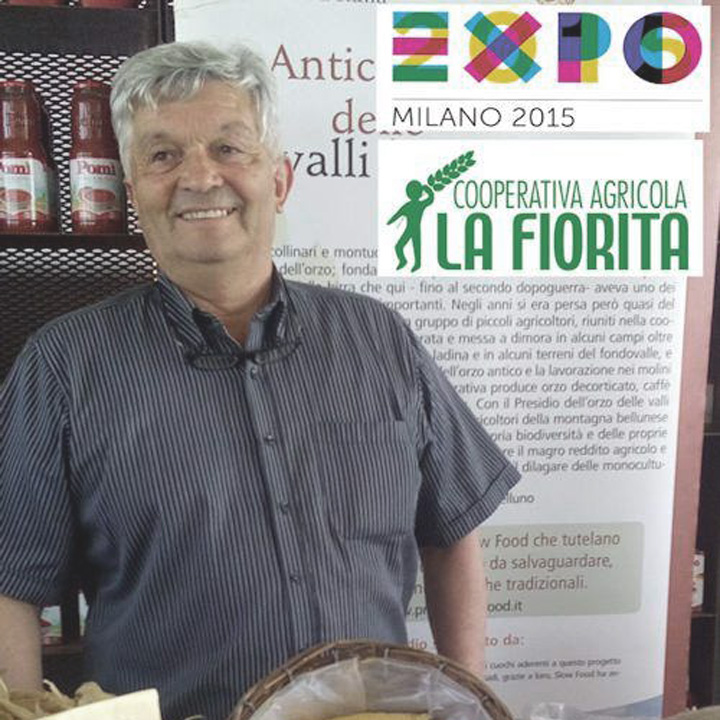 Why we chose them
Cooperativa Agricola "La Fiorita" was born in Cesiomaggiore (BL) in 1997. Today it has more than 252 associated farmers, which operate mainly in the territory of Belluno Valley. The Cooperative commits itself daily to the protection and promotion of its territory and local and typical agricultural products: several productions that were at risk of extinction have been rediscovered and today can show IGP certification. Moreovere Cooperativa offers its members a full service from training to assistance, from experimentation to the usage of agricultural machines and tools. Sustainable and environment-friendly production is a primary condition for farmers to join the cooperative. With particular attention La Fiorita has dedicated itself to the rediscovery of traditional beans varieties, rare and niches productions historically cultivated in Val Belluna and Feltre area since the '500.