The product
Cuore di Carciofo Piccante
Spicy artichokes in oil, ideal as an appetizer or side dish
Country of origin:
Italy - Veneto
Weight:
280 g net weight (170 g drained net weight)
Minimum order:
1 box with 6 pieces
More Information

| | |
| --- | --- |
| Description | Artichoke hearts preserved in extra virgin olive oil and enriched with hot peppers, spices and aromatic plants |
| Appearance | Whole artichoke hearts in oil |
| Taste | Delicate and herbaceous flavour typical of artichokes, with an interesting spicy note |
| Curiosity | Free from additives and preservatives |
| Our selection | DelSanto has been operating in the food sector for more than 30 years and it is specialized in the processing and preservation of vegetables, legumes and fresh mushrooms. What has conquered us is the care in the choice of raw materials, the respect for seasonality and the production process that aims to preserve the characteristics of the vegetables |
| Suggestions | Try it in an alternative summer salad |
More Information
Ingredients
Artichoke heart 60%, extra virgin olive oil 39%, chilli, salt, spices, aromatic plants
Weight
280 g net weight (170 g drained net weight)
Packaging
Packaged in glass jar and metal capsule
Storage Conditions (packaged products)
Store in a cool, dry place away from sources of heat and light direct solar
Instructions for use
Store in the refrigerator at +4 ° C and use within 4 days
Country of origin of the primary ingredient
Italy
Nutrition Declaration
Energy: 1533 kJ / 373 kcal
Fat: 39,2 g
of which saturates: 5,7 g
Carbohydrate: 1,6 g
of which sugars: 1,2 g
Protein: 1,6 g
Salt: 0,2 g
Typical value per 100 g
The producer
DelSanto - Santa Giustina in Colle (PD) - Veneto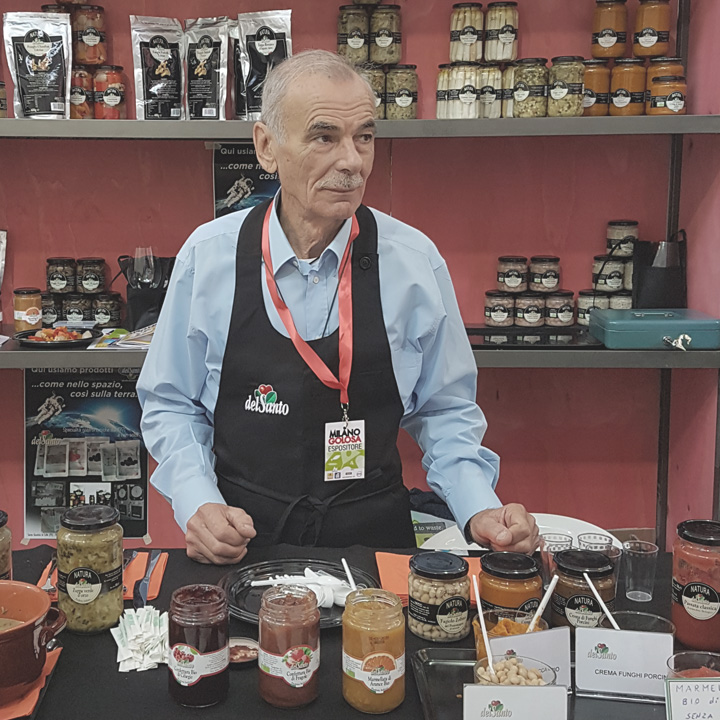 Why we chose them
Founded and managed by Gianni De Cecchi, DelSanto is an innovative company in the food industry, that focuses on the research of new technologies to better preserve food, especially vegetables, legumes and fresh mushrooms. DelSanto was founded in 1971, in Padova area, with the aim to produce high quality food, by working on two main directions. First, a careful selection of the ingredients: fresh vegetables, cereals, legumes, mushrooms, mainly organic, that Gianni buys directly from producers he trusts and knows that they respect the seasonily of the products as far as the environment. The second direction is acquiring the right technology in the production, developed throught 30 years of research. A technology that respects the organoleptic qualities of the ingredients and our health: all DelSanto products are made with no preservatives, no additives and no chemical agents. Thanks to their expertise, DelSanto, together with the chef, Stefano Polato, and Argotec, an engineering company, has been involved in the "Space food lab", a project developed with the Italian and the European Space Agency with the aim of producing balanced meals for astronauts.