The product
Chutney Pineapple Aubergine and Mint
Bittersweet sauce made with: pineapple, aubergine and mint, 100% natural
Country of origin:
Italy - Friuli Venezia Giulia
More Information

| | |
| --- | --- |
| Raw material | Bittersweet sauce made with pineapple, aubergine and mint, free from preservatives, colourants and jellying agent |
| Appearance | Thick sauce with a light colour, with pieces of aubergine and pineapple |
| Taste | Balanced and elegant,with a very low acidity |
| Curiosity | Chutney or chatni is a family of condiments associated with Indian and South Asian cuisine that contains a mixture of spices, vegetables and / or fruit. They are traditionally served as a condiment to main dishes based on meat, rice or vegetables |
| Our selection | We asked to Alessio Brusadin to create a new range chutneys perfect to introduce the spring and summer season, produced with fresh ingredients such as mint |
| Suggestions | The perfect match for cooked charcuterie, very pleasant with the lamb leg, we also suggest the pairing with the trout fillet |
More Information
Ingredients
Pineapple 44%, aubergine 22%, raw cane sugar, apple vinegar, shallot, sunflower seed oil, mint, salt
Weight
150 g
Packaging
Packaged in glass jar
Storage Conditions (packaged products)
Keep at room temperature
Instructions for use
Once opened keep in fridge and use it within 1 month
Nutrition Declaration
Energy: 595 kJ / 142 kcal
Fat: 2,6 g
of which saturates: 0,2 g
Carbohydrate: 30 g
of which sugars: 25 g
Protein: 0,93 g
Salt: 0,5 g
Typical value per 100 g
The producer
La Dispensa di Alessio Brusadin - Brugnera (PN) - Friuli Venezia Giulia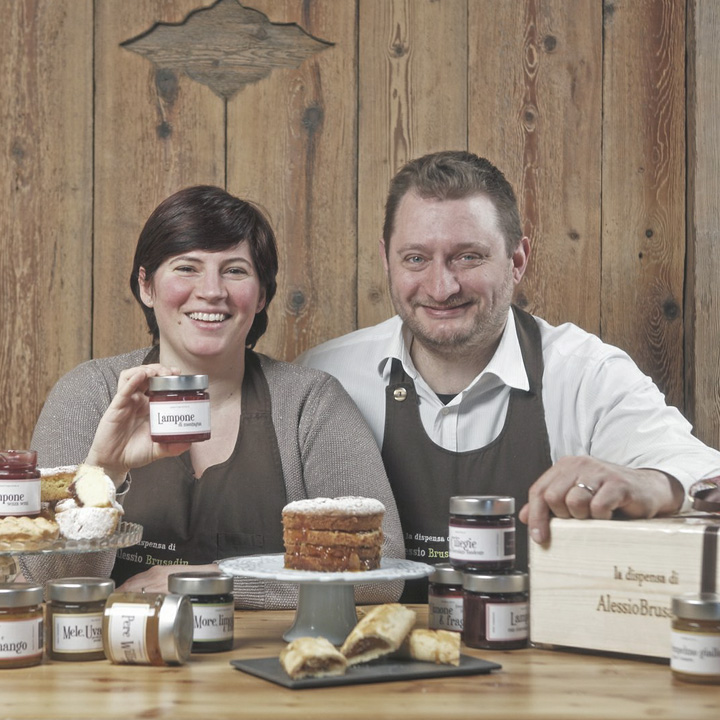 Why we chose them
La Dispensa (the pantry) is a project by Alessio Brusadin, a traveller chef from Friuli Venezia Giulia. After a long stay in London where he opened a chain of three restaurants and worked even in The Halkin Hotel with Gualtiero Marchesi, he returned to Italy where he opened the Restaurant Ritterhof with Vito Leone and started a collaboration with Fratelli Corrà. After his return, he had the idea to capture flavours and perfumes in jars: his chutneys are made with the best seasonal fruits and vegetables, brown sugar and apple vinegar, produced in a traditional way, without the addition of dyes, preservatives or gelling. Alessio's recipes are unique and original, and despite the chutneys are an oriental preparation, Alessio has created his recipes in order to embrace the european tastes and culture. Moreover, he realized them by keeping in mind a clear matching project.