The product
Buffalo's Caciottona with Glera
Buffalo's milk caciottona, aged with Glera grape marc
Country of origin:
Italy - Veneto
Type of Milk:
Buffalo's milk
More Information

| | |
| --- | --- |
| Raw material | Caciottona made with pasteurized buffalo's milk of Italian origin, aged with marc and aged for 5 months |
| Appearance | It has a thin rind covered with marc, the paste is compact |
| Taste | Sweet, round, fruity, with notes of cream and with aromas of marc; the aftertaste is long, with aromas of Glera grapes and hints of cellar, wood and grappa near the rind |
| Maturing | At least 3 months |
| Curiosity | The buffalo's milk cheeses are more permeable to the affinage than the cow's milk ones, in fact in this cheese it is perceived distinctly the cellar flavours on the palate |
| Suggestions | Delicious pairing with cherry Mostarda, or with baked aubergines or spinach |
More Information
Ingredients
Buffalo's MILK, salt, rennet. Ripened with wine and marc from Glerii grapes
Allergens
Milk and products thereof
Other allergens
Eggs and products thereof
Weight
2,8 kg approx
Packaging
Whole wheel and fractions are vacuum packed
Storage Conditions (packaged products)
Keep refrigerated below +4°C
Instructions for use
Please remove crust before consumption
Paese di origine ingrediente principale
Italy
Nutrition Declaration
Energy: 1830 kJ / 442 kcal
Fat: 39,5 g
of which saturates: 28,5 g
Carbohydrate: 0,9 g
of which sugars: 0 g
Protein: 20,8 g
Salt: 1,7 g
Typical value per 100 g
The producer
Latteria Perenzin - San Pietro di Feletto (TV) - Veneto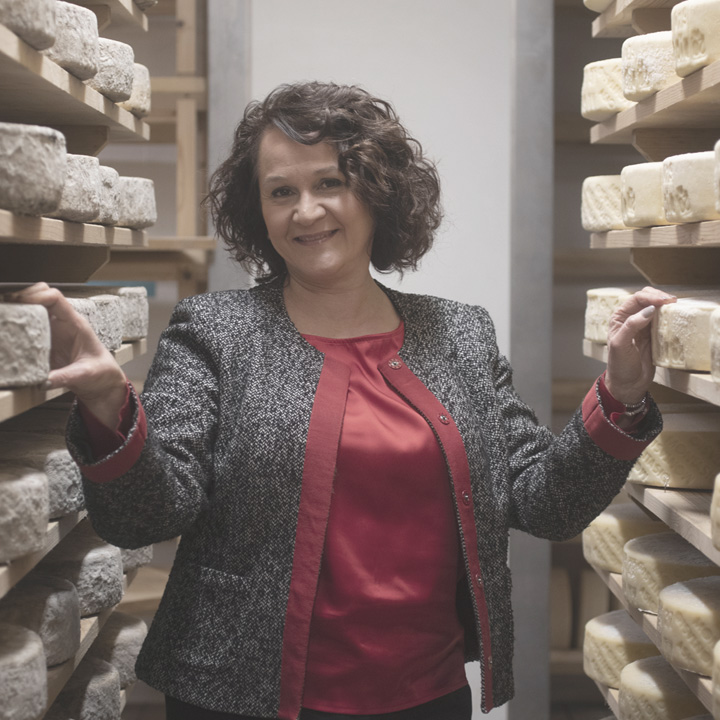 Why we chose them
Emanuela Perenzin is the fourth generation of a family that has been producing cheese since the beginning of the twentieth century. In 1933, Angelo Perenzin, Emanuela's grandfather, was honored with the gold medal at the "Salon des Arts Ménagers" in Brussels. Today production and maturity of the cheeses is followed by Carlo Piccoli, Emanuela's husband, a passionate and creative man. All processes are strictly craft-based, and supervised directly by Carlo, a professional with twenty years experience acquired in all areas of the dairy chain: milk collection, cheesemaking, curing, affining and retailing. Armed with the knowledge accumulated during this time, and the benefit of having attended training and refresher courses held by leading Italian authorities on cheese technology, Carlo has become a leading expert in the field of artisanal cheese production, and is also a holder of the ONAF "master cheese taster" diploma. Enthusiasm, thorough knowledge and an appetite for study, research and experiment have combined to place Perenzin among the premier Italian dairies.