The product
Fresh cheese made exclusively with sheep milk; covered with white mold
Country of origin:
Italy - Tuscany
Type of Milk:
Sheep's milk
More Information

| | |
| --- | --- |
| Raw material | Pasteurized sheep milk |
| Appearance | The rind is covered with white mold. The paste is soft, with some small eyes scattered across; and its color is white |
| Taste | The taste is delicate, with hints of milk and flowers |
| Suggestions | Can be best appreciated also eating the rind |
More Information
Ingredients
Sheep's milk, salt, rennet, lactic ferments
Allergens
Milk and products thereof
Weight
1 kg circa
Packaging
Paper- Wrapped
Storage Conditions (unpacked products)
Keep in dry cool place
Storage Conditions (packaged products)
Keep in dry cool place
Nutrition Declaration
Energy: 1375 kJ / 331 kcal
Fat: 26,6 g
of which saturates: 17,3 g
Carbohydrate: 2 g
of which sugars: 0 g
Protein: 21 g
Salt: 1,2 g
Typical value per 100 g
The producer
Caseificio Il Forteto - Vicchio (FI) - Tuscany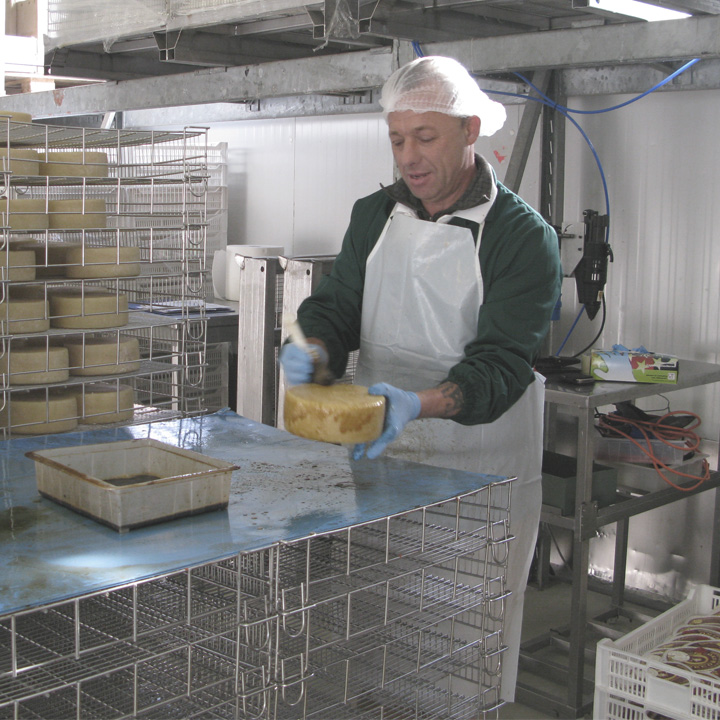 Why we chose them
L'attività agricola della cooperativa Il Forteto si svolge in un'azienda agricola di circa 451 ettari, di cui 21 in affitto. I terreni ricadono in zona montana, hanno giacitura pianeggiante per il 10%, acclive per il 40% e molto acclive per il rimanente. Il primo caseificio è stato una stanza ricavata dalla vecchia stalla sotto casa, il latte veniva portato con i bidoni. Con l'attenzione rivolta non tanto alla resa quanto alla qualità e alla bontà del formaggio. La stanza del cacio si è ingrandita ed è diventata un caseificio di 3500 mq cercando comunque di non tradire il cacio fatto in casa. Il caseificio è stato concepito e realizzato per amplificare la tradizione.