The product
Bresaola from Grigio Alpina race
A Bresaola produced exclusively from the loin of the Grigio Alpine race
Country of origin:
Italy - Trentino Alto Adige
More Information

| | |
| --- | --- |
| Raw material | A Bresaola produced exclusively from the loin of the Grigio Alpine race, cured for 120 days |
| Appearance | Its color is ruby with very few lines of fat |
| Taste | The taste is round, succulent, pleasant, medium to the palate. The aftertaste is round, slightly meaty with hints of wine and notes of herbs and spices |
| Maturing | At least 120 days |
| Suggestions | Excellent ingredient for salad of vegetables and served with black bread. Very nice on platters with Pecorino and Parmigiano cheese. Excellent with fresh goat's cheeses and olive oil |
More Information
Ingredients
Beef, salt, natural aromas, dextrose. Preservatives: E250, E252
Weight
2 kg approx
Packaging
Vacuum packed
Storage Conditions (unpacked products)
Keep in cool dry place
Storage Conditions (packaged products)
Keep refrigerated below +4 ° C
Instructions for use
Do not pierce the packaging
Nutrition Declaration
Energy: 762 kJ / 182 kcal
Fat: 6,26 g
of which saturates: 2,75 g
Carbohydrate: 0,9 g
of which sugars: 0,9 g
Protein: 30,34 g
Salt: 4,46 g
Typical value per 100 g
The producer
Fratelli Corra' - Smarano (TN) - Trentino Alto Adige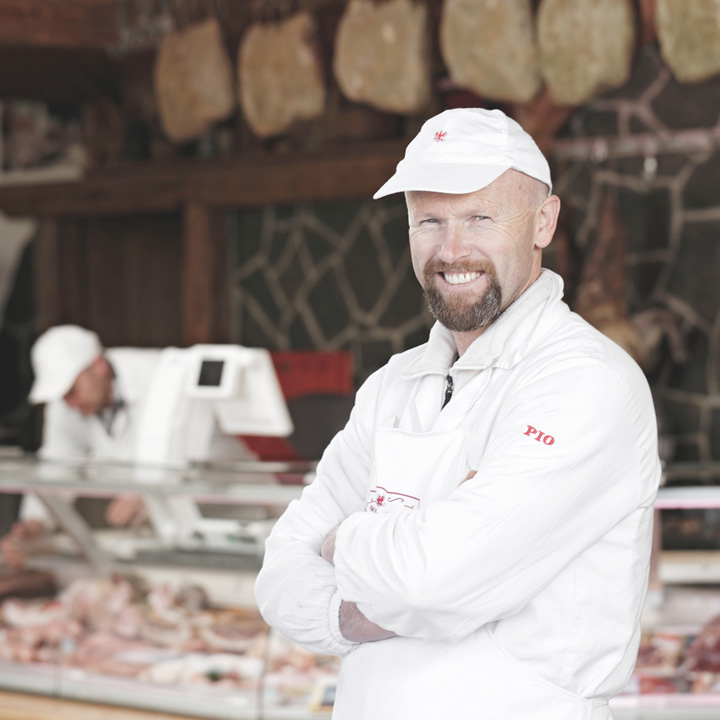 Why we chose them
Corrà family's business began in 1850 when Giacomo Corrà, Luca and Pio's great-grandfather, moved from Revò to Smarano and opened a "bettola", a little shop where you could find almost everything, including their own-slaughtered meat and own-produced sausages. After the first World War, Pio's grandfather began to manage the shop and the stable where the family raised their Grigio Alpina cows. In the memories he left to his son Giacomo and his grandchildren he wrote about the war in Russia, but also his precious recipes, still used today by Luca and Pio in the production of Corrà specialties. Corrà brothers carefully select meat that is only coming from the Trentino area to produce typical charcuterie of their land, in the sign of the family tradition. Pio, the older brother, is in charge of the shop and Luca reigns over the laboratory, where he follows the entire process from the selection of meat and ingredients, to the curing. Moving a step further, Corrà brothers began a path towards the production of charcuterie free from additives and preservatives.