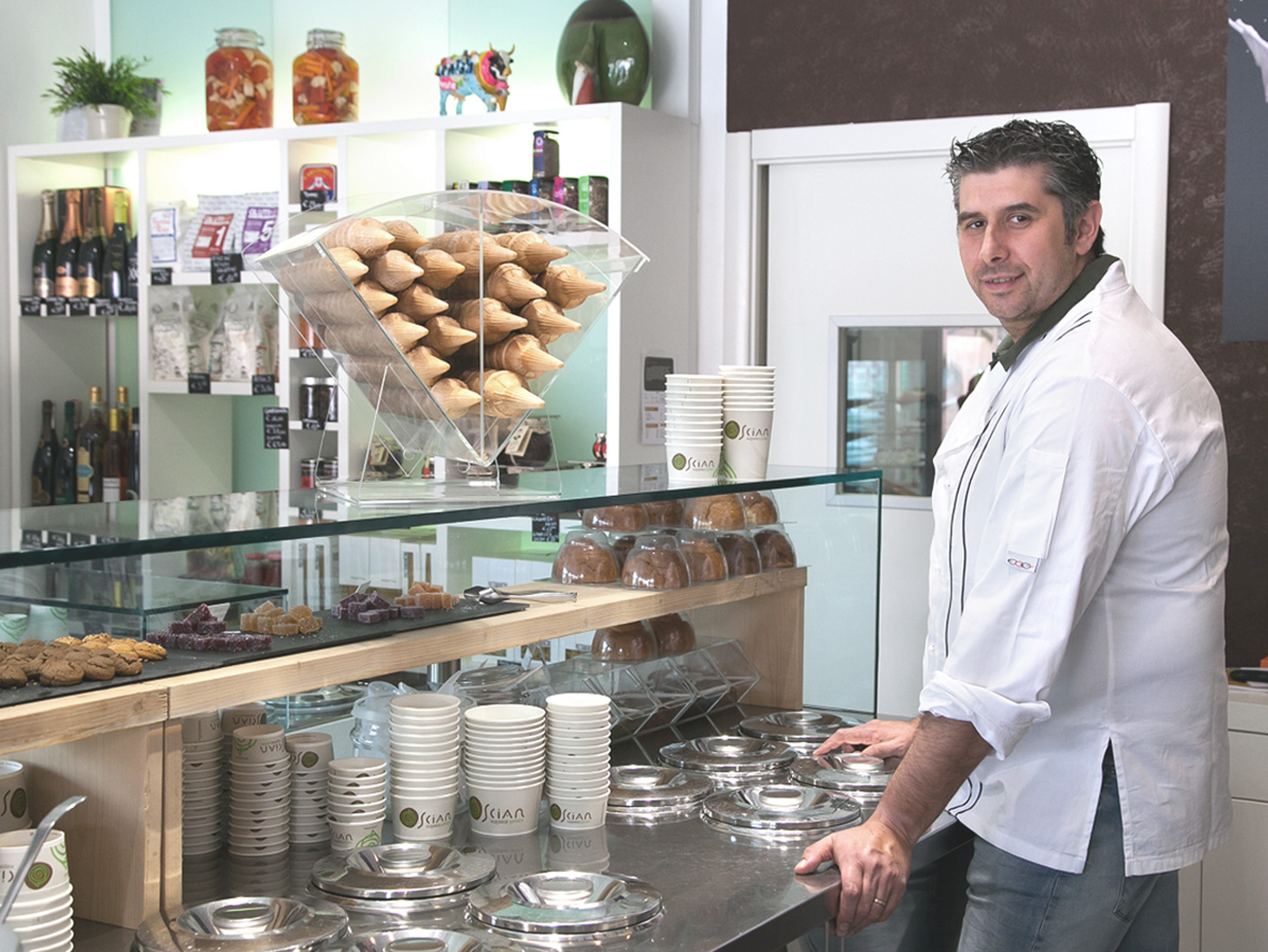 Scian – Insolito Gelato (Unusual Ice Cream) is an ice cream parlour opened in 2011 in Cordenons in Friuli Venezia Giulia region by Alessandro Scian, chef and ice cream maker, and his wife Tiziana.
Alessandro was born in Cordenons, then he worked as chef in several restaurants of high cuisine, both in Italy and abroad. The want to start a new adventure and develop a personal research itinerary bring him to open an ice cream shop exactly in the city where he was born.
The ice cream of Alessandro has a distinctive characteristic, the excellence that means research of the taste, of the naturalness, of the artisanal tradition and of the unusual flavour. Starting from these meanings Alessandro coins the name of the ice cream shop, and this name represents a promise of a taste experience that "gives happiness to the people who really loves the real quality" – tells us Alessandro explaining his mission.
His research starts from the raw materials that are strictly selected and checked one by one, building direct relationships with the suppliers who share his same values.
Then the production, marked by a continuous experimentation that allow Alessandro to create about thirty new flavours like: Fiordilatte made with Marscarpone by Mambelli, ice cream with buffalo's Ricotta by Borgoluce and figs with anise, ice cream with Yogurt by Chiuro and Dark Chocolate 72% by Gardini with Dolomia water, produced without milk.
The fil rouge of Alessandro's production is to produce the ice cream following his desires, "without adapting to the market requests" explains Alessandro.
A refined but winning philosophy, that received a lot of praises thanks to the creativity of Alessandro and Tiziana. The guide "Gelaterie d'Italia 2017" by Gambero Rosso awarded three cones (the highest award) to the artisanal ice cream parlour "Insolito Gelato" of Alessandro Scian, classifying it as one of the 36 best ice cream of Italy.
Today, Alessandro has opened three new ice cream parlours with the same name.
The ice cream of Alessandro Scian conquers both customers and gastronomic reviewers, who return to his artisanal shop to live a taste experience rich in emotions.
Giulia Bassetto