A soft but crunchy focaccia by Antonio Follador, a versatile base for table proposals but also for faster services
⏱ 3 MINUTES READING
NUVOLA: HOW CAN USE IT?
Let's talk about oven products and about Nuvola Grande Quadra, a light focaccia bread made with long leavening, produced with type 1 and 0 soft wheat flours of 100% Italian origin, spelled flour from Friuli Venezia Giulia, Apulian durum wheat semolina and mother yeast.
The name "Nuvola" ("cloud" in english) lets you easily imagine the lightness of the dough obtained from a first classic leavening followed by a second one lasting over 20 hours in a pan. But Nuvola also allows to use imagination: squared in shape with size of about 22x17 cm and with a good height, it lends itself to many customizations. For example the classic filling on the surface, or the internal sandwich-style filling, or cut in half and rolled, up to an original version of the club sandwich.
The creator of Nuvola is Antonio Follador and like all his proposals in our assortment, this focaccia is packaged with modified atmosphere packaging (MAP): a solution developed precisely to go beyond retail and proximity distribution, giving bread a longer shelf life and a wider perimeter of use. A new solution that manages to meet the often variable needs of the restaurants.
To be honest, we have seen a great interest in this partially baked bread to be regenerated in the oven, even in the world of retail: proof of Antonio's right intuition and the extreme versatility of his baked products also for the final consumer.
THE MENU: FOOD COST AND MARGINALITY
In this issue we give room to three ideas that suggest three different uses of Nuvola with as many types of regeneration.
And we take the chance to use the food cost tool. However, we add some considerations: a wise use of raw materials, especially when these are of high quality, can give satisfaction in terms of type of refinement of the proposal but also of margins.
We spoke a lot about this with Antonio, who has a long experience in the sector, and he always underlines how good results can be achieved with the right products: high quality raw materials, produced with care, following the right production times and without acceleration, have a higher cost but most of the time allow to reduce waste to a minimum and therefore to have a higher yield.
But the focus is also on flavour: some products are a real concentrate of aromas. Let's think for example of the Selargino Caper: compared to any other caper, a smaller quantity will be enough to obtain an excellent result.
How can we disagree?
NUVOLA DEL POSTO (FOLLADOR STYLE)
Nuvola was taken out of the fridge and directly stuffed with tomato sauce, julienne mozzarella, fresh small tomatoes and olives. After cooking in the oven at 240 °C for 6 minutes it was completed with capers and pesto.

CUBE SANDWICH
Yes, it's true: the club sandwich can be prepared in advance! A reinterpretation of the famous sandwich created with three layers of Nuvola (1 + 1/2) trimmed, toasted and stuffed. The result is a sort of "brick" which, packaged with a light vacuum, can last in the fridge for a couple of days. When needed it will be sufficient to remove it from the fridge, cut into 6 cubes (from which to obtain 2 wedges each) and warm in the oven until the cheese melts. The portion is 1 cube that weighs about 260 g.

NUVOLA IN CICCHETTI
Nuvola is regenerated in the oven before filling, after cooking it is lightly trimmed to reduce the proportion of crust at the corners and cut into 6 portions. For the filling, here are six proposals: "Crudo di Sauris and Bocconcini Borgoluce", "Regina di S. Daniele and zucchini", "Mortadella, stracciatella and pistachio", "Sopressa and artichokes", "Cooked ham and Cantadou with horseradish", "Buffalo burrata and Pomup tomatoes".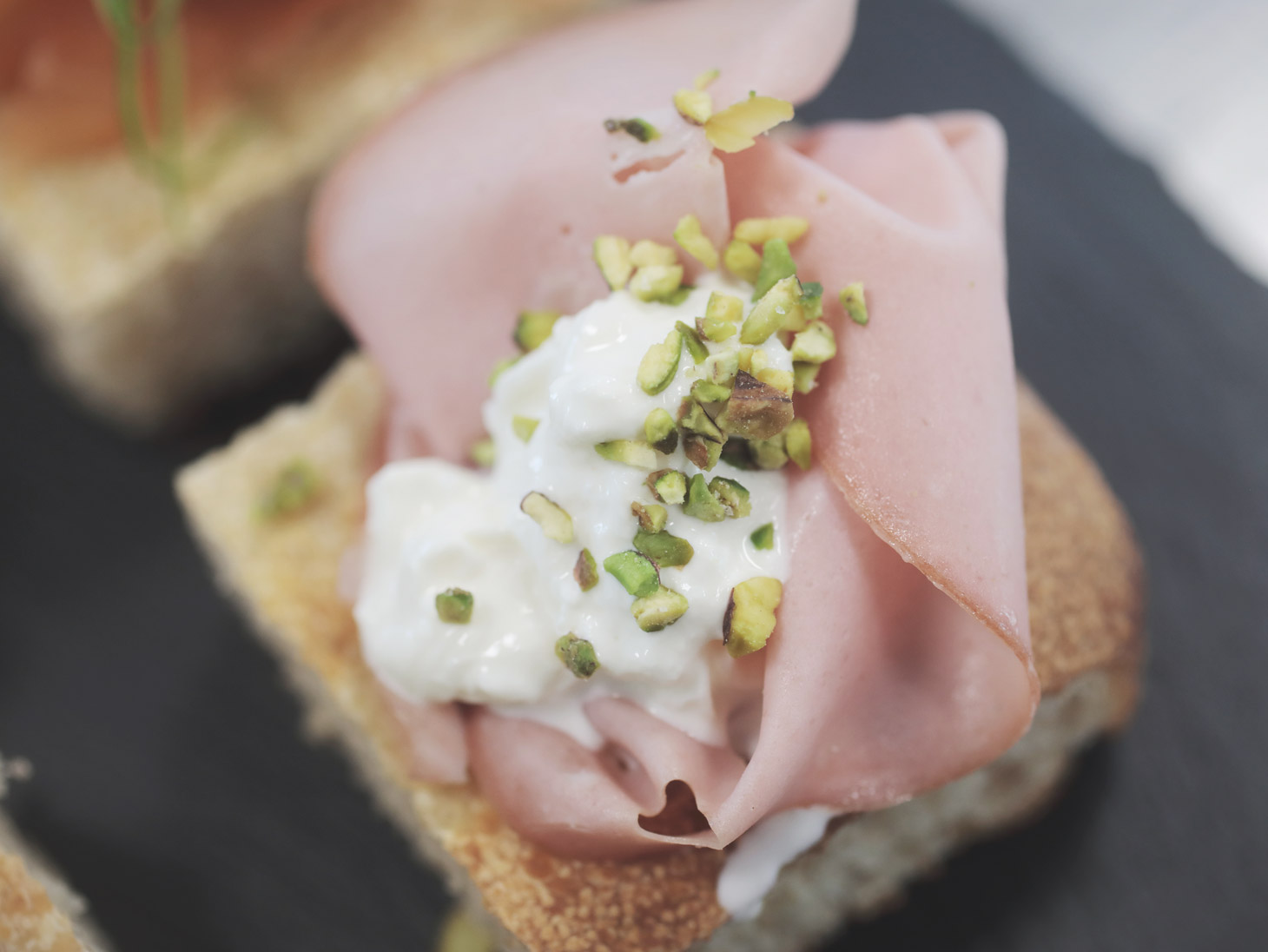 Giulia Bassetto
Marketing and Communication