The product
Baccalà mantecato Marcolin
Baccalà mantecato in 1 kg tray produced by Marcolin
Country of origin:
Italy - Veneto
More Information

| | |
| --- | --- |
| Description | Baccalà produced according to tradition of Marcolin family, with stockfish dried naturally |
| Appearance | Ivory white, creamy and spreadable |
| Taste | Creamy and delicate |
| Curiosity | At least once a year, the Marcolin family fly personally to Norway, to the islands of Røst, in the southwestern tip of the Lofoten archipelago for the selection of raw fish |
| Our selection | To make Baccalà Mantecato (creamed cod), the fillets are simply boiled and whipped in a planetary mixer as soon as they have been removed from the pot, with the addition of salt and sunflower oil. The oil is added slowly by hand and the quantity of oil to be added is decided from time to time depending on how much the raw material requires, in order to guarantee the right consistency of the creamed cod, which must not be too compact nor too soft. At the end of processing, very little milk is added, only to give to the whipped cream a whiter colour |
| Suggestions | Perfect with polenta or with crusty bread |
More Information

| | |
| --- | --- |
| Weight | 1 kg approx |
| Packaging | Packaged in an ATM heat-sealed tray |
The producer
Gastronomia Marcolin - Selvazzano Dentro (PD) - Veneto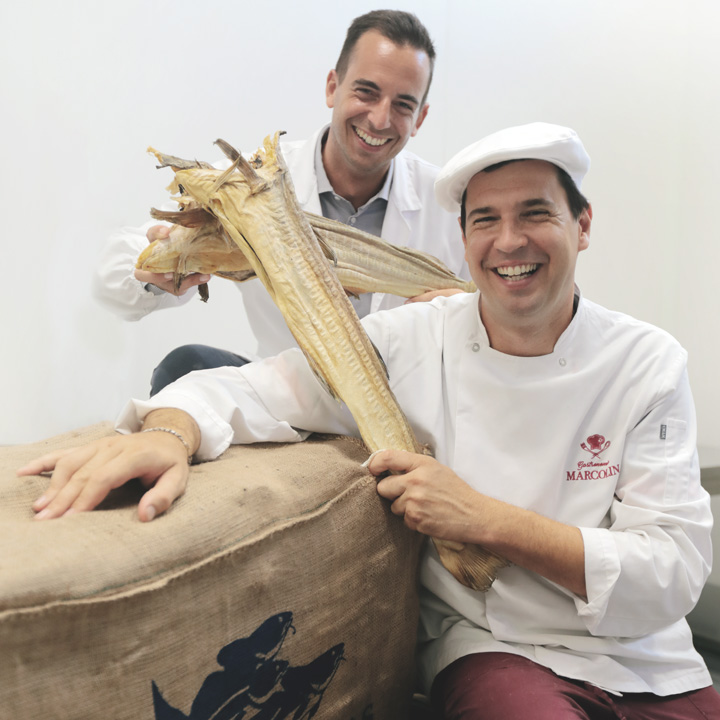 Why we chose them
Gastronomy Marcolin Francesco from "Sotto il Salone" in Padua, the oldest covered market in Europe, is a landmark for codfish lovers in Veneto. The recipes were developed by his father, Francesco Marcolin, born in 1946, who started working at 15 years as a shop boy until 1985 when he managed to acquire the property of the shop where he worked, and give vent to his passion for gastronomy. Today it is the three children of Francesco (Chiara, Stefano and Andrea Marcolin) who carry on the family business. Chiara was the first one to follow Dad, first of all working for many years at the counter in the gastronomy, then taking charge of the administration. Stefano learned the craft by helping his dad in the processing of the stockfish; today he deals with the production, in addition to following the shop. Andrea instead follows the commercial development of the company. Three years ago Stefano had the intuition to develop a line of codfish intended for professionals: thus was born the brand Baccalà, which identifies the recipes of the Marcolin family.